All the children deserve a future !
Give to the children from Ferentari a filled school bag for a successful school start !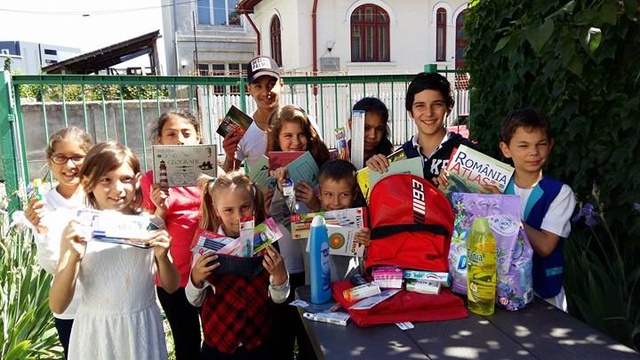 About the project
 100% ACHIEVED = 30 CHILDREN CAN ALREADY GET THEIR SCHOOL KIT (school supplies and hygiene products,as explained below) !
TOGETHER, LET'S ACHIEVE 150% = 45 CHILDREN WILL GET THEIR KIT !
NB: If you prefer to make a donation in RON you can find all the information on our website : http://www.valentina-romania.ro/ro/persoane-fisice
The IT Romanian company DocProcess has been convinced by the project and financially supports it with 2660 euros!
And now the project : 
My name is Anne-Camille Dequidt and I am a French young graduate. Today I am asking for your support to help the deprived children of Bucarest I have met. We want to offer them the opportunity to go to school in the same conditions as their school mates. 
Do you want to know more about the reasons of this project and my story ? Follow me, I take you in the Ferentari neighbourhood of Bucarest ...
On the 1st of May, I arrived in Bucharest with one thing in mind : I wanted to volunteer and help the people in need before starting a job back in France. Curious about the situation of Romania, I started a conversation with Andrei, the taxi driver. He told me : "You, as foreigners have a bad image of Romania. Too few people are aware of the situation. Education in the poorest neighbourhoods of Bucharest is a problem. Children do not have the same chance at school as you"
The tone was set ...
My arrival at Casa Valentina :
The children in front of Casa Valentina
The day after, I arrived at Casa Valentina, the Valentina association's premises of which I was in touch before coming to Romania. Valentina is an association created in 1995 by French people to improve the living conditions of children from the poor neighbourhood of Ferentari in Bucharest. The goal is to give a second chance to these families, especially to their children through education and prevention from school dropout. The director of the association, Gabriela Gheorghe welcomes us ...
"40 children are welcomed every day after school at Casa Valentina to do their homework and benefit from various educational activities, a warm meal and hygiene learning. They come to find comfort and attention from the volunteers who help them with their homework. If need be, a psychologist is there to talk about their problems. Besides these 40 children, we support 60 children in kindergarten by paying the school canteen and school supplies. If these children go to kindergarten, it will then be easier for them to integrate primary school. Families get support from two social workers. Together they can come up with a solution for a better life. The association does not get any public financial support and only gets money through private funds and donations."
"It's impressive to see how much energy there is in this association! All the people working or volunteering at Valentina Romania help the children to build trust, to grow up and support their parents in their educative mission."
I guess you are curious about Valentina, so here is the link towards the website of the association: 
Let's discover the environment of these 100 children : the Ferentari neighbourhood.  
"No time to lose ! The Valentina's social workers, Daniela and Loredana take me for a visit of the Ferentari neighbourhood. They identify the families who will join the program, provided that they are fully committed to offer a better life for their children, and take part in the life of La Casa."
Loredana explained to us the history of this neighbourhood :"The neighbourhood is located in the South-West part of Bucarest, 2.5 kms from the city centre, in sector 5. It is the poorest district of the capital city. After the fall of communism, many accommodations were left over . Very poor population came and settled there. Public services do not always take care of this area."   
Daniela continued : " These families live in difficult conditions. For example, some of them have a 10m2 or 15m2 flat for many people, with no room for the child. The bed you can see is the only place where the child can do his homework. There is very few insulation, but during summer time temperature can go up to 42°c and during winter time go down to -20°c. In these neighbourhoods, drug traffic, prostitution and alcoolism are common dangers. We do not want children to drop out of school and fall into the wrong hands! "
"I understand better why these children need help not to drop out of school. Let's go to a school to get a better understanding of their school environment and figure out how we could help them !"
Children from Ferentari and education
The children in front of their school
 "Nicoleta has been a teacher for 4 years in a school in which part of the children are enrolled in Valentina's program. She has accepted to welcome me and Andreea, Valentina's teacher. She explained to us the difficulties she encountered during her experience as a teacher. 
"I had to cope with a lot of complex situations.Communication with the parents is hard, as most of them are illiterate. For example, the child has to sign the documents instead of them. Sometimes family leave Romania for some months and come back. When the child comes back at school, he has to repeat a year and reintegration is difficult. Children are emotionally fragile, their parents can be addicted to drugs or alcohol. Sometimes they have to beg or to look after their brothers and sisters, which means not going to school. When it is raining, some do not attend school because they cannot afford buying a coat. They may arrive with a dirty notebook as they have done their homework in inappropriate areas.We have to explain to these children that what they see at home can be different and better. We need to teach them the basic rules of life. At school these children are often discriminated despite their efforts and the school has to help their integration.   
But it is important for the future of our country and also for us to do everything to offer them a normal education. We need these children. We also have to educate them for our safety and to tackle stealing, crime and prostitution."
And what does Andreea think? Andreea is the teacher who takes care of the children at Casa Valentina.  
"In their environment, there is no mindset towards a long-term life project. Their parents do not always have a stable job. We have to help them in their educative mission, their willingness is necessary but not enough. It is a daily effort which requires a lot of pedagogy. Too many children or families give up, which means absenteeism at school. At Casa Valentina, besides academic and psychological support, we educate them about hygiene and make sure that they have the very basic equipment to ensure their dignity."
"Indeed, when I gave French lessons to the kids or play with them, I understand better their concentration and motivation difficulties, and behaviour problems. When one plays a game, one learns how to respect rules and live in society. This is an example of a contribution for the education of these children. But I have a far more ambitious idea to which all of you can contribute ..."
What's about buying them a school bag filled with school supplies and hygiene products for the next back-to-school time ?
Little by little, the idea of offering a school bag filled with school supplies and hygiene products caught on. With everyone's help, it could easily be financed.
I shared the idea withMedeea Marinescu, the famous actor of the movie "You Are So Beautiful" and thegodmother of Valentina for many years. She has even prepared a short note for you ...
"It is not easy to succeed at school when you parents did not get the proper education to support and motivate you. When the situation of your family and your environment are very complicated to find the concentration required for studying. When stigmatization makes integration at school a hurdle to overcome day after day. I think these children deserve the human right to receive education. Armed with this conviction, I decided to sponsor Valentina. A child can change the world for the better if we let him grab his chance. I propose you today to give him this chance. If each of you give some euros, in some days altogether we will go towards a better society. As me, make a donation to buy a school bag for these children for the 2017 back-to-school period. Help us to offer them the same school supplies and same hygiene products as their school mates."
You can help us with donations, but not only! You can also like the facebook page and its posts, share on your social networks and around you, or even join us.Believe me, your help is precious and will make this project a success we will all be proud of! 
Children are already preparing you nice rewards ! It is important for us to keep in touch with each of our donators and we will definitely send you pictures of the children with their filled school bags! 
What are the funds for?
"The teacher gave me the school supplies list established by the schools and the social workers some advice to buy the appropriate hygiene products and I went for some shopping. You can find on the picture below what I have bought: It represents one kit that will be offered to one child. The kit will also include a book that each child will choose in a list in order to motivate them for reading. "
I have prepared a table for you to better see what we will buy with your donation. Depending on your finances, you can offer a child: 
Today we request your help to finance the kits of 30 children (3000 euros). According to your generosity we will increase the objective, and more children will benefit from these kits! We are also looking for a sponsor since the final goal is to get to the objective of 100 kits for the 100 children who are enrolled at Valentina. 
You think you now know everything about our project? I still have one thing to add! If you are curious you may already wonder why the pencil case is nicknamed "Mia". But what is Mia?Mia Valentina sewing workshop's commercial assistant of the Mia Valentina sewing workshop explains: 
"Mia, mama in action, is a social businesscreated by Valentina in 2009. It aims at offering social and professional reinsertion through sewing to 7 mothers of which children are enrolled in our programs. One of the products they create is this pencil case, which is sold at 5 euros, the same price as one bought in a hypermarket. Will you trigger the order of 100 new pencil cases for the 100 children?"
"
We hope so!
To know more about Mia, click on this
link
! "
About the project owner
Alice Weck :President
"As a 42 years old mother of 2 children, I am strongly convinced in the values of family and sharing. I arrived in Bucharest in December 2014, it was my first expatriation and I wanted to have a break in my professional life and devote myself to others. No doubt that I became a volunteer. Today I am president of Valentina and I share many values this association embodies. I am convinced that education is essential for the future of these children. Each child, whoever he is and whatever his origins are has the right to go to school in the best conditions. 
This project "A kit for a successful school start" will allow the children registered at Valentina to start school in a serene atmosphere, with the adequate equipment, and to be on the same wavelength with their other school mates.
Support our project! 
"All the children deserve a life, let's help them build it!" "
Xavier de Carmantrand: Vice president 
In September 2011 my wife Beatrice and me came to Romania to manage the association Valentina Romania for 2 years  it has been a great discovery and a joy to serve the people in need, especially the children. We came back to France 4 years ago, but we still had this faith and this objective in mind: to ensure Valentina Romania and its 100 children keep going on, by constantly improving the approach, the pedagogy and the professionalism of the people who are there in Romania to bring the children towards a better life. 
This project "A kit for a successful school start" is an essential element in the education of the children.
Therefore we rely on your generosity to make our project successful. Many thanks ! "
Anne-Camille Dequidt - Volunteer, manager of the project
"You may wonder who is behind the main character of the cartoon ? Here I am, a 23-year-old dynamic woman who recently graduate from Essec Business school and want to start a career in marketing in FMCG. It has been a long time that I wanted to be a volunteer in a children-related association to give back the love, the support and the education I received to those who did not get this opportunity. Fascinated by East Europe, I heard about Valentina which seemed to be a dynamic and professional association which would allow me to use my skills to address the needs of the most disadvantaged. 
Since I arrived in May, I have been managing this project with Veronique who is responsible for fundraising. But this project will really emerge with you! Simultaneously I teach French to the children, their smiles give me motivation everyday!
I did not expect to find such a gap in the living standard in Europe. While talking with the staff of the association and being with the children, I have better understood why poverty is a social scourge. This families are locked in a vicious cycle of poverty and marginalization. Dangers are numerous in the Ferentari neighbourhood, and it is a challenge to fight against them ! Only if we are altogether we will overcome this challenge. That's why Valentina needs you. 100 children are waiting for their school supplies and their hygiene products to go back to school !
And all the team from Valentina, some of them are already present in the characters of the cartoon !
Left to right : 
- Daniela and Loredana, social workers
- Marana, psychologist
- Andreaa, educator