Calendrier 2018 Neko Light Orchestra
Photos & Artworks inédits de Guillaume Valadeau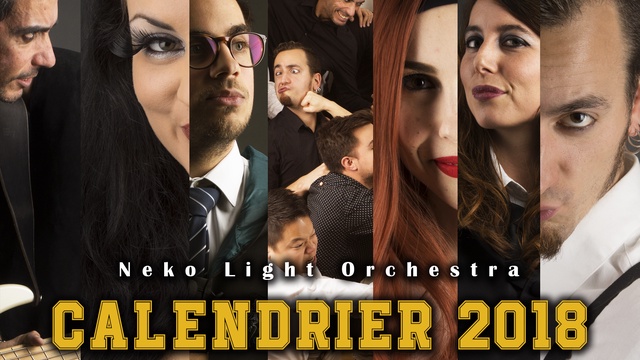 About the project
(photo ci dessus exemple, non conforme au résultat final!)
Pré commande du calendrier 2018 du Neko Light Orchestra. Photo et Artworks inédits par Guillaume Valadeau. L'idée de ce calendrier plus que collector, c'est de proposer à chaque mois une photo inédite d'un des nombreux concepts du groupe de musique Neko Light Orchestra. Composition photo nouvelle, intégrée dans son univers par le fidèle et hautement talentueux photographe Guillaume Valadeau, déjà à l'origine de toutes les photos officielles du groupe.
Présentation du Neko Light Orchestra :
Créé en 2011 à Toulouse, le Neko Light Orchestra est un groupe de rock spécialisé dans les ré interprétations des musiques des cultures de l'imaginaire et cultures "geeks" en général. Après avoir sillonné toutes les conventions de France, Suisse, Belgique (Japan Expo Paris, Marseille, Toulouse Game Show, Bordeaux Geek Festival, Animasia, Hero Festival, Japan Touch, Paris Manga, Polymanga Montreux, Made in Asia Bruxelles ...), le groupe depuis 2014 a créé petit à petit des concerts inédits hommage à des univers cinématographiques particuliers (Echos de la Vallée du Vent, Echos de la Terre du Milieu, Echos d'une Galaxie Lointaine ...) joue dans de nombreux festivals, centres culturel, salles de musiques actuelles et à même créé 2 festivals, le Rock My Geek et Echos & Merveilles à Toulouse.
Le groupe a déjà avec succès financé 2 albums de compositions "Uchronies Musicales" sur Ulule en 2014 et 2017.
What are the funds for?
Le calendrier donc, en pré commande ici uniquement.
28 pages couleur A4 papier glacé 250g
12 Photo montages inédits par Guillaume Valadeau + annotations rigolotes et portraits de tous les Nekos le jour de leur anniversaire!
JANVIER ►Photo à 18 Nekos
FÉVRIER ►Echos de Terre du Milieu 
MARS ►Echos de Gallifrey
AVRIL ►Echos de Poudlard
MAI ►Electric Waves
JUIN ►Echos de la Vallée du Vent
JUILLET ►Photo à 18 Nekos rigolote
AOÛT ►Alex McFly Geek Show!
SEPTEMBRE ►Acoustic Session
OCTOBRE ►Echos d'une Galaxie Lointaine
NOVEMBRE ►Echos de Westeros
DÉCEMBRE ►Photo à 18 Nekos!
About the project owner
Les travaux de Guillaume Valadeau avec le Neko Light Orchestra
FAQ
If you still have an unanswered question, feel free to ask the project owner directly.