organic coffee from Costa Rica
promotion of the local production in harmony with the nature and the social development in the region of Turrialba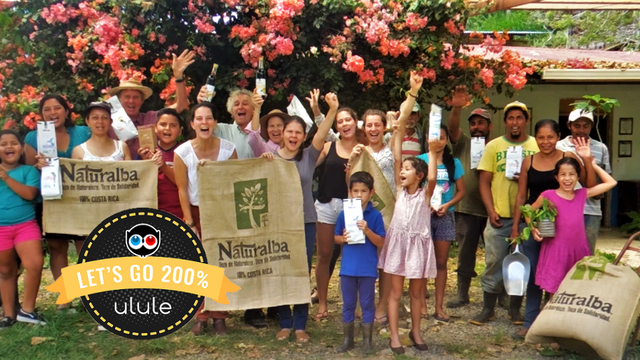 About the project
++++Only 2 DAYS!! Everything still possible!!!! - HELP US to obtain our SECOND AIM OF 8.500€!++++
Developing the organic coffee culture in a country with incredible, but also threatened, biodiversity is the principal aim, APOYA/Naturalba works for since its foundation four years ago. The association contains the small, local coffee growers and supports them in an economic way by providing a living-worth income, thanks to the direct purchase of the transformed products.
Costa Rica, where is it?
Costa Rica, a small country in central America, is the unification between the ecosystems of North and South America, a biological corridor. Therefore, due to the incidence of both continents, the country gives home to more than five percent of the world-wide fauna and to ten percent of the bird species – taking up just 0,5% of the worlds surface!
In order to protect this wealth, more than a quarter of the country is under protection by national parks or private reserves! But still this extraordinary biodiversity is in danger, due to the agriculture which is heavily using herbicides and pesticides.
Why coffee?
To save this national treasure, which is recognized world heritage, the biological coffee culture inspired by natural ecology, is a solution:
A coffee plantation without chemical products, valuing the symbiotic relationships between different cultures, like cacao, banana, lemons or others, appears like the natural structure of tropical rainforests. You call that an agroforestal system.
It gives home to a great amount of flora and fauna and returns a small paradise to nature, where hummingbirds and toucans can hide and live it up.
There are more than fifty coffee producing nations around the world. Costa Rica is one of the best, regarding terms of quality. As the only country, that exclusively produces Arabica coffee, the costa-rican coffee culture by majority is still in the hand of small, local producers: 70% of the small parcels are less than ten hectares. The sustainable management of these spaces, therefore, can only be realized including the local people.
What is APOYA/Naturalba?
APOYA (short form of the Spanish term of "Association of organic and sustainable producers", also: "apoya" means "support" in Spanish) is the association of coffee farmers, located in the region of volcano Turrialba. Representing the producing branch of the project, it collaborates closely with Naturalba, the company, which transforms and sells the products in a just and transparent way.
The union of these two organizations permits to guarantee the organic-certified producers appropriate proceeds from the work, so they can sustainably produce a coffee of high quality, protecting the local biodiversity as well.
Of whom this ambitious structure is composed?
Since its foundation 5 years ago, the association rose from 16 to 60 producers qualified for an agriculture with respect to the environment, of which 21 are already certified for organic production or in transition (duration of the process is 3 years).
In addition to these 60 qualified farmers and their families, there are employed four persons (Alfonso, Kattia, Marlene y Marie) to transform the products and organize the producers, as well as to give further training to them.
There are also always a couple of trainees helping to develop our structure.
The tourists and visitors come to get to know our project and buy our products, also wishing to be able to order them online soon…
Not to forget… some local institutions, which support us by…
…improving the production systems thanks to investigations of the use of organic fertilizers in the coffee fields: project FITTACORI.
…diversifying the coffee plots by planting 8.624 cacao trees this year: project INDER.
…developing the producers' knowledge about climate change: project CASCADA.
…decreasing our carbon footprint and installing systems to treat the coffee production's waste water: initiative NAMA-café
You see, we work hard in Turrialba!
What are the funds for?
Contribute your part with Ulule!
To continue flying always longer distances with our toucans and hummingbirds, without losing feathers, we count on a new bird: Ulule! This campaign will allow us to pay the Organic Certificate 2018 with the first inspections planned for April.
And if you bring us good winds … doubling the first target, we will be able to assure a just payment to our organic coffee farmers for the next harvest, which starts in July.
And because some birds always can fly longer and higher, by tripling our first target, our toucans and
beautiful tropical birds could arrive at your home with the establishment of the online purchase of all our products.
Hoping to be able to realize this long adventurous trip with you…
…our farmers, above all, who believe in us and motivate us every day a bit more.
Our families, for the beautiful images of the birds and for being always a source of animation (and some also for being that good spell checkers :) )
Our friends, who follow us during that incredible challenge from around the world,
to some visitors and tourists, who – sometimes without knowing it – strengthen us for the aims, we've set us.
As well, to all, who took the time to read and support us.
To all of you, a HUGE thank you.
A big family….
About the project owner
Marie Beuchet, French woman living in Costa Rica for 15 years, chairwoman of Naturalba
Marlene Camacho, Costa-Rican born in Turrialba, chairwoman of APOYA
The big family of APOYA/Naturalba: numerous researchers, businessmen, producers, selfless persons, who have shared their knowledge and given their valuable time and energy … with all coffee farmers of the association, who continue treating the earth with respect and search viable solutions with good humor.
All together a group of incredible persons, forming a lot more than a working team, but a great family! Pura Vida!