Bullet Crave
Making "bullet hell" playable for the common mortal
About the project

Catnip Games is a small indie games-development studio and we're gamers at heart. We love Shoot-em-ups (SHMUP), so back in 2009 we were working on a SHMUP of our own. At that time, there was a small SHMUP making competition that we entered just to test our engine, and our demo entry 'Bullet Crave' won. It was a lot of fun to make and play, so at that point we decided to try and make a full game out of the demo concept.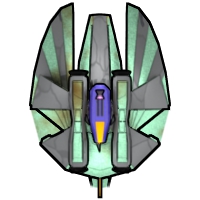 Halfway through creating the full game we noticed the SHMUP genre on the platform we were making it for (Xbox Live Indie Games) was kinda saturated, then summer arrived and we started working on other projects, so one thing led to another and it ended up shelved.
 Fast forward to today when crowd-funding is a thing and we have this unfinished project in the cupboard. We would love to finish it, but it requires a good deal of time and we do need to feed our families. This is where you come in!

Bullet Crave is a SHMUP in the 'bullet hell' genre. That means enemies shoot masses and masses of bullets. These kinds of games are usually unplayable except for the top elite, who can wriggle their way through the tiniest of cracks. We love the feel of those games, but want them to be playable by many more people. So in Bullet Crave, your ship has a generator that can suck in surrounding bullets, converting them to energy you can use to power your guns. But the generator has a cooldown, so you'll still need some tact to get past the hard parts in any level.
For more information we have a Bullet Crave webpage, where you can also download the demo!
And of course a page on Facebook
What are the funds for?

When Bullet Crave is finished, it will be released on PC for free to the public. That means no DRM, no ads and no viruses from installing cracks trying to get past the DRM!

A playable, downloadable demo (see here - Note, we do not have unlimited bandwidth available on our host, so if the demo becomes unavailable please let us know!) 
Game engine able to handle the SHMUP bullet hell madness
3 bosses out of 6
About 16 ship sprites out of 72
1.6 levels out of 6 levels
Kick-ass music
Sound effects
Multiplayer mode for up to 4 players
Input from keyboard or gamepad

Midlevel bosses
Level art and design
Interface design
Level design
Eye candy
Score system

| | |
| --- | --- |
| 5 000€ | We finish Bullet Crave and release it for free! |
| 8 000€ | We add more polish and make it prettier. More music tracks. Added French Localisation. Online score website (some people like competition). |
| 20 000€ | We redo the whole game in 3D, and you bet we're going to thank you profusely for that |
About the project owner

We're a small indie games developer based in the Netherlands. We've been developing small scale games since 2007. Our only hit story so far has been our development participation in FortressCraft for XBLIG.
Our webpage is over there.