Brainxit !
The Very First Book From The Great French Cartoonist Rousso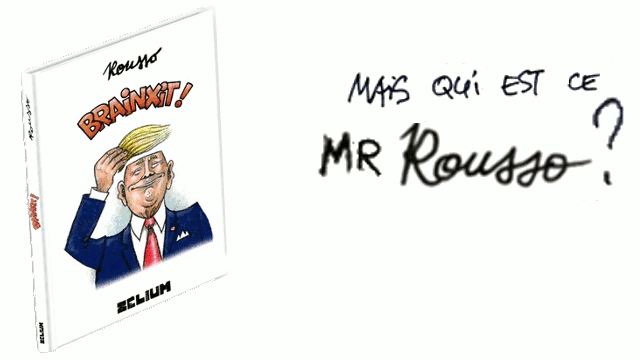 About the project
WORLD EXCLUSIVITY: PARTICIPATE IN THE FIRST BOOK OF ROUSSO! ! ! ! ! !
Zélium, our french independent satirical magazine, is very, very proud to publish Brainxit !, the first Rousso's book… This 82 years old Titan of political cartooning has been sending us his drawings for almost ten years, a style of humor that somehow manages to be both modern and antiquated. Each time, we are absolutely shell-shocked, and guffaw in a way we rarely do, yet each time we also suffer. What we to do with all this manna?
Even though we stretch our awesomely fantabulous magazine to its breaking point in order to devote a maximum of pages to him, there are plenty that, for lack of space, end up in the trash or buried somewhere, saved for a rainy day. But what a waste, fercrissakes! What right do we have to keep this incredible collection all to ourselves?
That's right, because Rousso has remained a semi-confidential author despite his extraordinary talent and the unwavering recognition of his peers, in France, in Europe, and on the other side of the Atlantic.
The book
So Brainxit! is his real first opus, more than 80 pages of humor, poetry and graphic art. The only way to gather dozens and dozens of his best drawings scattered for decades in scattered in very many publications from various countries.
As Rousso is able to draw in many languages, his book wil directly published in French, English and Italian
for your own happiness and that of your friends near and far.
What are the funds for?
Time for coming out !

About the project owner
ROUSSO
After numerous, adventurous lives, Rousso ended up spending most of his career in scientific and environmental publications, only to completely bloom once he "retired" in national and international press. In earlier 2000's he founded the FECO ("France Cartoons" since 2017), the French chapter of the"Federation of Cartoonists Organisations", and he joined the NGO "Cartooning for peace" in 2011.

Rousso by himself
Therefore, at over 80, he has become a staple in generalist satirical publications such as Siné Hebdo, Zélium, La Mèche, and Siné Mensuel in France,Buduàr in Italy, as well as on Daryl Cagle's site cagle.com in the United States and worldwide.

Having nothing left to prove, with his pencils Rousso has fun, explores new themes, constantly questions his art. Over the years, the artistic expression of this young retiree has evolved oodles more than that of most whippersnappers quarter his age. It is by his poetic hand that he shatters stupidity, a graphic poem that avenges and consoles the cruelty of this world.
Nigel Farage, leader of the Brexit Party
Joining this campaign, you'll not just purchase an extrrraorndinary book, you will also support free and high level press.
Do yourself this great favor, it's for a good cause!
***
Do you like this project?
Perfect ! We're already working on the next step...
( ALERT SPOIL )
...the second book of Rousso, entirely dedicated to the environment !
keep in touch !