HAPPINESS LIES IN THE INSTANT
Le bonheur est dans l'instant -Photography meeting and exhibition - Paris- 14-16 september 2018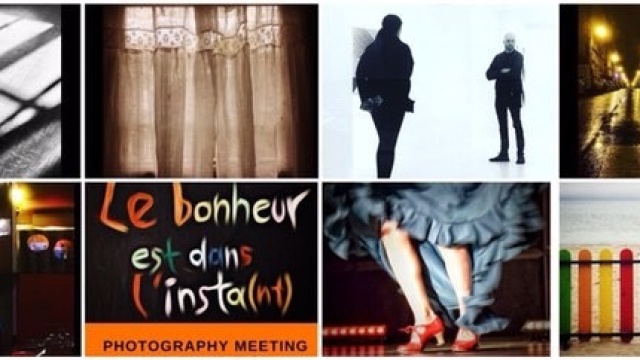 About the project
Art connecting people!
Our project is already on good way!
We have invited 50 photographers (coming from 12 countries in Europe) who successfully publish their works on Instagram, to come to Paris in September 2018 to exhibit their works in a gallery in the heart of this artistic city. Everybody is already confirmed!
In the exhibition entitled Le bonheur est dans l'instant,"Happiness lies in the instant" you will see250 images showing the fleeting moments of everyday life and the beauty of the world filtered through photographers' eyes, cultures and personality styles. You will exchange with them during the meeting, speak about their and your own art. Art connecting people!
Our Manifesto!
In what do we believe? We need your help in promoting a new initiative whose aim is to make the art of photography democratic and open to everyone! We do believe that art is accessible to everyone and all creative people should be able to have a chance to show what they do in real art galleries.
We are also convinced that art and creativity are the springboard for human connection, authentic contact between artists, art lovers and individuals looking for talented photographers.
What do we need?
So help us produce the promotional materials( catalogues, posters, and film if our objectives are overtaken) and for organize a marketing campaign for this exhibition and the future exhibitions! We do not want this event to be just a one-off. We are planning to develop it into a series of exhibitions to promote unknown photographers who want to show their art to the world and meet spectators and other artists.
The rewards
No matter how much you donate, and besides proposed counterparts you will be invited to have a drink on september the 15th for the varnishing and your name will be printed at the back of the catalogue in the "Our sponsors" section. You will also get updates from us about any future exhibitions (next one in march 2019). You will have a chance to participate yourself! Additionally, if you donate the following sums of money you will get
And For THE DONOR COMPANIES their logo and their website printed in the special sponsors section
What are the funds for?
The budget
800 – printing the catalogues and the posters
200 – postage costs
300 – printing and sending invitations to artistic and cultural institutions
200 – Ulule commissions and bank charges
500 – producing materials to promote the next exhibition in March 2019
About the project owner
Who are we?
"happiness is in the instant": https://www.facebook.com/groups/346455125850997/permalink/373747073121802/
Groupement Intensité: https://www.groupement-intensité.com
The "Intensity groupment" is a plasticians, writers, photographers groupment organized by Olivier Wahl. It is in this context that our event will take place. This groupment organise a lot of exhibitions during the year in the "Labvoratoire d'exposition" "the exhibition Laboratory" 13 rue de l'Echiquier 75010 Paris. This place is testing place where artists are trying their ideas, their projects. This place allows meetings between artists and spectators and its objectif is to accompany artists (confirmed or not) in their courses. Xavier Gras is this project leader. He was an actor and director, is a plastician, photographer. He is in good company with Malgorzata Warminska his polish correspondent. Together they are working to do this unique event a success.