FIRST ALBUM \ BLUEGRASS MACHINES
The new space-timel adventure from the Grasslers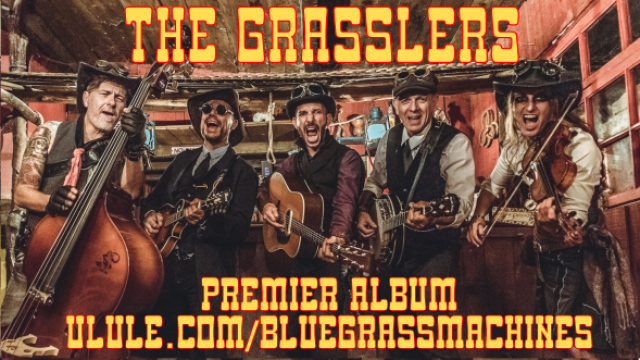 About the project
The new spatio-temporal adventure from the Grasslers is on its way. After a successful crowdfunding campain in 2017 to finance the shooting of their very first video, the Grasslers try their luck again on Ulule.

(First video directed by Stef Mérat, thanks to the Ulule contributors).
But this time, it's for the recording of their first album.
Whether you are one of their most loyal aficionados or you're discovering them right now, you are invited to take part in their all-new space-time adventure !
What are the funds for?
We count on your help in collecting the necessary fundings for :
Recording 1'200€ (already payed by the band)
Mixing 800€ (already payed by the band)
Mastering 600€
CD Pressing 979€
Royalties [SACEM/SDRM] 567€
Compensations 940€
Ulule commission (8%) 247€
YOUR COVER REWARD
You dream of listening to your favorite song or the worst song you know of reisted and performed by The Grasslers ?Challenge them to create an original and exceptional track!The song of your choice will be recorded and filmed live. If you wish we will disclose it to you only!
About the project owner
Coming straight from the Var West, The Grasslers is a band whose generous, rhythmic music targets a wide audience. Worthy descendants of Davy Crocket and Tom Sawyer, they combine the Pop-Rock style with that of Folk Bluegrass US Traditional music. Their universe at the crossroads between Tarantino and O'Brother offers a total change of scenery and their swing delivers an energy able to move any "hard ass" / "Soggy Bottom Boy"!
Born in the spring of 2016, after a little bunch of passionate musicians meet each other, The Grasslers settled quietly in the sound landscape of southern France. Barely a year after their debut in the bars and local scenes, they are already programmed in country, rock and vintage festivals all over the region (South Vintage, Country Roque, Rendez-vous).

A simple and efficient concept :
- 5 string instruments [Banjo - Mandolin - Violin - Guitar - Bass]
- 5 powerful and warm voices
- Traditional American Bluegrass folk music songs
- Songs from the Pop / Rock Anglo-Saxon repertoire from the 70s to today, that everyone knows (Police, The Beatles, Depeche Mode and Nirvana of course)
! STAY TUNED !