la recreation 87
biscuiterie bio et locale à Roussac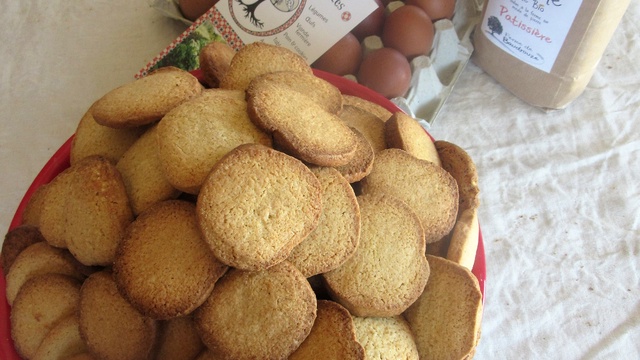 About the project
Je travaille actuellement dans un fournil partagé avec deux paysans boulangers. Le local se trouve sur la commune de Roussac en Haute-Vienne. 
J'ai créé une gamme de biscuits sucrés et salés préparés avec des produits bio et locaux et je souhaite aujourd'hui me professionnaliser dans ce domaine.
Tous les produits sont issus de l'agriculture biologique, le sucre et le chocolat proviennent du commerce equitable.
La farine est fournie par la "ferme de Baudrouze" et les oeufs viennent de l'élevage "des Racines et des Pattes", ces deux exploitations se situe à moins de 10km du fournil.
Je vais vendre mes biscuits dans des boutiques de producteurs, des magasins bio et vous rencontrer lors d'événements locaux.
What are the funds for?
J'ai aujourd'hui accès à un fournil de boulanger mais je n'ai pas encore le matériel nécessaire pour la fabrication et la commercialisation de mes biscuits.
Je dois donc investir dans du petit materiel :  plaques de four,  enportes pièces et  caisses de transport.
Pour démarrer mon activité je dois aussi passer des commandes de matières premières et m'inscrire pour obtenir le label bio.
Et si on recolte plus que prévus? me demanderez-vous, on investit pour créer un logo.
About the project owner
Après avoir passé plusieurs années à bichonner mes 3 enfants, je suis aujourd'hui sur le point de créer ma propre activité de biscuiterie .
J'ai toujours passé du temps dans ma cuisine et particulièrement ces dernières années à confectionner des goûters pour toute la famille.
Après de nombreuses sollicitations, je me "jette aux fourneaux" pour proposer mes biscuits à tout les gourmands .
FAQ
If you still have an unanswered question, feel free to ask the project owner directly.