EDMOND, a portrait of Baudoin
A film documentary by Laetitia Carton about Baudoin, a major figure in contemporary comic-strip art.
About the project
A film documentary about Baudoin, a major figure in contemporary comic-strip art. 
The film is now playing in theatres in France !
FOR THE NON-FRENCH RESIDENT, YOU CAN STILL SUPPORT OUR FILM, "THE OLD WAY", USING OUR SUBSCRIPTION FORM AND GET THE SPECIAL DVD EDITION OR DRAWINGS
If you want to organize a screening or for any questions regarding distribution of the film, you can contact Olivier Charvet, [email protected]
To view the trailer with english subtitles
To download the press kit (in french) and the poster
When Baudoin's first albums appeared in the early 1980s, the publishing world was somewhat baffled. Who was this accountant-turned-comic-strip-artist who had come to disrupt the tranquil course of the Franco-Belgian comic-strip world, still in thrall to the conventions of the clearly drawn outline?
In justification of the refusal to award him any prestigious prizes, a publisher once admitted to him: "If you had received an award, it would have killed off the comic strip album such as we know it today. You, Baudoin, are not making comic-strip albums, you're creating art, poetry. We're not interested in that."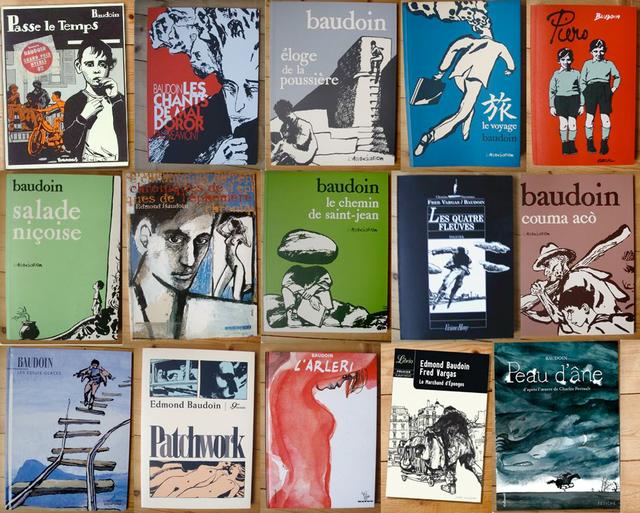 Thirty years and fifty books later, Baudoin has been unanimously recognized as one of the pioneers of contemporary comic book art.
Through his drawings, which border on painting, an autobiographical style that was quite new to France, a tremendous formal independence and the existential questions that run through his work, he has helped liberate the comic-strip from its constraints, paving the way for subsequent generations of auteurs.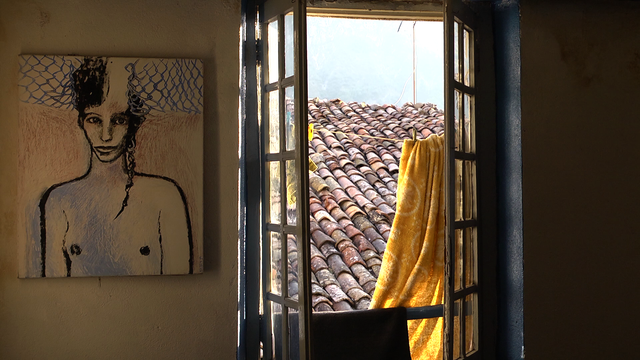 I met Edmond Baudoin seven years ago, through one of those objective chance encounters that life sometimes offers up. I showed him my first short film, D'un chagrin, j'ai fait un repos. He told me if he made films, this was the kind of film he would like to make. The idea of making a film one day came quite naturally.
Time passed. As in Passe le temps. Two years ago, I wrote to him:
- "Do you remember we promised to make a film together? You don't want me to make a portrait of you? You don't want to be my 'model'? I don't know what it might look like in the end, but let's explore the idea together..."
He laughed, and said yes.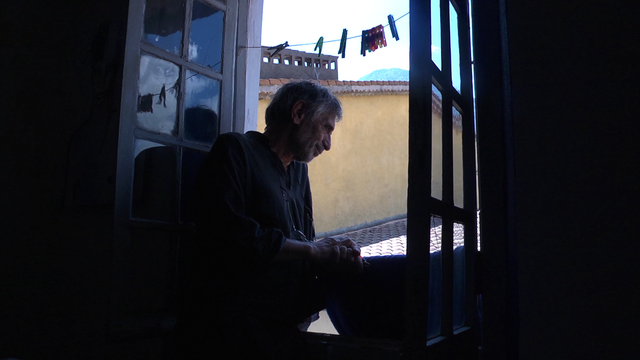 "Portrait occupy a significant position in what people call "my work ": Couma aco, Eloge de la poussière, Piero… Maybe it's just a way of doing nothing but self-portraits... Today I saw footage from Laetitia's film, which is now in the editing stage. And standing back a little, removing myself as it were, I was touched by what I saw, much as I was at what she showed me seven years ago.
What she's trying to say, what she's seeking, her particular music, is similar to the path I've taken, and to the stumbling blocks along the way. When creating a portrait, she looks inside herself to find the other. I like that. Having been "her model" during the year she was filming also turned out to be another kind of journey, another way of traveling.
Viewing the footage, I realize that my life - my travels, my children, my love affairs, my books, my questions... do indeed supply the basis on which to make a film."
Edmond Baudoin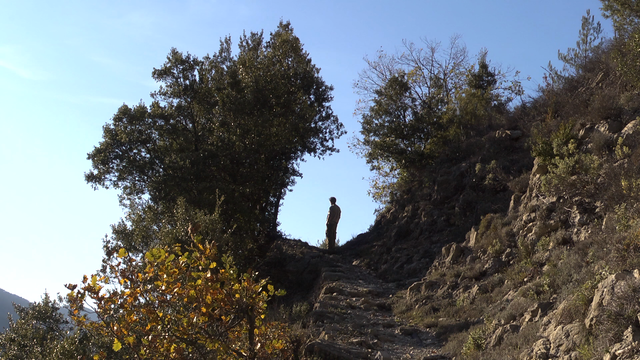 I filmed Edmond for over a year. He took me to Villars-sur-Var, the village in the Alps, where he spent his childhood and adolescence, to "his" Chemin-de-St-Jean" and to his river. He said of these places: "They made me." I also went with him to Nice, where he was born, and to his studio in Paris when he was working on his next book, about Salvador Dali. I filmed him as he spent his days, painting, drawing, walking, dancing.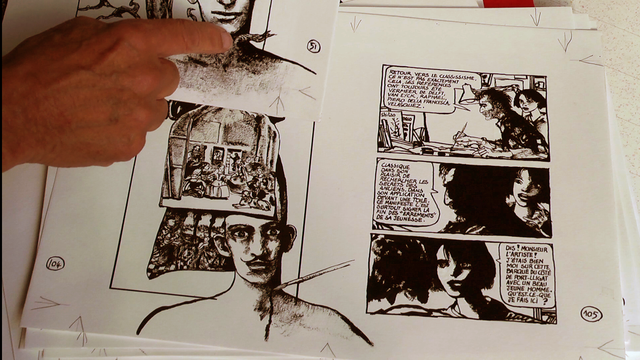 For me, Baudoin is a giver: he gave me leave to follow him on his travels: signing books at festivals, explaining how he draws at seminars, dancing with a brush at performances with musicians and dancers, recounting his life to pupils and high-school students in the classroom, offering men, women and children portraits of themselves at parties. Moments in which, I sensed, he takes great pleasure in passing something on. But passing on what?
During the filming, I was looking for something fundamental. I find it difficult to put into words. Is that what he calls helplessness? I'd express it as something to do with humanity, life in its purest state. 
This man has given a precious gift to the comic-strip world, the gift of freedom. This freedom that he won by tearing himself away from his dreary career as a chief accountant in a firm, by choosing to become and to remain what Jacques Samson has described as:"A man freed from all restraint, immersed in the disconcerting euphoria of his time for living."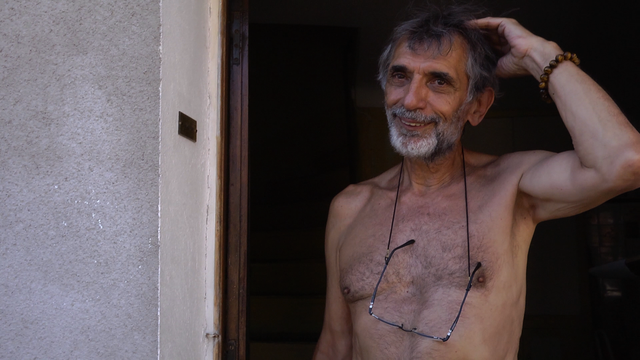 Where are we now? From short to feature film!
The film editing began in parallel with the filming, and over the course of assembling sequences, new ideas developed apace. I took up the camera again, as did Edmond his brush or pencil, to start drawing and writing again for the film.
The film is now at the editing stage, and along with my producers, we feel we have the basis for a fine film, one that will be feature-length rather than the short film we initially envisaged.
For his part, Baudoin had a book, long on the back burner, that provided a title for our film. We started dreaming of a joint release: the film in cinemas and the album in bookstores, or even putting out a collectable item, a book/DVD boxed set.
We have planned to finish the film in 2014 and to show it to film festival programmers and distributors with a view to a theatrical release in 2015.
What are the funds for?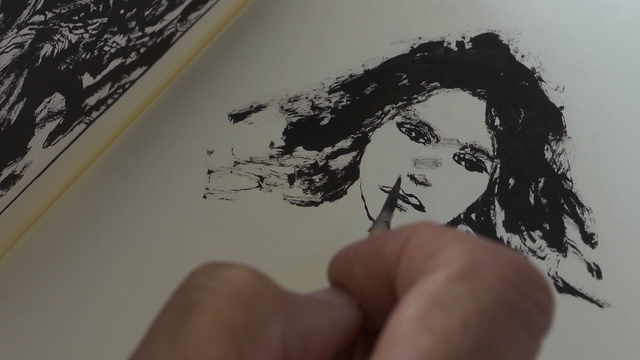 The decision to produce the film was made in July 2011, once enough public funding had been raised for a short or medium-length documentary film (CNC, Région Limousin, Région Paca), produced under the economic constraints of a short film, with a tight budget and a great deal of good will contributions, with the idea of launching the film on the film festival circuit.
The funding raised for the film as a short enabled us to start production and embark on an initial edit; we are now seeking financing to complete the film as a theatrical feature. 
The financing via Ulule will be used to pay part of the additional editing costs (salaries and other costs), new footage and an original musical score.
We set ourselves a target of raising a minimum budget of €10,000, but really need twice that amount, so please, don't hesitate to help us exceed that target! 
Other partners will be solicited subsequently, to complete the film's post-production process and the distribution, but we do need to be able to present a completed film. The support of Ulule's contributors is what will enable us to achieve this!
Do not hesitate to talk about it to those you know, to circulate information, or contact us for more information via Ulule, our site, by email or telephone, we will be delighted to respond to your questions and suggestions.
Join us on the 
facebook film page
 ! 
About the project owner
Laetitia Carton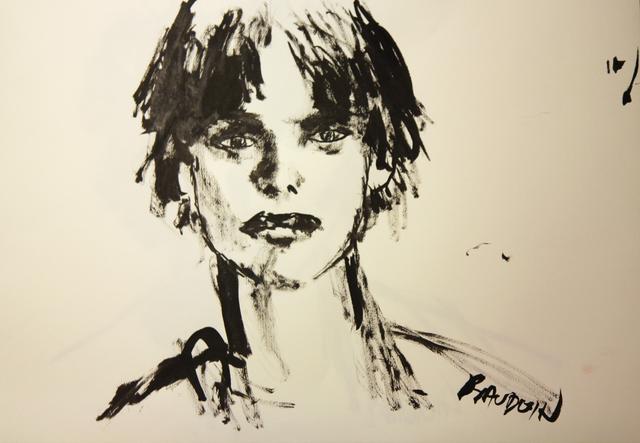 I was born in 1974 in Vichy. I "did Fine Arts" at Clermont-Ferrand. From the time I graduated, I exhibited at contemporary art venues (at the Abbey St André in Meymac, in St Fons, in Creux de l'Enfer, Thiers, the Espace d'Art Contemporain in Paris, at Lyon's Musée d'Art Contemporain, etc.). I then did post-graduate studies at the School of Fine Arts in Lyon. It was there, with Jean Pierre Rhem, my "tutor," that I encountered the art/auteur documentary. I subsequently decided to embark along that road, and I studied for a MA in documentary direction at Lussas.
My graduation film, D'un chagrin j'ai fait un repos (which can be seen at: film-documentaire.fr) was screened extensively, and enabled me to travel as far as Cuba, where the film won a prize.
In 2009 I made my first 90' film for television, La pieuvre, about a genetic neurodegenerative disease, Huntington's, that is decimating my family. It was selected for Fipa 2010, by the Leipzig and Tubingen festivals, and at the "A nous de voir" festival in Oullins, it won the Jury prize, the Youth Jury prize and the Audience Award (Jean-Michel Frodon discusses the film on his blog).
In parallel to the film about Baudoin, I m' making a documentary for cinema about the Deaf Community and Sign Language, that I started seven years ago with my deaf friends. I am writing another film about my home town, Vichy, and how it has conveniently recast its recent history. I am currently living and working in Faux-la-Montagne on the MiIlevaches plateau, and, as Baudoin would say, "I enjoy it."
Baudoin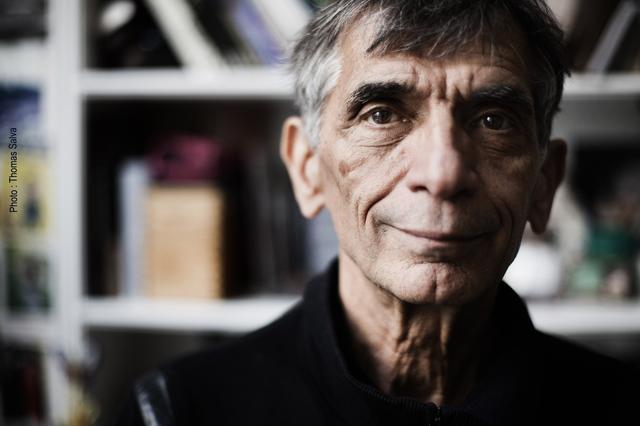 More infos on Baudoin's Web site
Miquéu Montanaro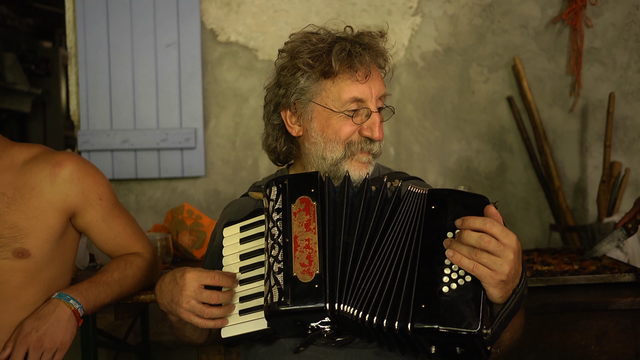 Miquéu has long been a friend of Edmond Baudoin's, their worlds are very close. When I asked Edmond what musician he'd like to work with, he immediately told me about Miquéu. I filmed them together several times, in performance and during a village fête. Miquéu's accordion, flutes, his rhythms and his voice, recorded live, will feature in the film.
http://www.compagnie-montanaro.com/
http://www.myspace.com/ciemontanaro
Christophe Monniot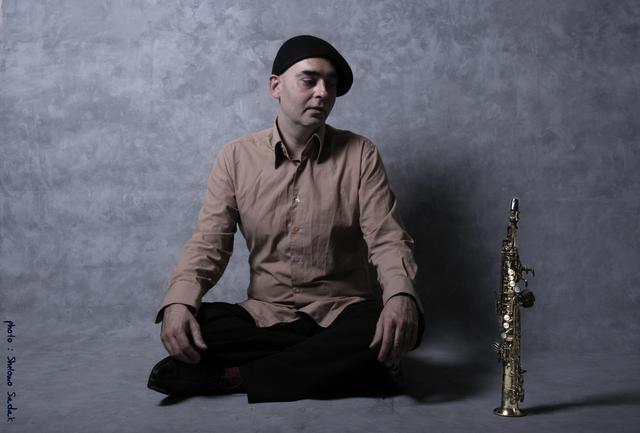 I also asked Christophe Monniot to bring his music to the film. I discovered him some years ago when he was playing with the Campagnie des Musiques at Ouïr. I knew that his "voice," his inspiration, his charm, would be a perfect match for Baudoin and his books.
"When Laetitia talked to me about the film and about Baudoin, I thought :"Someone who loves jazz and Miles Davis can't be all bad! ." So I agreed to do the music!"  Christophe Monniot
http://www.myspace.com/moniomania
Kaléo Films

We produce shorts films, feature-length films and documentaries for cinema and television. Auteur films that we work with as craftsmen, from the initial script to the encounter with an audience. Our choices are above all driven by the character of the filmmaker, and the strength and coherence of their project.
On meeting Laetitia Carton we were taken by the originality of her work, her penchant for making films like mosaics, the importance of the off-screen voice/narration, a need to use 'I' to approach the outside world. Her style doesn't fit the even the most ambitious TV broadcasters' current diktats, and we felt it was essential to develop cinema projects with her.
We thus embarked on a collaboration with Laetitia on the script for a feature-length documentary about Deaf and sign language,  "J'avancerai vers toi avec les yeux d'un Sourd" ("I move toward you with the eyes of a deaf person").
When she suggested we produce this film about Baudoin we were won over, right from the start, by her personal approach and by the personality of Edmond Baudoin, whose books we like enormously. 
A little more about us on Kaléo Films Web site
You can contact us by email here : [email protected]