L'avventura
An Italian's life in Paris - graphic short stories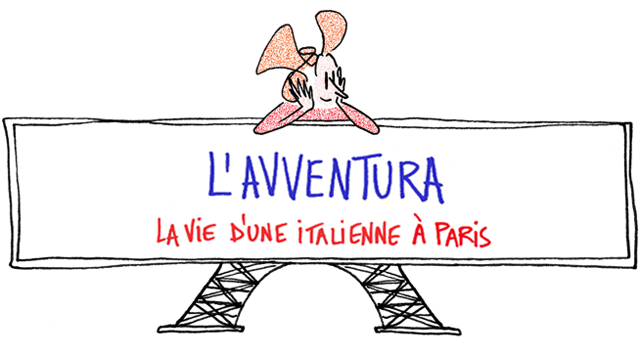 About the project
Fiamma Luzzati is an Italian young lady, she arrives in Paris to write and publish, sure to succed, but everything goes wrong: no apartment, no publisher, no money. She ends up squatting at her friend's Aline and - always hoping to find a job - she sketches her impressions of Paris and Parisiens : love affairs and flops, discussions with her friends, encounters...
The result are humourous "graphic short stories" (in French) that have been released on the newspaper "Libération" website since March 2012, take a look :
www.avventura.blogs.liberation.fr/dessin
Libération readers follow and encourage me so I told myself: what if I published my book? Finding a publisher takes a long time, the easiest and fastest way to publish a book is self-publication, but I need a little help.
THE BOOK IS PRINTED! THANK YOU!
YOU CAN BUY ON:
http://www.etsy.com/shop/fiammaluzzati
What are the funds for?
I NEED YOUR HELP
Le budget covers the manufacturing and expedition only: graphics, printing, envelopes, post charges, Ulule charges. I set a low price for my first book with no remuneration for my work.
2600 euros allows a digital printing and expedition of 300 copies. If I obtain 4800 euros I can print and send 500 copies.
My book includes a number of stories already released on Libération and, if it is successful, I already have enough stories for two more to come. Fiamma's life goes on and her blog, too!
Technicalities:
90 pages, A5 size (14,4x21 cm), offset paper, colour impression, soft cover
Mail charges are higher for EU and other countries : 2,5 euros additional charge.
About the project owner
Fiamma Luzzati is a pseudonymum, I have had many jobs in my life. Iarrived in Paris to write and publish and I actually did under others pesudonymums. I discovered drawing recently, it's a wonderful tool to tell my stories. I love to amuse my readers, loughing is healthy and we need it so much.
I have been invited to the festival of bloggers "Festiblog" in Paris (septembre 2012), it was a great experience.
My blog on "Libération" website :
www.avventura.blogs.liberation.fr/dessin
My facebook page :
http://www.facebook.com/fiamma.luzzati