AUBOIRON WORLDWIDE EXHIBITION
Painting, architecture, the world and me - From March 30 through April 7 2019 - Bastille Design Center - Paris 11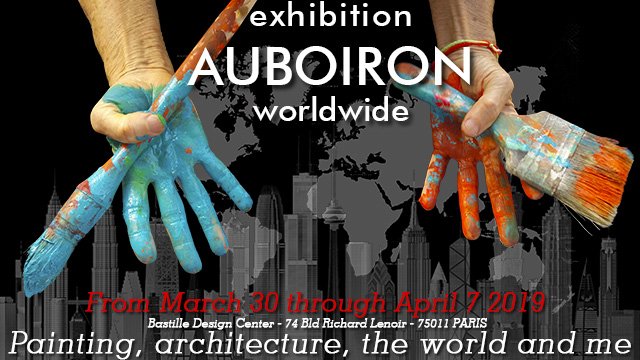 About the project
AUBOIRON WORLDWIDE EXHIBITION
Painting, architecture, the world and me
From March 30 through April 7 2019 - Bastille Design Center, 74 Boulevard Richard Lenoir – 75011 Paris
Michelle Auboiron is a painter and a visual artist with a unique approach; Her work explores and questions architectural creation in all its forms, all over the world.
This deeply personal and original quest has inspired her to travel the world like a nomad, and produce a body of vibrant paintings, that testify to her undying passion for buildings and structures, both ancient and new, man-made and natural.
Over the course of three decades, she has produced over a thousand paintings, most of which, were done on location, like so many live performances. This architecture-inspired action painting has taken her to different shores, from Chicago to Shanghai, wherever the vertical form beckons. However, despite the travels, she also paints local scenes like La Défense where she was born, The Opéra de Paris, which granted her (a rather exceptional) permission to capture its beauty on canvas. On a lighter note, Versailles was the subject of a humorous series and she painted the Green Houses at Auteuil with a touch of mystery. The Museum d'Histoire Naturelle gave her the opportunity to create her fabulous Diplonosaurus... And the list goes on with Marrakech, Havana, Saint Louis du Senegal, Colorado's wild nature and so many other moments and places...
Today, Michelle Auboiron wants to share her vision of wide open spaces, from a different perspective, in a more personal, soul searching approach, without constraint; hence the idea for the exhibition, Auboiron Worldwide, which the artist will present in the Spring of 2019 at the ideally suited Bastille Design Center, with its 650 m2 on three levels.
A collection of 150 paintings will be on show, highlighted in an original staging, which echoes the motion of travel and architecture in constant upheaval. The works will be hung alongside a wide variety of action photos and videos connected to the different projects, as well as a cabinet of curios, in the tradition of great travelers of the past, full of original material and strange and wonderful objects, acquired around the world.
Michelle Auboiron's paintings will be for sale. Entrance is free.
INSTRUCTIONS & REWARDS
1 – The names of all contributors will be posted on a kakemono at the entrance of the exhibition
2 through 7 – For contributions ranging from 5 to 60 €, check out the column on the right where you'll find screen displays, posters of the exhibition, signed or not, invitations to the opening and tickets for the Art raffle. The prize draw will take place on April 7, 2019 on the last day of the exhibition.First prize: A large painting from the exhibition at the winner's discretion. Click in the upper right hand corner on 'contribute' and follow the instructions.
8 through 175 – From 70 € up: Exclusive rewards and a choice of 169 original works; paintings, drawings on paper, paperboard and canvas.
READ INSTRUCTIONS CAREFULLY:
1 – First choose a drawing you like on the rewards page: https://www.auboiron.com/campagne-ulule/considerations-en/
2 – Write down the number of the work you've chosen.
3 – Return to this page
4 - Click in the upper right hand corner on 'contribute' and follow the instructions.
What are the funds for?
Producing an exhibition on this scale requires hiring several independant services, such as space rental, transport and handling (specialists), hanging (10 people over a period of 2 days), closing (6 people for 1 day), lighting, scenery, printing and framing, video editing, writing, translations, communication, printing costs, shipping costs, reception, opening, security, insurance... It is just too much for one person, all the more so, since public and private sponsors are notoriously unreliable, therefore, I decided to launch a crowd funding campaign for contributors on the Ulule web platform. Please come and join me with your choices and your enthusiasm.
The total estimated cost of production for the Exhibition Auburon Worldwide is 50 000 € - Detailed information available on demand.
Stage 1 – I am asking for a financial contribution equivalent to 40% of the full amount, i.e. 20 000 € - Including the 8% Ulule commission, delivery costs in France and state sales tax (5.5% on original works, 20% for other contributions).
If we don't reach our financial goal, all contributions will be entirely refunded, in agreement with the rules of the Ulule web platform.
Stage 2 – If financial contributions exceed 50% and reach the equivalent of 30 000 €, I will publish a catalogue, which will be given to all contributors with donations of 60 € and up, during their visit to the exhibition.
About the project owner