Atlantis
Art book a sostegno di MOAS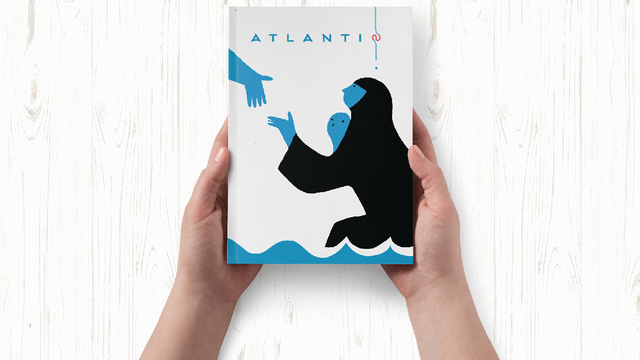 About the project
What are the funds for?
Il finanziamento è destinato a:
• creare un fondo no profit per MOAS (Migrant Offshore Aid Station) e aiutare in modo concreto la loro missione di ricerca e soccorso nel Mediterraneo Centrale. MOAS è la prima ONG specializzata nella ricerca e soccorso in mare e da due anni impegnata a garantire il salvataggio di migranti e rifugiati che tentano di attraversare il mare in condizioni disperate
• coprire le spese di stampa e di comunicazione
Il libro sarà di formato A5 (148 × 210 mm), 64 pagine, legatura in brossura / filo refe e copertina con bandelle in carta 300gr.
>>>
This funding goes to:
• MOAS (Migrants Offshore Aid Station) in support of their search-and-rescue mission in the Central Mediterranean.
MOAS is the first NGO of its kind, since 2014 dedicated to preventing loss of life at sea by providing professional assistance to refugees and migrants attempting to cross the sea. 
• cover printing and communication expenses
The book will be in A5 format (148 × 210 mm), 64 pages, stitched paperback binding / cover with flaps / 300gr, paper.
Ricordiamo che Atlantis è un progetto di beneficenza. I gadgets in elenco, oltre il libro, sono un pretesto – speriamo gradito! – per invogliare la raccolta fondi. Qualsiasi somma sarà utilissima. Qui accanto la lista di materiali che vi saranno spediti.
Grazie in anticipo a tutti coloro che parteciperanno insieme a noi al viaggio verso Atlantis anche con minime quote.
>>>
Please note that Atlants is a charity project. All the gadgets, together with the book, are a just another way to encourage donations to the campaign. Any amount is more than welcome. Attached here is the list of all the items that will be delivered to you. 
Thanks in advance to any donation contributing to this travel to Atlantis.
About the project owner
Come è nato Atlantis?
Qualche tempo fa durante la trasmissione Caterpillar su Radio 2, abbiamo seguito la presentazione di MOAS, l'ONG co-fondata da Regina Catrambone che organizza operazioni di soccorso, salvataggio e assistenza per tutte quelle persone che provano ad attraversare i mari per una vita migliore.
Siamo rimaste colpite dalla loro esperienza e dal loro impagabile lavoro, e all'ennesima drammatica notizia di persone che non ce l'hanno fatta, abbiamo deciso che non potevamo più stare a guardare.
Occupandoci di illustrazione e grafica, abbiamo pensato di dare il nostro contributo con quello che sappiamo fare meglio: disegnare. 
Tiburtini Tipografie, con sede a Roma, si è impegnata a sostenere il progetto facendo una donazione in stampa e agevolando le spese di produzione del libro.
Tutte le ulteriori news e le informazioni sul nostro progetto potete trovarle sul sito  e sulla nostra pagina facebook.
Atlantis è un progetto di Sara Stefanini e Daniela Tieni.
***
Grazie a Giulio Tiberio Marostica (Assistant Communication Officer di Moas) per il supporto alla campagna.
>>>
How was Atlantis born?
Some times ago, listening to the Italian Radio programme Caterpillar, we heard the presentation of MOAS, the ONG co-founded by Regina Catrambone that conducts search-and-rescue operations at sea, and provides assistance to refugees and migrants attempting to cross the sea in search of a better future. 
The story and work of MOAS moved us, and after yet another news of people died attempting to cross the Mediterranean, we decided to step in. 
As graphic designers and illustrators, we thought that drawing was the best way to contribute to the work of MOAS.
Tiburtini Tipografie, based in Rome, is supporting the project printing the book, reducing the costs of production.
For any news and information on this project, visit our website or facebook page.
Atlantis is a project by Sara Stefanini and Daniela Tieni.
>>>
PARTNER >