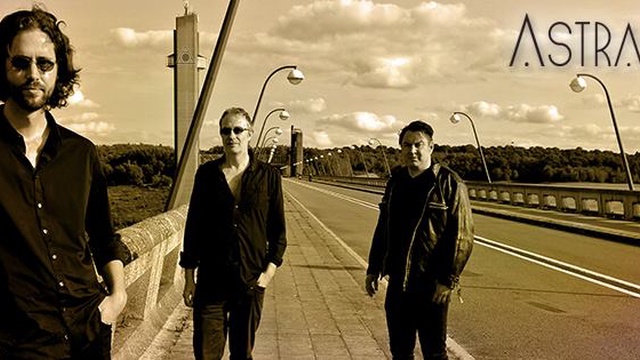 About the project
Astrasonic is a Belgian band including JC MO as the singer, Seb on the bass guitar and Rapha.Mantra on the guitar, drums and keys programmation, as well as backing vocal.
Our objective is to produce a studio album with 10 original songs. Our influences are mainly Coldwave, American Rock and Electro.
But first, we'd like to introduce ourselves.
JC MO has begun to play music at 15 years old. The drums were his first instrument. One year later, he began to play the guitar and wrote his first songs.
Years later, he bought a bass and the necessary equipment to record his songs. So he can deal with recording, the drums, guitars, bass and vocals.
He played in several rock bands on live.
In May 2017, he met Rapha.Mantra and Seb, and joined Astrasonic.
Since the beginning, Seb has been a big fan of "The Cure". He has learned to play the bass and started a tribute band. That experience was successful and lots of lives have been done.
Rapha.Mantra is a passionate guitarist. He played in several bands and is able to play various instruments. He wrote several songs since 2006 with computer-assisted music.
His live experience is wide…
Passionate by Coldwave and Electro, he has started a new musical project with Seb. Their objective is to record a studio album. Astrasonic is born…
The challenge is to release an album in January 2018 including 10 original songs.
By the end of August 2017, 5 songs were written; 3 other ones are on the go.
The planning is:
15 October 2017: 10 songs are selected to figure on the album
Between 15 October and 15 November 2017: songs are recorded and sent to a sound engineer for mastering
December 2017: a sound engineer is selected to follow us for lives
January 2018: the first Astrasonic album is on sale. Showcases and lives begin
As you can see, we still have a lot to do…
Our strengths are numerous: love for music, experience, great motivation and a good variety of useful competences. We are capable to work together or remotely.
We are able to record and mix our songs ourselves. The mastering will be done by Raffaele Neda D'Anello, a sound engineer in Aoste (Italia), who is a reference for that kind of music.
What are the funds for?
Astrasonic needs you!
Mastering and CD's pressing are not for free.
The estimate budget is 500 € for mastering, 900 € for CD's pressing. We estimate 300 € more for various costs (photo's, work session with the sound engineer…).
We need your help by a crowdfunding for a total amount of 1700 €.
Do you take up the challenge with us?
About the project owner
Here is a short introduction of the project:
New Angels (demo)
I will wait (Teaser)
Astrasonic (Teaser)
FAQ
If you still have an unanswered question, feel free to ask the project owner directly.