Artbooks Inktober 2018
By Kelpie & L'Encromancienne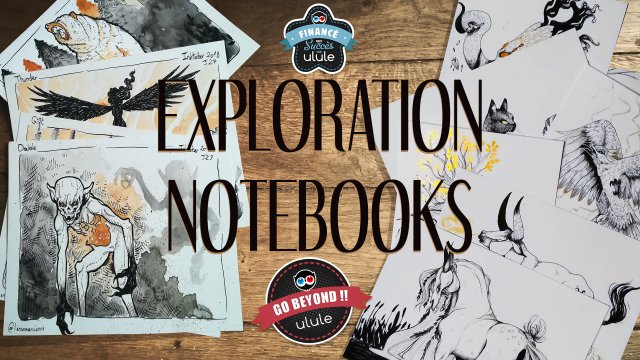 About the project
The Exploration Notebooks are our very first artbooks and we are more than proud to be able to present to you the outcome of one of our childhood dream : the publishing of our first book.
There are two notebooks, one per illustrator. We have chosen to create our own characters that you will follow in his adventures and the discovery of the creatures of his world. What's so original about this collaboration ? Our hero will sometimes be solo, sometimes in duo with each other, giving our story another depth and making them complementary.
In each artbook, you will find the 31 illustrations created for the 2018 Inktober as well as sketches and drafts to go along with the narrative.
Inktober, what is it ? It's a challenge taking place in October, originally created by Jake Parker, for artists all over the world. The rules are simple : one ink drawing a day during the whole month, using a list of prompts.
This is our first Ulule campaign, so we need your help to bring this project to life ! This project we have our heart set on, has kept us motivated during October and allowed us to push back our limits.
As the story progresses, you will meet Kelpie and Lunore and enter even further into our medieval-fantasy universes.
The artbook will be in a A4 landscape format, approximately 40 pages and all in colours with a soft cover. The publishing is planned for the early part of the year 2019.
We have planned to spoil you if you burst all this levels ! With each new objective fullfilled, new reawrds will be added. We will also do a lottery that will allow some of you (1 to 3 depending on the levels we reach) to win some surprises and an original of your choice among the last availables !
What are the funds for?
The money we will collect will be used for :
Printing the artbooks
Goodies
Shipping fees
Ulule commission (8%)
About the project owner
I am Kelpie, a French freelance illustrator and I happen to be a fan of fantasy, a nature lover, an animal hugger and a bookworm !
I love to draw everywhere and get my hands dirty while experimenting with techniques and materials (my poor walls have seen some crazy stuff).
When I'm not drawing, I have many hobbies like reading, watching movies/series/animes, gaming (board game, roleplay and video games) and walking in the woods.
And I am L'Encromancienne, also known as Lunore when I am doing some LARP. I am mainly a tattooer, sometimes an illustrator and secretly, a writer, with my nose always sticked into a book and basked in Fantasy.
Inspired by nature, magic, paranormal and psychology I am very empathetic and my work is a reflection of all those little things that drives me.
When I am not drawing, I am writing. When I am not writing, I am readind. And when I am not reading, I am gaming.
L'encromancienne
Kelpie
And now, the last thing we need to say is a big thank you from the deeper of our hearts ! This is a huge project and it will only be brought to life thanks to YOU, your love and your support ! You are the reason why we keep moving forward from the beginning of this adventure ♥
If you can talk about this around you, like it, share it, it would mean a lot for us and it will help the campaign grows ! Again, a huge THANK YOU ♥