The Y/CON 5 Artbook
La vie parisienne | Parisian Life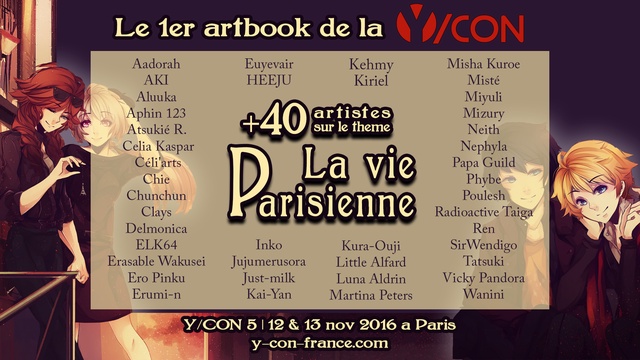 About the project
Welcome to you, good people of the Internet!
Event Yaoi has the great pleasure to present you with its convention's first artbook ever created!
 
After the success of the 4th Y/CON, we observed that we weren't offering any type of goodies for our visitors to remember the good times we had together! As we would not stand this injustice, we decided to create this artbook project.
It is entirely part of Event Yaoi's process since it pictures LGBTQ+ couples in a form of fiction, but also allows you to discover new artists whom we know you will love. Two kills in one throw, as we would say in France! (We are not that violent, really…)

Double the beauty, double the love! The project will also be organized with an exhibition taking place at the Y/CON! Within the original 42 artworks, 16 have been selected and will be shown at the convention in Paris on the 12th and 13th of November. BUT! Since we know you can't all come to Paris (although we regret that very much), all of the 42 illustrations will be available through this Ulule as a framed A3 high quality print. Happy? ;)

The theme now, since there is one! "Parisian Life"… It's very easy, too easy maybe, but 2016 is a very important year for us, since it stands for the moving of the Y/CON to our beautiful capital! Plus, even if it is obvious, we wanted to show you the imaginary Paris, the fantasized Paris, the one that the artists know so well how to paint, have they been there or are they still dreaming about it!
The Eiffel Tower, the rooftops, the Louvre, the small apartments or the Spirit of Paris itself reveal themselves to you in the depth of the book, graphic poem dedicated to the city of a thousand faces. Take your time to discover each and every one of them, they are as many faces of love.
The artists
The counterparts
What are the funds for?
Artbook printing,
Big format printing & framing (exhibition & counterparts)
Goodies
Shiping
About the project owner
Event Yaoi? Y/CON? What's that?
For those of you who haven't heard of us yet, Event Yaoi is a French non-profit organization which works on the promotion of "homo-fictions", mainly through events and publishing.
The Y/CON is, as said in its name, the association's annual convention. It gathers professionals and independent artists from this field, such as novel and comic artists, illustrators, video games publishers and many more! You will find the convention brochure attached to this message, feel free to read it for more details!
Convention website : http://www.y-con-france.com/
Association website : http://www.event-yaoi.fr/
Artbook Facebook announcement : https://www.facebook.com/eventyaoi/photos/a.185268451514805.35239.171961916178792/1196786340363006/?type=3
YBY Editions's website (project team) : https://ybyeditions.event-yaoi.fr/
FAQ
If you still have an unanswered question, feel free to ask the project owner directly.