Artbook "le Gang des Bicquettes"
The ballpoint pen as you've never seen it!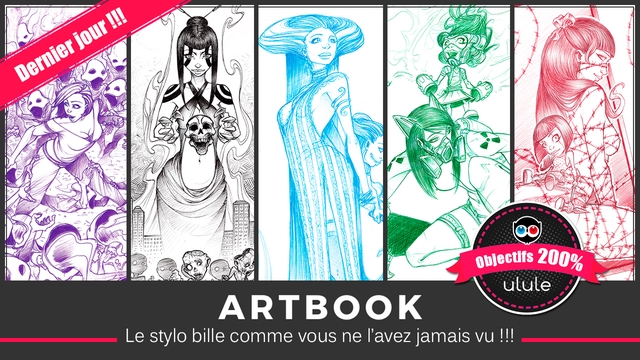 About the project

Here is a new adventure and not just any!
I'm an independant illustrator and I launch this project to fund my new ARTBOOK which will be entirely realized with ballpoint pens!
100% ballpoint pen, 100% Original, 100% quirky
Yes! You've heard this, the small pen everybody uses at school or in everyday life! That's right, this pen!
I can assure you that with a tool as simple as this, you can work wonders but you need to be patient, really patient. It's an amazing tool but it takes longer to work with because you have to be meticulous and take your time for the inking, the frame, the shadows, etc...
No big flat black colored, everything is made line by line.
In this ARTBOOK, you will discover about fifty illustrations sometimes sexy, sometimes poetic, sometimes warlike, sometimes quirky, but always original and made with ballpoint pens of different colors (blue, red, green, but also pink, purple etc ...).
I offer you an original concept with ballpoint pen: a whole world of pretty Pin-ups as sexy as dangerous, each accompanied by a little doll even more mysterious and frightening then them (characters of another project for 2020 with Johanna Zaïre).
The more the campaign will raise, the more I could add pages, gifts and other surprises!!!
The ARTBOOK will be released around June 2019, delivery of unsigned ARTBOOKS around July 2019 and those signed around October 2019.
The ARTBOOK will have a hard cover and will count about 70 pages!
A different technique, an original idea but still sexy.
We've all already scribbled with ballpoint pens on our school notebooks. I decided to make it my only tool.
Why the ballpoint pen? Because it's innovative, different and original, all of this with a simple pen.
I like working with this tool because the precision with which the details can come out is infinite, if we are patient. Using a ballpoint pen on different papers can give you completely different renderings. You will discover it in this ARTBOOK and realize the difference between a work done on smooth paper or grain or even ultra smooth paper like Bristol board, the technique is modified but still gives a surprising result!
Depending on the success of the campaign I would print 750ex or 1000ex
About the project owner
What about me? I am 34 years old, I am an independent and self-taught illustrator.

It was at 17 when I had this spark that triggered in me a real passion for drawing by copying for hours 3 great Comics cartoonists: Michael Turner, Joe Madureira and J. Scott Campbell, hoping, one day, to reach their levels.

After a bachelor's degree, I didn't know what to choose, and I landed at the Beaux-Arts. After a year that didn't correspond to me at all, I took a few courses in a small academy for a year where I acquired the basics of drawing, but I failed at the contests of major arts schools.

However, having differences of opinion and a style that doesn't necessarily please in academic schools, I wasn't too disappointed.

After several years working on my own, moving from jobs to jobs, I started to participate in festivals to present my work. From that moment my real life as an artist began!

I use many techniques (traditional and digital). I worked for role plays, card games, websites, video games, but also for the creation of posters, business cards, flyers, novels, comics, mural paintings, etc ...

I travel to France and Belgium, with my dear and affectionate Johanna Zaïre (author, singer etc ...), to participate in many festivals and present our work (Cidre et Dragons, Trolls et Legendes, Book Fair, Comics Festivals, Comic Con, Salon Fantastique, etc.).
https://www.instagram.com/colondefranciosi/
https://www.facebook.com/thibault.colondefranciosi