Artbook Inktober 2017 : Ruby
31 illustrations de Fei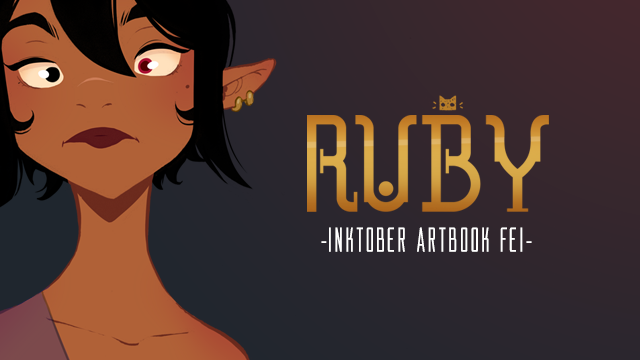 About the project
Ruby est mon tout premier Artbook et je suis assez fière de vous le présenter aujourd'hui!
Vous y retrouverez les 31 illustrations que j'ai réalisées lors du challenge Inktober 2017, qui consiste à faire un dessin à l'encre par jour pendant tout le mois d'Octobre (l'Inkotber Challenge) dont 6 en exclu dans l'artbook! 
C'est aussi ma première campagne Ulule et c'est pour cela qu'aujourd'hui, j'ai besoin de vous car j'ai enfin l'opportunité de partager un projet qui me tient à coeur!
Au fil de l'artbook, je vous présenterais Ruby que j'ai créée lors du challenge Inktober, son compagnon de toujours Napoléon ainsi que le reste de l'équipage du Némésis, le tout accompagné d'anecdotes ainsi que de quelques pages de recherches et de sketch.
L'artbook sera composé d'une cinquantaine de pages en noir et blanc et d'une couverture souple couleur, le tout au format A5. La parution est prévue pour le début de l'année 2018!
En résumé
Artbook d'environ 50 pages
Format A5
Reliure dos carré collé
Couverture souple
Space fantasy, science fiction, aventure
31 illustrations, des anecdotes et quelques pages de sketch
Francais
Sortie aux alentours de Février/Mars 2018
Lors de la bataille dite des "7 Princes", la grande Fédération s'est effondrée, laissant derrière elle une Humasphère parfois en proie au chaos, ou souvent aux mains des gouverneurs locaux, complètement dépassés par la charge qui leur incombe à présent. C'est dans ces étendues obscures où règne souvent la loi du plus fort, ou du plus malin, que navigue aujourd'hui l'équipage du Némésis, fier bâtiment de la fédération désormais reconditionné en vaisseau pirate.
Hissez-haut le pavillon noir et voyagez en compagnie de Ruby et de ses compagnons, au travers du silence éternel des espaces infinis qui effraierait jusqu'au plus courageux des philosophes.
Apres avoir dépassé les 100%, vous débloquez des paliers bonus pour des goodies supplémentaires, des améliorations pour l'artbook, pour toutes ou certaines contreparties!
What are the funds for?
L'argent récolté me servira à financer:
L'impression des Artbooks
Les contreparties et goodies débloqués
Les frais d'expédition (Envelloppe Bulle et Affranchissment) 
La commission Ulule (8%)
About the project owner
Je suis Fei, illustratrice freelance, autodidacte, grande fan de fantasy, de science fiction, j'aime aussi les chats, le café et les personnages hauts en couleur! Pas terrible pour parler de moi et tres mauvaise au Bingo, je vous laisse découvrir ce que je fais sur mes différentes pages!
FAQ
If you still have an unanswered question, feel free to ask the project owner directly.