The Y/CON 7 Artbook
"Winter Pleasures", the 3rd volumes of the Homofictions Convention's official artbook!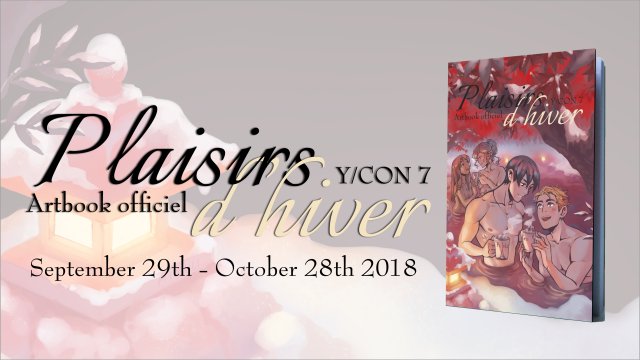 About the project
What is your favorite aspect of winter?
Afternoons by the fireside? The christmas lights on the streets? To take a walk into the snowy forest? Crepe overdose or the Venice and Rio festivals?

After "La vie parisienne" and "Jour de pluie", The Y/CON's team is proud to present you the third opus of its new official artbook, "Plaisirs d'hiver*"! Once more, artists of the entire world have joined their efforts to produce about a hundred pages of illustrations that highlight the LGBTQ+ community.
*"Winter pleasures"
Event Yaoi was founded in Lyon in 2009. Thie association supports homofictions (gay, lesbian, transexual, bisexual, M/M, F/F, yaoi, yuri, bara cultutal media…). In particular, each year, it organises the Y/CON (formerly Yaoi Yuri Con), the only convention of its kind in France, which brings together publishers, artists, performers and fans.The association supports fiction and entertainment as a tool of reflection around diversity.
The associaiton also manages a publishing house, YBY Editions, in charge of its editorial projects, including this artbook!
The association has close to fifty members, including thirty members who are in charge to organize the Y/CON.
Every year, our team continues to grow in order to creats the craziest projects!
Many artists have answered to our call this year as well! Most of them are French, but we are very pleased to welcome artists from all around the world!

There are two shipping options:
If you're coming to the Y/CON : retrieve your bundle without additional charges at the Event Yaoi booth on December 1st and 2nd! You'll be asked for your name, first name, Ulule nickname and email address to check your identity.
If you can't make it to the Y/CON: Chose the "home delivery" option and add 6€ to your final purchase. We do ship internationaly without additional costs to this shipping price.
Before you check out and pay, you'll be asked for your mail adress. Please be careful and give us all the info we need! For exemple:
Marie Dupont
8 road of the woods
03900 Middleofnowhere
Alpes Maritimes
USA
All of this information is absolutely crucial for your package to reach you. Save us time by writing it right! :)
Home deliveries will be sent in January 2019.