2018: a New Start for Refugee Mothers and Babies
Giving support to hundreds of refugee pregnant women and mothers still living in Greece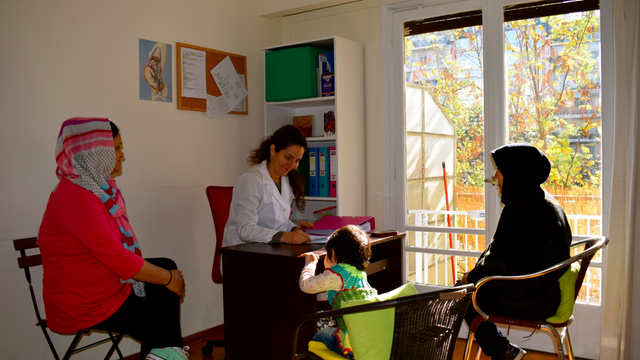 About the project
For more than two years, Amurtel has been supporting refugee pregnant women and mothers in Greece. Because of the lack of media coverage about the ongoing difficult situation for refugee here in Greece, our donations have been dropping. In 2018, we wish to keep supporting hundreds of mothers in need of midwifery care and breastfeeding support. We are raising today 30 000 euros to keep our project going and expand our activities. 
We are at the end of the year 2017 and refugees are still living in limbo in Greece, waiting to get asylum here or to be relocated in Europe.  At Amurtel, we aim to provide a safe and all-female environment for women to care for themselves, for each other and for their children. In September 2016, after one year in camps and at the port of Pireaus, we opened a mother and baby space in Athens. There, over the last year, more than 800 women came from Syria, Afghanistan, Congo, Ethiopia and many other countries, finding a warm, safe and friendly space.  They benefit from midwifery care and lactation/infant feeding consultations as well as distribution of items for mothers and new borns. As the end of the year approaches, we at the AMURTEL Centre for Refugee Mothers and Babies are looking back on our first two years and gathering our forces to make the third year even better! We are now raising 30 000 euros to start the new year. 
To keep our activities going and expand our project in 2018 we need your help!
What are the funds for?
First, here is a glimpse of what we've achieved in one year!
Your generosity has been helping us since the beginning. Thanks to you, in one year our team got bigger as well as expanded our activity.
In October 2016, 83 women had appointments with our midwives and breastfeeding specialists and we had 4 staff members. One year later, in September 2017, 300 women a month are being seen and our staff has more than doubled! Each month we distribute about 6000 diapers, 180 Underwear sets, 260 food packages and more than 50 baby kits.
We've done a lot in one year, but there is so much more that needs to be done. The number of women coming to our centre every day keeps increasing, we know we can do it but we need your help!
We're two months into our third year and though our project is going well, we need your help! We are today raising 30 000 euro to start the New Year afresh!
Why do we need your help ?
Although the situation here is not getting better, the Refugee situation is out of many people's mind and donations have dropped. As a grassroots organisation, our daily projects are primarily dependent on private donations. In order to keep running our activity, we need your support.
First of all, the funds we are seeking will cover and allow us to expand our direct services of in-centre care as well as outreach to those in the community – this will include the purchase of materials (e.g., diapers, supplemental food as well as post-natal vitamins and iron/folic acid).
Moreover, in 2018, we aim to start a programme of peer-to-peer support groups by training the primarily Syrian, Afghan and African refugee women to become perinatal assistants. This will help displaced mothers and empower the women we train, by providing them with skills and employment while giving them an opportunity to play an important role in supporting women in their communities.
To start and expand these projects, we would need a bigger space, more staff for classes and support groups as well as a psychologist to help deal with the trauma.
How your donation can help
100 euro represents 25 supplemented food packages for a pregnant woman
500 euro will give vitamins to 50 women for one month
1000 euro will kickstart our project of peer-to-peer trainings
5 000 euro will support the salaries of our lactation consultants and midwives
Other Ways You Can Help
If you wish to support our work in other ways than financial, you can always send us an email to : [email protected]
About the project owner
AMURTEL is an international, grassroots organization managed by women to help women and children. In Greece, we are committed to assisting refugee mothers and babies to have the best possible perinatal care. Pregnant women and newborns are disproportionately harmed by crisis, with more miscarriages, premature births, low birth weight, undesired pregnancies and birth complications than the average population. Lack of adequate nutritious food, unfamiliar surroundings, and the often-unending psychological stress put pregnant women and infants at great risk.
Our teams have been present in Athens since September 2015. Following our work based at the port of Pireaus and other camps, we have now opened a Mother-Baby Area in the hub of downtown Athens. More than 4000 refugees currently live in urban settings and more are expected as winter sets in. With public transportation allowing access to downtown Athens for those in the surrounding camps in Attica, this enable us to reach the greatest number of people.
More information about our work on our website or on our facebook page.