Always Raining Here in French !
The Hazel + Bell webcomic finally printed in French !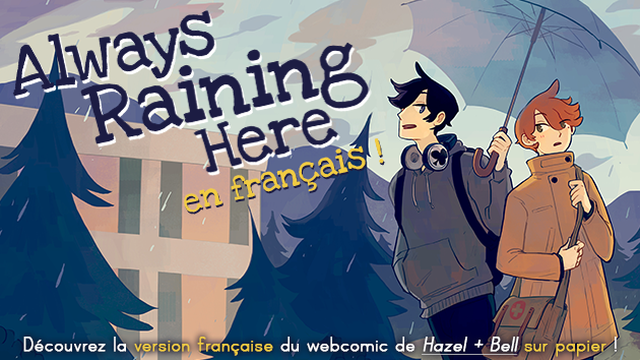 About the project
Always Raining Here is a canadian boy's love webcomic written by Bell and drawn by Hazel. This is a story about Adrian and Carter's misadventures as awkward teenagers as they fumble through unrequited romances.

Until now, the printed version of ARH was only available in English. Since people wanted to see a french printed version, we decided to translate and publish it.
Since we'd like EVERYONE to enjoy the goodies we're proposing, even if they don't speak french, a pack containing all the goodies has been created ! Nothing is french here. :D
(If you are interested by the book in french, you can still check this page in french - by changing the language at the bottom -, there is some more informations available.)
You can read the full webcomic here ! ♥
More information about the rewards :
the bookplate is signed by Hazel and Bell (A5 format) and is exclusive for the Ulule ! It won't be available after the end of the campaign ! :)
the keychain will permit you to always have Adrian and Carter at your sides to live awesome adventures !
the card holder can be hooked to be a bag to spread your love of ARH to everybody (because the entire world needs to know Adrian and Carter's woes)
the clear file for documents (A4 format) is here to make your colleagues or classmates jealous >8D
the diary is 100% ARH, it's here to put a little love in your daily life ♥
What are the funds for?
Printing the complete series of Always Raining Here in french
Goodies
Shipping
% Ulule
If more than 8.000 euros are committed, we have some few surprises for you. ♥
About the project owner
The association :
YBY Éditions is the publishing house affiliated to the Event Yaoi association (itself organizer of the Y/CON convention, the homo-fiction exhibition). YBY's role is to publish works highlighting the LGBTQ+ community, whether in the form of novels, short stories, comics, etc.
Find us here :
YBY Editions Facebook
YBY Editions website
YBY Editions Twitter

Event Yaoi / Y/CON Facebook
Y/CON Website
The authors :
Hazel (the artist) and Bell (the writer) are both canadian. Always Raining Here is their first webcomic and they're actually working on Decoy and Retrofit, their new boy's love / post-apocalypse / SF webcomic (still in english)
Find Bell here :
Find Hazel here :
FAQ
Hi! We do ship internationaly, no worries! :)

Last updated: 3 years, 1 month ago