All Rembrandt etchings
A Rembrandt on your wall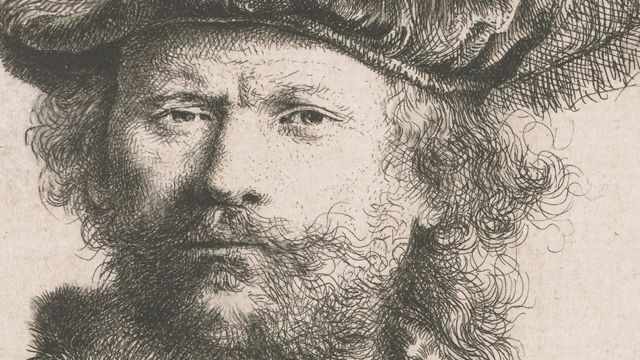 About the project
New etchings by Rembrandt are now available at rembrandt-etchings.nl and at the shop at Etsy
With this project – "All Rembrandt Etchings" – I intend to make new etching plates from all 302 etchings by Rembrandt van Rijn and print them by hand, as Rembrandt once did. I want to put together the only complete collection of his etchings in the world and create a traveling exhibition. I've been collecting digital files since 2016. To date, several museums in Europe and USA have provided files for the project, yet I still have to purchase a further eight files to complete the collection..
"Self-portrait with beret, wide-eyed" Plate size 41 x 55mm.

Real etchings indistinguishable from the original
I make the new etching plates in cooperation with experts specialised in heliography. From a digital file, a slide is made at full size by means of photography. This slide is transferred to a light-sensitive copper plate after which it is etched. New prints can be made with the new copper etching plate. I set the highest standards and all my files are collected at museums worldwide. From the plates that have been produced, a maximum of 50 to 100 hand-printed etchings are printed per plate. New plates are made for multiple prints. The etchings have the same plate size as the original and are almost indistinguishable from the Rembrandt etching. They are printed on sufficiently large paper.
"The bedstead" or "Lit a la francaise" Plate size 244 x 126 mm.

What are the funds for?
This project will compile the only complete collection of Rembrandt etchings in the world. The acquisition of an etching is not just a purchase, it is a way for you to support the project. As this is a crowdfunded project your contribution, or purchase, will only be charged if the campaign reaches its minimum financial target of 9,000.00 Euros.
The ultimate goal is to compile the entire collection and make new Rembrandt etchings at a price that everyone can afford. These real etchings are already available from € 45.00 by means of pre-sale. I intend to begin by producing the first five etching plates and purchasing the last eight files. You can support this project by buying one or more of these etchings, or by making a donating.
"The mill" Plate size 208 x 145mm.

What the financial goal will be used for
With a minimum amount of € 9,000.00 we can make a start producing the first heliographs, begin printing the first reward etchings and developing a number of new etching plates. From the sale of subsequent etchings we will continue to finance the project. If we achieve funding over and above what is necessary to produce all 302 plates, the money will be used for the organisation of a traveling exhibition.
To purchase the last eight of the 302 files € 595,00
To produce the first etching plates for the 'Reward' prints € 2.160,00
To print the 'Reward' etchings € 3.000,00
The Remaining sum for the production of new plates € 2.519,00
Crowdfunding commission (Ulule) @ 8.07% € 726,00
"Self-portrait with the forearm leaning on a stone threshold" Plate size 164 x 206mm

About the project owner
Hello, I am Wouter and I live in Amsterdam. I am a photographer, a designer and have worked on more than 300 films as a Gaffer. I also build websites and I cook. After my wife and my two children, my greatest passion is "the etchings of Rembrandt".
I have always been in love with the fine arts and you can find me in a museum weekly. Over the years I have come to the view that Rembrandt is still one of the greatest artists and as I get to know his work better, my passion for his work increases. I want to transfer this passion to others and I want to make his work accessible to everyone.
At an auction in the 1980's I once held an etching by Rembrandt in my hands. At that time prices were still reasonable. Since then art has become an investment and a Rembrandt etching is now unaffordable for most people. By means of etching using heliography, I hope to bring Rembrandt's work closer to everyone and compile and exhibit the only complete collection in the world. It is important to me that people see Rembrandt's work and can buy prints indistinguishable from Rembrandt's "originals" but at an affordable price.
Website: http://rembrandt-etchings.nl
Facebook: https://www.facebook.com/rembrandt.vanrijn.946
"The three trees" Plate size 279 x 213mm.