Help us finance SheWolf's 1st album !
Target : 1900 euros for a deafening release the 14th of February 2018 !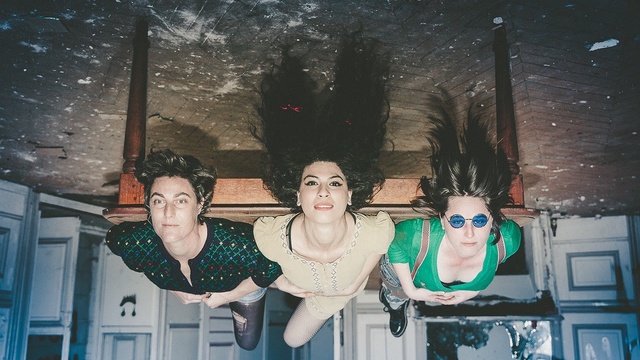 About the project
Pic : Céline Salin
New target : 2700 euros and we shoot a music video !

A big thank you to all of you who generously contributed to this collection! Thanks to you, we will be able to release our 1st album on February 14th, 2018 and it should be heavy !!! Oh joy, oh happiness ! We will craft you nice counterparties made with love :) And for there to be as much for the eyes as for the ears, we decided to go even further and to add a new target which would allow us to shoot a music video !
Target : 800 euros more, which makes 2700 euros to reach in all !
Shall we go for it ?!


In 2016, we shot our first music video thanks to a successful Ulule campaign ! 14,000 views, one EP and two European tours later, our 100% feminine SheWolf grunge rock band is about to release their first organic and homemade album ! Recorded, mixed and mastered in our rural home studio by MC, our dearest drummer, this opus of 10 fresh songs is waiting for your support to see the daylight. Objective: 1,900 euros to cover the expenses related to a proper release and help us to move to the next level !
After two years of hard work, composition, rehearsals, recording, mixing, promotion, artwork, shootings (in the cold), filming (in the cold), gigs, tours in France and Europe, crashes, successes, questions, adjustments ; 
After two years of encounters, adventures, laughter, galleys, moments of grace ;
After 14,796 km drove, 1,038,746,324 kilograms of gear loaded, carried and unloaded, after 3,745,297 liters of beer drunk, 5,432 liters of tears shed, 7,523 liters of sweat lost, 53 liters of inhaled essential oil, 0, 54 liters of blood sacrificed, 8,273,660,084 cigarettes smoked;
After 1 EP, more than 50 concerts, 14,000 views on YouTube, and 2 TV shows ... 
SheWolf has the immense joy of announcing the release of their first album ! 
Needless to say, this release, scheduled for February 14, 2018, marks a turning point in the history of the band ! So that the process takes place in the best conditions, we have a plan of attack and mobilize at the moment all our physical, mental and material resources :)
As we look forward to the album's progress and mixing, we are now going to face the financial challenge of such a release. Without pressing, without promotion, without touring, all this artistic work would remain vain and would never reach your sweet ears ! That's why we invite you to support our efforts by participating in this crowdfunding campaign ! In return, we offer several rewards to discover below, including sending, EXCLUSIVELY, a new track from the album from 5 euros contribution !
5 good reasons to support us
You like our music
You like the mood of the band (DIY power!) 
This album is the fruit of radical choices. Because quality requires time and investment, we have left the city, our jobs and all hope of material security to finally be able to create freely, without time and space constraints, in our own way.
You love us because we are nice 
This is an opportunity to support the independent rock scene 
This is an opportunity to encourage the female presence in the rock environment
What to expect with this album ? 
A 10 original tracks fully recorded, mixed and mastered by us (big up to Marie-Claude) in our home studio in the countryside, surprises, classic, crazy, a pinch of exoticism, freedom, freshness, and a rage still intact. 
Why an album ? 
Because we have stories to tell. Because making it at home allows us to. Because we are not quite at our early beginnings and love challenges. To propose you a new and coherent set live. 
Why releasing it on February 14th ? 
So that you can offer this opus to your valentine ! And if you do not have any lover, this is the perfect opportunity to start a love affair with SheWolf ;) Because this is the anniversary of our first EP, released on February 14th, 2017, and we love traditions. And hunting and fishing. 
What will you do with the funds raised ? 
We will use them to ensure the minimum investment necessary for all that makes a successful release : the pressing of the album of course, the reproduction rights that go with it, the "release party" gig that allows to celebrate the event while giving him visibility. The detailed breakdown of the bugdet is available below. We thank you from the bottom of the heart for your past, present and future support ! Thank you to all those who have gone to the end of this text ... Finally, know that beyond any monetary contribution, nothing will ever replace your encouragement, your love and your crazy headbangs !!! 
LOVE    
What are the funds for?
The money raised thanks to you will be spent as follows :
Reproduction rights (SDRM) : 400 euros
Pressing the album to 500 copies: 660 euros
Release Party Concert in Paris (La Péniche Antipode)

Venue rental : 380 euros
Promotional material (posters, flyers) : 150 euros

Fund reserved for shipping costs related to sending Ulule counterparties and operating costs : 183 euros Commission paid to Ulule : 127.20 euros
About the project owner