Akiko's Burgers
Food Truck in Paris specialized in Japanese Rice Burgers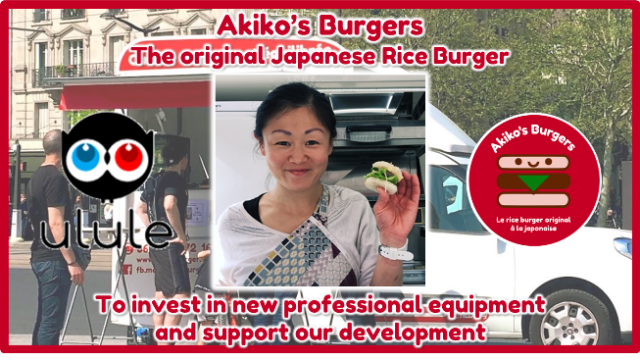 About the project
Akiko's Burgers is our Japanese food truck specialized in rice burgers and traditional pastries.
100% homemade, gluten free and lactose free.
Opened in May 2017, we now work in Paris and Bry-sur-Marne.
Thanks to the expertise and experience of Akiko (Japanese chef), we created healthy and original menus, designed for street vending.
To start our activity, we invested in a new mini food truck, equipped for our needs, decorated and adapted to the small streets of Paris.
Today, our business activity is growing. Indeed, we recently get beautiful regular spots in Paris and the number of private events is increasing. To support our development and meet the demand, we must invest in specialized professional equipment.
What are the funds for?
We need your support to invest in:
A KitchenAid Artisan bakery robot to be able to prepare more desserts for our customers: 450 €
An induction cooker to save time in our preparations and reduce our electricity bill: 800 €
A new professional freezer of greater capacity: 400 €
A new Honda EU20i generator (our current generator shows signs of tiredness): 1250 €
A marketing campaign including a small decoration on our food truck, business cards and stickers production, and advertising on Facebook and Instagram: 400 €
About the project owner
Here we are :-)
Akiko: I am the Chef. I create the menu, I cook and I am in charge of the service (yes, almost everything). I have 15 years of experience in catering in Japan and France. I am very happy to have founded Akiko's Burgers with Antoine!
Antoine: I am in charge of the development of the activity (partnership with cities, customers prospecting for private events ...), communication (website, flyers ...) and maintenance of the vehicle. I am the commercial / mechanic of Akiko's Burgers.
We do not have the same skills at all, not always the same opinion but we complement each other.
Thank you very much for your support :-)