Abrazos
Une BD dans l'univers du Tango Argentin !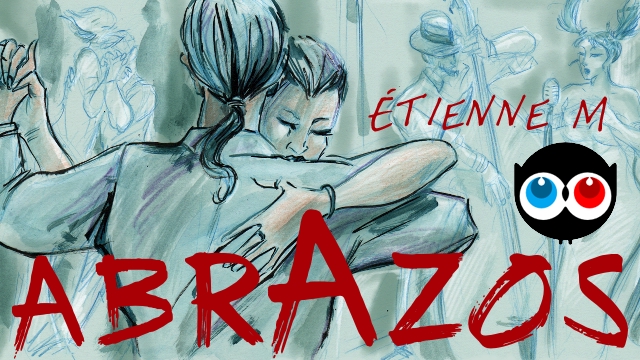 About the project
Abrazos est un recueil en BD de nouvelles sur l'univers du Tango Argentin !
Une BD au format 24 x 36 cm, Couleurs, couverture dure, 80 pages.
Prix de vente : 20 €
©Zéphyr Martin (Image 3D, non contractuelle)

Ce sont des histoires d'une danse à deux, faite de passions, d'émotions partagées,
de moments simples, sublimes et intenses.
Ce sont des histoires de rencontres, de découvertes, de déchirements aussi.
Abrazos parle de la vie, à travers les Milongas, le temps d'une Tanda, où les corps communiquent, où les soufflent se mêlent au rythme de la musique.
©Zéphyr Martin (Image 3D, non contractuelle)
Extrait 1
Extrait 2
Badge
Exemple d'aquarelle
Marque Pages
Exemple de Planche A3
Pack 25 € limité - Carnet A6 100 pages dédiacé au stylo !
Pack 45 € Limité
Champagne Rosé Brezza !
What are the funds for?
Il va dans un premier temps financer l'impression (Imprimerie de Champagne) des Albums BD "Abrazos" ainsi que les contreparties, si nous atteignons 100 %
Si nous dépassons 100 %, ce que j'espère, je pourrai mettre en place des paliers avec de nouvelles contreparties
pour financer le travail du maquettiste et mon travail d'auteur.
About the project owner
Je suis auteur de la série Brezza (6 Tomes parus) , de la série Le Blues de Sluggy (Tome 2 pour Septembre 2019 ), de Luce (2 tomes, Tome 2 en préparation) et d'histoires courtes dans plus de 20 Collectifs BD (Story, Egoscopic, Kotoji, Petit à Petit, Objectif Mars Éditions...)
Je suis aussi danseur de Tango Argentin depuis plus de 10 ans.
Je l'enseigne dans mon association Tangoswing, depuis 4 ans, maintenant.
J'ai d'abord partagé ma passion dans mes peintures depuis 2012.
Mais, ça ne suffisait pas ! Il a fallu que je raconte des histoires de Milongas,
de tanda, de Tango en BD !!
Je suis donc fier de vous présenter ce premier album sur le thème du Tango !
Photo prise lors de a réalisation d'une peinture en direct, du Festival Musiqu'Essart 2018