To save the Provence's black bees !
in Pié Fourcha...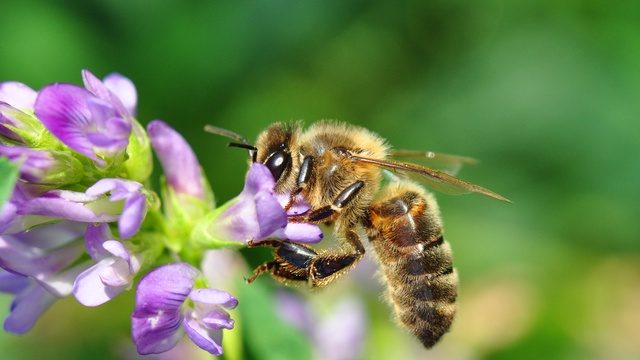 About the project
WHO WE ARE: We are an association created in 2014, affiliated to the French Federation of Sports For All, located in a
small village at 1200m altitude, Le Vernet.This village located in the valley of La BLANCHE, halfway between DIGNE and SERRE-PONCON purrs during the year with less than 100 inhabitants, and sees its population double in summer ...
The association 3V04 is of generalinterest, and works for the development of the offer of educational, cultural and sporting activities, aimed at all publics, and for maintaining social ties.Its name, "Vive la Vie au Vernet" (En : Long Live Life in Le Vernet), was badly hampered by the terrible tragedy that plunge the Men and the Mountain into morning, with the air crash of March 2015 ...
In spite of the turmoil, we found the strength to keep hope, and sought how toallow the Vernetiers to re-appropriate this wounded Mountain …
THE DISCOVERY OF PIE FOURCHA: The accessibility works undertaken to reach the site by the Col MARIAUD were the oppor tuni t y to rediscover an abandoned hamlet, Pié Fourcha, at 1300M, lost and invaded by a generous nature ...
A project to restore this site, historically a pastoral and religious crossroads, was born and found its full meaning to give back shape, meaning and life to this place,relying on an international youth, echoing the 19 nations bruised by the 'accident…During the summer 2016, the first international projects to promote heritage were held: the Rencontres Citoyennes Regain in Pié Fourcha for twice 15 days inJuly and August. Young people from Spain, Germany and France were recieved, with the determined hope to enrich the number
of nationalities for the next sessions ....
The discovery of the sites (some box trees were centenarians ...) made it possible to highlight on the heights the existence of terraces and the remains of trunk hives ...We were in front of an amphitheater obviously created in honor of Our favorite foragers ...:
But of course !!! ... The name of the hamlet Pié Fourcha probably came from "l'apied", at the "crossroads" of transhumance ...This moving discovery, in this place protected by the UBAC, rocky barrier at 2100m high, without electricity, antenna or other Mankind nuisance created a will:"We are going to reintroduce the Bee, with no other purpose than to allow it to regain its place and multiply, WITHOUT counterpart, with a minima of the Man's intervention".
A NEW LIVING SPACE FOR BEES: This project to create a living space for these foragers in perdition on the earth is modestly set in the great combats led by many associations like Pollinis, which fights for the prohibition of the
neonicotinoids and of any other toxic pesticide, or The Hummingbirds, led by thewise Pierre RABHI who seeks to promote alternative and respectful solutions of our Mother Earth ...
It is a vital breath in resonance with this force which animated us in front of the tragedy and which explains all our determination.There will be no trade around these bees, no sale of the products of the hive, just a sanctuary for this beautiful, oh so emblematic, source of life, exchange, sharing and adaptation, despite increasingly complex living conditions ....
What are the funds for?
OPERATION'S ESTIMATED COST:
1st Part ONE-TIME INVESTMENT:
                                      * 4 Trunk Hives                                   1600€
                                      * 3 Horizontal Glass Hives                  1500€ (to be in conformity with the natural bee's biotope)
                                      * 7 Swarms                                         1400€
                                      * Delivery                                              500€
                                      * Teaching/ Installation with an expert  400€
                    * Purchase of Small Equipment for 2 Apprentices 300€
  Sub-Total = 5700€
2nd Part TEACHING and FOLLOW UP                                                                                                                                12 days minimum, at 280€ 3360€ and a transportation flat fee 600€
  Sub-Total = 3960€
Total = 9660€
About the project owner
Notre association "Vive la Vie au Vernet" finalise un site afin de compléter les liens qui sont les siens avec la Fédération Française SPT www.sportspourtous.org et pour partager la dynamique en place de jumelage avec des villages européens (Espagne, Allemagne) et avec l'Amérique du Sud (Mexique).
Enfin nous tenons à notre identité d'association citoyenne, repectueuse de chacun et de soi même et engagée dans l'action durable, partagée et solidaire. Trois sites font et sont réseau : www.actionpreventionsport.fr; https://fr-fr.facebook.com;  www.meliponamaya.org; https://www.youtube.com/watch?v=nGmDQGp1UzY; elodiesmaili.wixsite.com/photography.
FAQ
If you still have an unanswered question, feel free to ask the project owner directly.