A painting for Marguerite
Through Art we can help others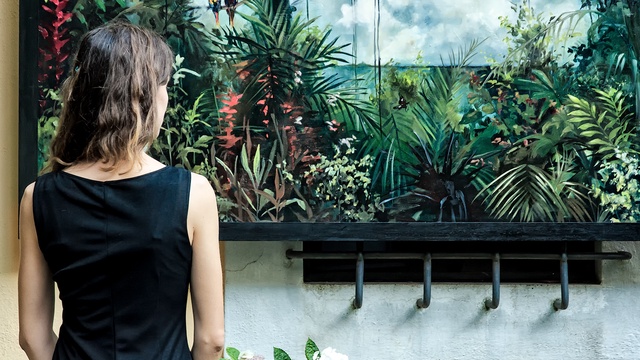 About the project
Can Art encourage generosity, giving and aid? A painting for Marguerite is born to create a platform where art and aid are connected.
The main goal of our initiative is financing education projects by means of art. Charity is our guiding spirit and we will carry it out through artistic and cultural activities. Carefully selected projects will be managed professionally and monitored over time. Special attention will be given to different forms of artistic expression, all of which are geared towards a cultural movement inspired by generosity and altruism. 
LINK TO A PAINTING FOR MARGUERITE'S WEBSITE; http://www.apaintingformarguerite.org/en/
What are the funds for?
We believe that investing in education should be a priority when it comes to the development of a community or nation. The word development fully reflects our vision, because investing in education means believing in people and their growth.
We will use this money only to finance activities connected to A painting for Marguerite for more or less the next two years. The A Painting for Marguerite initiative also aims to organize events dedicated to selected projects and to promote new ones, all while offering great exposure to the artists involved. We plan to organize one or two events per year.
People who will be supporting us, if they wish, will be regularly informed about our activities and projects, and we will be happy to hear their ideas or propositions to make our initiative as effective as possible.
The money raised will be used for:
- A painting for Marguerite's website mantinance 
- adds (for example on social medias like instagram or facebook)
- Events organization (we always try to get help in other ways, for example the owner of gallery who let's us use their space to organize the event or soemone donating their wine but there is always some money needed for example when you need to print the broshure etc)
- We have an official translator that is helping us for free right now such as a graphic designer, but it will be important to pay them eventhough if is a symbolyc amount of money. 
About the project owner
Costanza Alvarez de Castro, founder of A painting for Marguerite
Costanza Alvarez de Castro was born in Rome in 1989, the daughter of an Italian father and a mother from El Salvador. After completing her Baccalaureate from a French school, she studied Economics for International Cooperation and Development at University of Rome (La Sapienza), where she graduated in 2010. Costanza discovered that her studies left her thoroughly unfulfilled, and soon decided to pursue her true passions – painting and dance. Soon after, Costanza started working in Scenography both for Cinema and Theatre. In particular, in 2011 she worked as Production Designer Assistant to Jean Rabasse in the movie You and Me, directed by the famed director Bernardo Bertolucci. The encounter with Jean was extremely important for Costanza; in 2012 she was admitted to the Institut Superieur de Peinture Van Der Kelen et Logelain in Brussels achieving excellent results. In 2013 she worked at the Opera Theatre in Rome dedicating herself with passion to the learning of background painting technique. This experience allowed her to acquire new painting tecniques and skills, and exposed her to very big formats. Subsequently, She decided to focus exclusively on painting on canvas, where she feels free to combine her technical capabilities with a larger self expression.
SOLO SHOW
2017 Dia de fiesta
Spazio Menexa - Via di Montoro 3 - Roma
2016 Natura in Scena - curated by Giovani Argan
Spazio makemake | spazio e arte - Via del boschetto 121, 00184, Roma
2015 Portraits - Curated by Valentina Moncada
Spazio Cerere - Roma
GROUP SHOW
2016 Sumarte 2016 - Subasta de arte
MARTE Museo de arte el salvador - El Salvador
San Francesco da Paola – sixcentenary of his birth - curated by Roberto Bilotti
Palazzo della Prefettura - Cosenza - Italy
2015 Sumarte 2015 - Subasta de arte
MARTE Museo de arte de el salvador - El Salvador
OPEN STUDIO
2017 Rome Arte Week 2017
Via di Monserrato 20 - Roma
2016 Open Studio RAW - Rome Art Week
Via di Monserrato 20 - Roma
COMPETITIONS
2016 Sumarte 2016 - Subasta de arte
MARTE Museo de arte el salvador - El Salvador
2016 BP Portrait Award2016
National Portrait Gallery - London
2015 Sumarte 2015 - Subasta de arte
MARTE Museo de arte de el salvador - El Salvador 
WORKS
LINK TO COSTANZA ALVAREZ DE CASTRO'S WEBSITE: http://www.costanzaalvarezdecastro.com/en/