8Be-Attitudes
A 100% Vegan, Home Made & Organic Fast-Casual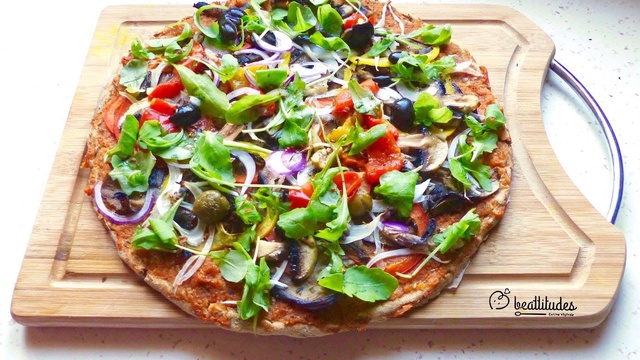 About the project
8Be-Attitudes, the Good Attitude*!
High quality vegetables products, home made and Organic**!
We created this business because we would like people to (re)discover the wonderful taste of vegetarian cooking, using all kinds of vegetables and by flavouring the dishes with extraordinary seasoning.
In summer (and well before winter!), we want to amaze the taste and the eyes of our Parisian customers , especially those who have an unrestrained life.
8Be-attitudes is a vegetarian (100% plant-based) lifestyle combining healthy diet and creativity, using the wonderful possibilities that we find in nature. Whether or not you are familiar with this kind of food, you will love it.
We have already had the opportunity to make our food known on big occasions like wedding receptions and academic celebrations. In order to develop our business and to meet the demand, we are planning to open a "Fast-Casual" 100% vegetarian & organic ** in Paris.
~~~~~~~~
OUR FAST-CASUAL
8Be-Attitudes wishes to welcome you to a friendly place, with a relaxed atmosphere to share delicious food and a healthy lifestyle .
You will have the opportunity to buy some of our homemade products, such as special sauces and seasonings in our shop which will be near the front.
~~~~~~~~
OUR GOALS
We are passionate about being vegetarian. We have been trained by well-known European master chefs, so we want to be the spokespeople to spread our lifestyle values through 8Be-Attitudes.
One of our goals is to spread the joys of cooking and at the same time enable people to improve their lifestyles.
Maintaining health is easier and more accessible than it may seem. The diet we use has already been tested for over one hundred years by a community that has one of the longest lifespans in the world.
The city of Loma Linda, is categorized as a "Blue Zone " (an area which has a very high percentage of centenarians still living very active lives).  The heart of California, where a lot of people suffer with obesity and poor nutrition, has an area with the largest number of centenarians in the United States.
Our values, like Loma Linda, are based on 8 pillars. That is why our name begins with the number eight, which represents the 8 laws of health, which are:

- Nutrition                                                                    - Rest
- Water                                                                        - Physical exercise
- Fresh Air                                                                   - Temperance
- Sunshine                                                                   - Spirituality

These laws must be adopted in order to maintain good health and develop a better lifestyle. That's why our slogan is « 8Be-Attitudes, the Good Attitude!»
 ____________________________
« Let your food be your medicine and your medicine be your food » - Hippocrates
 ____________________________

8Be-Attitudes has made this phrase its motto! For this reason, all the dishes we offer are healthy, balanced, delicious and nutritious, and will keep you healthy. You will find in each of our dishes a description of the nutrients they contain, together with their benefits.

We would like to welcome you to our Fast-Casual from breakfast to lunch! You will find all these dishes and many others in the form of menus and formulas. Here are some examples of our dishes.
Enjoy!


HOMEMADE COOKERY & ECOLOGY
We want to make sure that everything is homemade so, for the well-being of our customers, we exclude artificial ingredients. Food safety and high quality ingredients are our priorities. For this reason, we work with fresh and seasonal products each day to offer dishes full of flavours. We pay careful attention to the origin of our products, the standards and labels used by our suppliers, and choose the best quality for our customers.
Respect for the environment is a very important aspect of our business. That's why our bowls and cups, for takeaways, are made of cane pulp, because we give priority to biodegradable and recyclable materials.


COOKING LESSONS
We also offer cooking lessons, centered on health, well-being and pleasure. We have also planned evening seminars where health professionals, including naturopaths, neuropsychologists and sports coaches, will hold workshops. These workshops will enable our customers to evolve healthier lifestyles and to deepen their knowledge about maintaining their bodies and to reach the maximum of their physical capacities.

To complete our journey, we are arranging culinaryworkshops where the pleasure of cooking and the art of living healthy will be taught in order to establish and maintain the proper functioning of the body and mind.
                                                                                     ~~~~~~~~

SOLIDARITY FORMULA
8Be-Attitudes is concerned about people in financial difficulty and so we also aim to support the needy. For this reason we are in partnership with an association that helps them.
How can you participate? By ordering the « Solidarity Formula » that we offer. When you order this form we can give a meal to those who are in need.
                                                                                      ~~~~~~~~

We know that all this will be possible because of your generous gifts! For this, go to our future "Fast-Casual"!

* The 8 good attitudes to be healthy consist of eating a healthy diet, which excludes meat products, processed foods, man-made chemicals and pesticides. Along with regular physical exercise, sufficient times of rest, moderation in all things, confidence, a good dose of clean air, water and sunshine, we guarantee that you will feel invigorated!

** Our organic dishes will be on the menu. Catering: Organic and gluten-free on request.

What are the funds for?
Breakdown of 20 000 €:
- Rent (40%)
- Kitchenware (25%)
- Works (15%)
- Communication (5%)
- Miscellaneous / unforeseen expenses (2%)
- Commission Ulule (8%)
- Counterparties (5%)
About the project owner
You can find us on Facebook and Instagram!
* https://www.facebook.com/8Be-Attitudes-1780879322186422/?pnref=story
* https://instagram.com/download/?r=2257477951
FAQ
If you still have an unanswered question, feel free to ask the project owner directly.