4l Trophy 2018 avec la 4L Maestro
Equipage 1264 - Raphaël et Dylan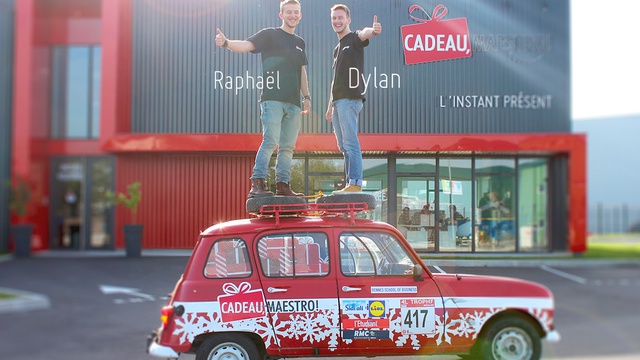 About the project
Bonjour à tous !
Nous sommes deux étudiants de 20 et 21 ans en Ecole d'ingénieurs à Saint-Etienne et nous préparons le 4L Trophy. Cette célèbre course d'orientation dans le désert marocain a une importante vocation humanitaire puisqu'une partie des recettes dégagées, 42 000€ en 2017, est reversée à l'association « enfants du désert », dans le but de construire et aménager des écoles dans les régions défavorisées. Le 4L Trophy est le plus grand rallye étudiant d'Europe ! L'année dernière, c'est plus de 1500 équipages qui se sont lancés à l'assaut du désert marocain, chacun emportant avec lui le matériel scolaire et sportif pour les jeunes défavorisés.
Le 4L Trophy est donc une aventure humaine incroyable, mêlant voyage, solidarité et amitié.
What are the funds for?
Voici un petit résumé de notre budget :
La voiture étant prêtée par notre sponsor, votre aide va nous permettre de couvrir les frais d'inscription qui comprennent : 
- la traversée en bateau
- l'assistance médicale et technique 
- le matériel scolaire et sportif (soit environ 40Kg de matériel !)
Nous en avons aussi besoin pour le péage et l'essence et enfin la nourriture.
900 € est la somme minimale que nous devons atteindre pour pouvoir partir, mais chaque euros suplémentaire nous sera d'une grande aide.
About the project owner
Nous nous sommes rencontrés à notre école, passionnés de voyages et d'aventure à moto, le courant est tout de suite bien passé.
Nous avons déja fait plusieurs voyages, notamment en Allemagne, en Autriche et en Corse.
Nous avons décidé de faire le 4L Trophy dès la première fois que nous en avons entendu parler. Quand certains de nos amis y ont participé, nous nous sommes rendus compte que c'était réalisable ! C'est pour nous une façon de découvrir le désert africain, telles que nous en entendons parler depuis notre enfance.
FAQ
If you still have an unanswered question, feel free to ask the project owner directly.