The 2012 Calendar of Culture
A calendar of original caricatures of the greatest artists, thinkers, writers, footballers, musicians...as voted for by you!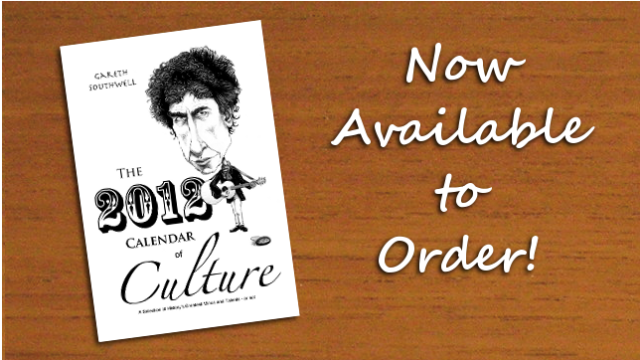 About the project
The calendar is now finished, so pledgers should start receiving their rewards soon - you can see the contents here:

http://woodpig.deviantart.com/gallery/34050339

To order, contact me here, or through my main website (http://www.philosophyonline.co.uk/contact/), Twitter (http://twitter.com/#!/GarethSouthwell) or Deviant Art (http://woodpig.deviantart.com/).

There are a limited number available, so get in quick!

Thanks once again for everyone's support. I hope to do something similar next year, and possibly to develop other projects soon.

Gareth.
---------------------
January, February, March...and so it goes on, each year, in dreary predictability. Time marches on, and your dreams slip away. If only there were something to break the cycle, to jolt you out of your malaise and inspire you to be all that you can be! (Or, at least, provide a useful seasonal gift to friends and family.)
Well, now there is! Er...I mean - Now there soon will be! Instead of staring at that empty space on the wall, wondering at what might have been, gaze instead upon The 2012 Calendar of Culture and be inspired to new heights of creativity and purpose!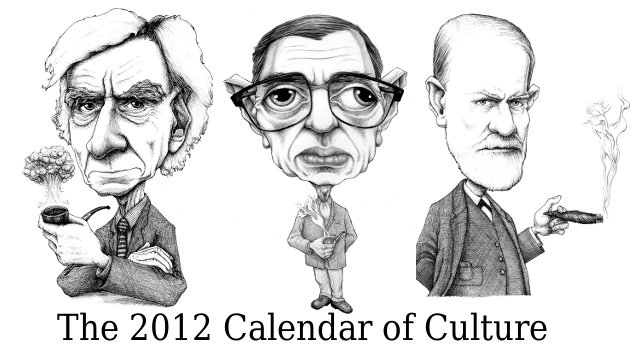 The 2012 Calendar of Culture will bring together a collection of 12 lovingly crafted caricatures celebrating some of history's greatest minds and talents. But who should these be? Philosophers? Artists? Musicians? Scientists? Shakespeare? Voltaire? Madame Curie? Wayne Rooney? You decide! In a revolutionary and groundbreaking initiative, the artist is offering all contributors the opportunity to vote as to the content of the calendar. All votes will be collated, and the top 6 suggestions in the poll will be included (as long as they're not too silly).
Furthermore, for a certain level of contribution, 3 contributors will be able to pick the caricature subject of their choice (subject to the artist's agreement). A further 3 contributors will also receive the original artwork itself. For details regarding these and other rewards, please see the list on the right.
NOTE: YOU DON'T HAVE TO HAVE PAYPAL TO PLEDGE. CONTACT ME FOR OTHER OPTIONS.
Once you pledge, you are eligible to vote. With every pledge, you get a vote, and for every £ over the pledge amount, you get an extra vote. To vote, simply leave a comment in the News section, or just reply to my Thank You email. You can suggest new people, or support other's suggestions - it's your choice!
Remember: you pay nothing if the funding level is not met!
All calendars will be available in time for Christmas 2011.
What are the funds for?
The funds will pay for the production, printing and postage costs of calendars and prints, as well as allowing the artist time to produce the original artwork.
About the project owner
I am an illustrator, writer and philosopher based in Wales, UK. I've run the website www.philosophyonline.co.uk for over ten years and have published a number of philosophy books aimed at the general reader (see Amazon). My illustrations have appeared in books and magazines in the UK, US, Europe and Australia, and for a range of major publishers and clients. You can view my illustration portfolio at gjsouthwell.artworkfolio.com. You can follow me on Twitter for regular updates about the project - or just to chat!
FAQ
If you still have an unanswered question, feel free to ask the project owner directly.