100,000 lives
Creating a soap to save 100,000 lives from malaria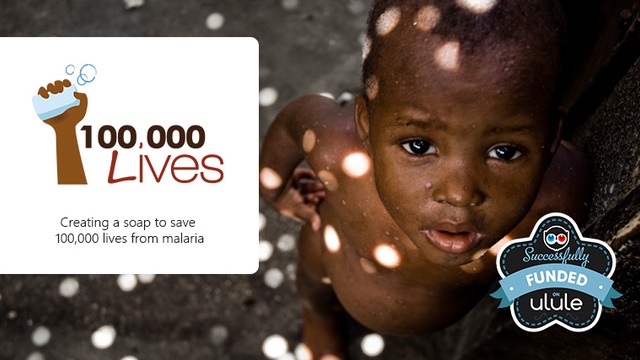 About the project
Malaria, the pledge of Africa
Reinventing the fight against malaria
Our objective is to save 100,000 lives from malaria by end 2018 by putting a mosquito-repellent soap in the hands of the most vulnerable populations in Africa.
Why a mosquito-repellent soap?
Our soap, the new ennemy of mosquitoes
We work on a soap cutting by two the risk of malaria contamination thanks to its double effects:
Repellent: our innovative soap progressively releases its mosquito-repellent properties, thanks to micro-capsules of essential oils.
Larvicide : certain oils are naturally larvicide. Once the soapy water is thrown away on the street it will reduce the development of mosquito larvae in stagnant waters.
To save 100,000 lives from malaria by end 2018 we will finalize the development of our soap and tie partnerships with public and private organizations. Thanks to these partnerships our soap will be produced and progressively distributed to 40% of the populations of the 6 most affected countries by malaria.


What are the funds for?
This crowdfunding campaign aims at finalizing our research to develop the most efficient soap against mosquitoes transmitting malaria parasite. Thanks to the collected funds we will accelerate our efforts to have the strongest impact.
With $33,000 we can finalise our mosquito-repellent soap
Funds will be used to:
buy necessary lab equipment to produce new soap prototypes
carry out tests to optimize the repellency of the soap to anopheles mosquitoes in the National Center for Research and Training against Malaria (CNRFP) in Ouagadougou, Burkina Faso
cover operational costs of the project during this period of research 
With $66,000 we can also ensure its efficiency in open environments
Funds will be used to assess:
the impact of our soap on malaria
body hygiene behaviors in the areas most affected by malaria
what are the most used soaps in these areas
With $113,000 we can also prepare the production phase
Funds will be used to:
create our own lab
recruit engineers to adapt the soap to the constraints of each production partners 
About the project owner
An experienced team in Burkina Faso
Gérard Niyondiko, 38 year-old engineer from Burundi initiated the project in 2013.
The project has won in 2013 the Global Social Venture Competition at UC Berkeley, recognizing it as one of the most promising social business idea worldwide. Gérard has now teamed up with Lisa Barutel and Franck Langevin. 



100% of your donation for the project
The French association "Association pour la recherche contre les madies infectieuses en Afrique(ARMIA)" is in charge of collecting donations and diverting the entire sum into our research works.
They talk about us
Click on the logos to read the articles
They support us
"Malaria still kills a child every two minutes. It is critical to find and put in place new approaches. Preventing malaria by putting  mosquito-repellent soap in the hand of the most vulnerable populations is a very pertinent path to explore and support" 
Dr Estrella Lasry, Tropical Medicine Advisor at Medecins Sans Frontieres
"This project of mosquito-repellent soap offers a new and promising approach in the fight against malaria. Research and Innovation are two key factors for the sustainable development and inclusive growth in Africa"  
Jean-Marc Châtaigner – Deputy Executive Director of the French Research Institute for Development (IRD)
"ITECH has worked with Gérard Niyondiko to optimize the formulation of its mmosquito-repellent soap. We support this human-centered and very promising project to make it very soon a reality" 
Pascale Cottin, Head of cosmetics formulation - Institut Textile et Chimique (ITECH) in Lyon, France
Want to know more?