About
Hey! Everyone that donates from now on, might WIN A KINDLE! Read the details here!
Let's reach 500%!!!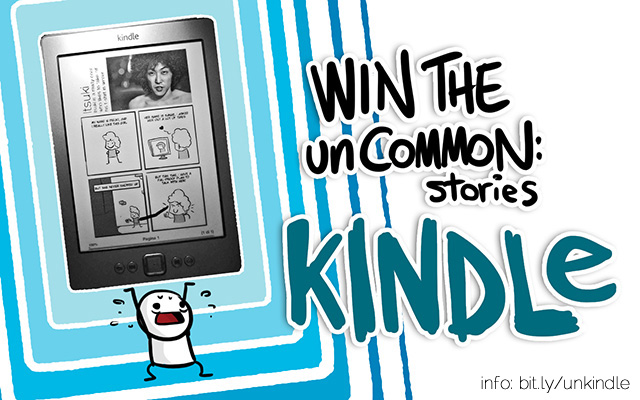 FINAL UPDATE: The project will be funded! And the 150% completion commitment will be done! And the 222% photoset too! Thank you everybody! We added a last goal!
1) LAST GOAL: At 5000€,the unCOMMON:Experience will be created! It'll be an event taking place at the international Lucca comic book fair 2012, in Italy (date TBA). There, Nico and Sio will repeat and compress in a few hours the unCOMMON:Stories experience, with everyone that'll come, which means taking pics and creating comics of people, but THAT'S NOT ALL!!!!11!!!!!1! The Experience will be published on a WEBSITE OF THE INTERNET that'll include the japanese and the italian experiences, creating a free ebook with every photo and every comic created during that day, which will be sent to everybody that donated! And the ebook, once completed the shipping, will be sold at distribution costs! Let's make it happen!
2) Goal reached: At 2222 €, it'll be Nico's turn: he'll be wandering around in Rome, with his camera and a GIANT WHITE PANEL to put on people's faces to snap a 5-photos serie titled: "unCOMMON:Stories around us", which will be included at the end of every book, and everyone who donated more 20 € or more will receive a printed 20x30 photo of your choice among those five!
3) Goal reached: At 1500 €, EVERY SINGLE COPY of the book will be not only signed, but instead of having just your name in the credits along with our eternal gratitude, it will also have a 3-panel strip comic about EACH AND EVERY ONE OF YOU THAT HELPED, drawn by Sio (for the first 100 donors)! That's right: no credits page, but credit COMICS!
4) The DELUXE Version of unCOMMON:Stories reward is available for everybody that donates 60 € or more! Photographic paper! Bigger! 148 g/m² and matte finish!
Remember that you can edit your donation, and increase the amount if you want a bigger reward (see the FAQ at the end of the page).
We also have even bigger ideas, but we'll unveil them after the 222% goal!
Keep on spreading the word!
What is unCOMMON:Stories?
unCOMMON:Stories is a celebration of people.
It's just another way of breaking the ice: "Hi, we're writing a book about you. What's your name?"
It's a collection of photos of (un)common smiles, grins, and faces.
It's a comic book, one comic per person, hundreds of panels about them.
It's a way for us to express ourselves in the most natural way we know.
It's a black and white book.
It's people.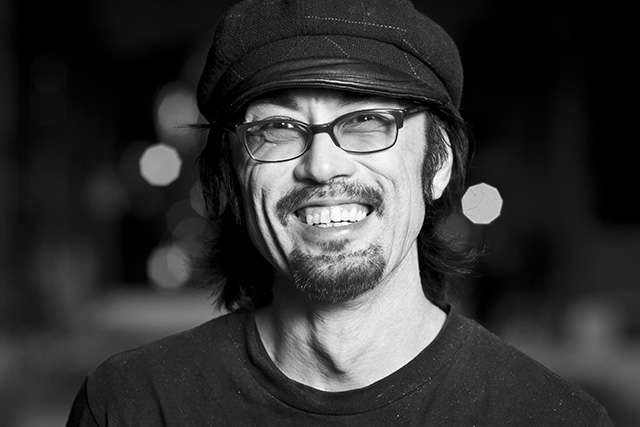 Daisuke, number 6, he owns a bar with beers from all around the world
Why do we do this?
Because the best thing in the world is getting to know new people, it doesn't matter how. We could even say: the weirder the first meeting, the better.
Because the best thing about people is their story, their stories.
Because every single person's got a story to tell. That's why we chose not only friends to include in our book, but also people that we were meeting for the first time.
Because sometimes people need a reason to get their stories out.
Because you have to tell your stories in order to let them crystallize and to enable people share them with the world.
Because sometimes you realize what has happened to you only when you talk about it.
Because stories get real when we have a human face to associate with them.
Because we want to experiment and get reasons to do better comics, and better photos. 
Because being able to unite our interest in stories with our natural way to express ourselves it's the freaking best thing that exists in the world.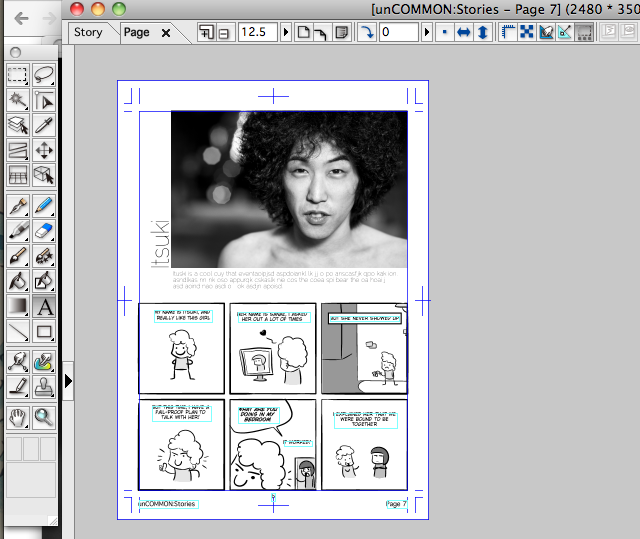 A working page, Itsuki, number 4 he's a designer and he likes to take off his shirt in the winter
When did we\when are we going to do this?
The first part of the project was completed while both Nicola and Sio were in Japan together, where they bothered a lot of people with two questions:
"Can we take a picture of you?"
"What's the weirdest thing that has happened to you?" 
Between February and March 2012 we interviewed and took pictures of almost 50 people we met in Sapporo.
Phase two began when Nicola left Japan to return to Italy, and consists of Sio drawing a two-page, 18-panel comics about every single person we have met. We're currently halfway through, so the book should be ready at the beginning of autumn. The books will be shipped from Italy probably around the end of October. Don't worry about shipping costs, we've got them covered.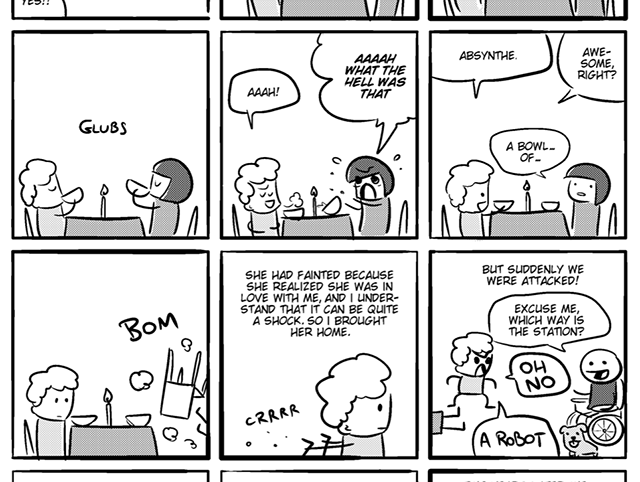 A preview from the Itsuki Comic, featuring drinking alcohol from a bowl
"Stories help us be students and teachers of life. They help us untangle experience, and they help us find meaning. Telling a story increases awareness; hearing a story increases compassion. Stories are guidebooks for living and lifeboats for memory: they help us not to forget, and then later, not to be forgotten. As individuals, we have about 30,000 days, and each of us will choose to fill them differently. We will choose to make art, make love, make friends, or make families, but no matter what we make of our lives, our greatest creation will always be our life story — the personal journey that unifies everything we do, think, and feel." (from the Cowbird FAQ, yes, that's a quote from a social network FAQ, but it's awesome)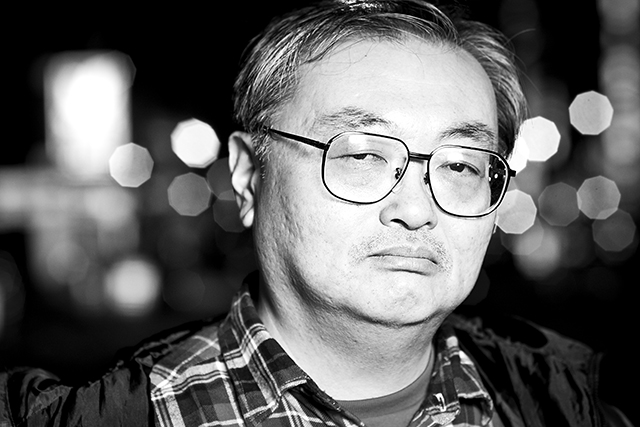 Nishimura, number 26, he plays the trumpet
What are the funds for?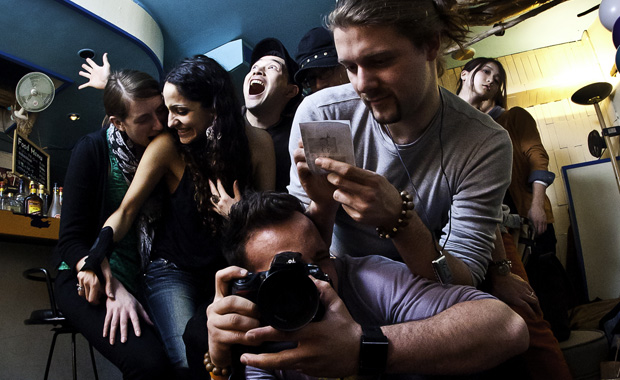 Sio taking notes, Nico taking a picture, and a lot of people trying to disturb us
What do we need the money for?
Obviously, to become rich and famous.
Do you believe that? I wouldn't. 
Seriously speaking, we just want these stories to get a boat and sail.
Across oceans, countries and cultures.
We had tons of fun while doing this project and we really want to share this experience. So we thought a book would be the best solution to fit both photos and comics. To fit people in.
But printing books has costs.
Just to be clear on this: we have no intention of making money off of this project.
With the goal money, we'll be able to print around a hundred copies of the books and send them all over the world to those that donated.
According to our calculations, we should be able to print about 20 extra books on top of the ones we will send as rewards to you beloved donors.
We'll be sending those 20 copies to editors, magazines, photographers, and other professionals that may be able to help us spread these stories even farther.
But wait, that's not all!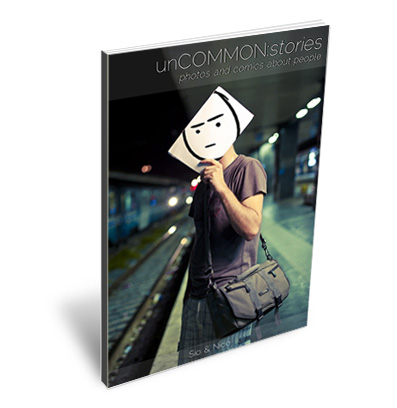 Once we start printing from Blurb, the book will be forever purchasable from their website. And since it's our goal not to make any money out of this, we'll be keeping it at print costs. Exactly, from that moment on every single person around the globe will be able to buy the book and have it delivered with nothing but the printing expense costs.
Not enough? Well then, with the money left we'll also develop a downloadable ebook through iBooks for all iOS devices. And it will be downloadable for a ridiculously low price, just enough to cover management costs.
We'll then cover costs to buy a domain website for the project and keep pushing it.
Because, and here's the little secret, we think this thing might actually also have a future.
Two young italians trying to pay their way in the world sure are low on cash, but high on dreams.
If this project gets enough attention and reaches the right people, you might hear of unCOMMON:stories again, you know?
Maybe in another city. Maybe in another country. Maybe on another continent.
So what we ask is, basically, a coin for a dream.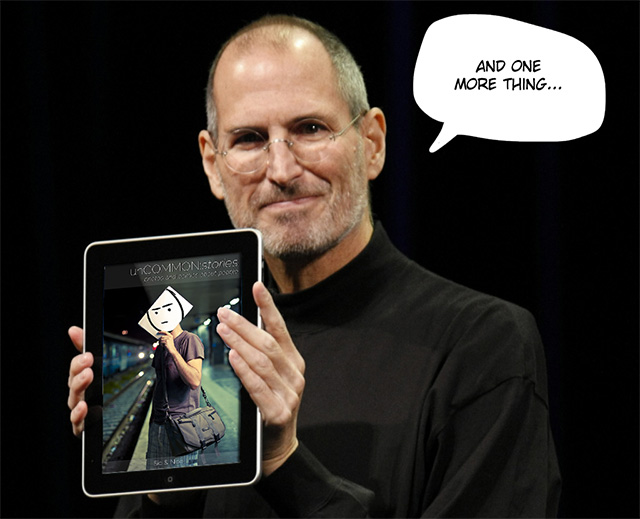 About the project owner
Who are we?
Sio will be a great cartoonist.
Nico will be a great photographer.
Now we're developing, experimenting, trying to find our way(ways) every day.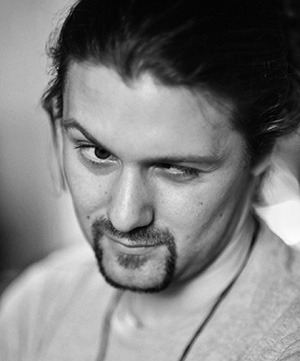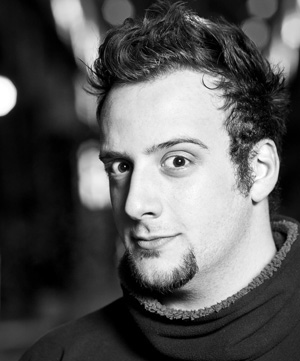 Sio is an Italian cartoonist currently residing in Sapporo, Japan. He started drawing comics at the age of 8, and never stopped. Even after discovering he had no artistic ability whatsoever. After self-publishing a few issues of his comic about a toilet paper roll, he (was) found (by) a publisher crazy enough to host his comics online and publish a few on paper too. From 2006 he's been running a webcomic mixer called Scottecs Comics in Italian. In 2012 he opened the English version to the public.
He loves to laugh, to make people laugh, to make weird noises, to learn new languages and skills, and to play random musical instruments when nobody asks him to.
He followed Nico in his recent 365 project drawing a comic for every single photo he shot. 
You can find his comics on Scottecs Comics in Italian, and here in English. You can find more about him here, and you can like Scottecs Comics on Facebook or you can follow him on Twitter.
A thing Sio drew
Nico is a photographer based.. well, based a little bit here and there. He's currently living in Rome, where he moved right after coming back from Japan. Creative, passionate, sometimes lazy but foolish enough to take on everyday with a smile.
He enjoys all kinds of photography but recently discovered a real interest in portraits and how much they can broadcast about the uniqueness of people. This also helps him get to know more and more people to literally bore to death: yes, he can't shut up even for a single moment.
Due to his recent 365 project, he developed a rare form of "I-can't-go-out-without-my-camera." This is the reason people only recognize him if he covers his face with his (always loyal) Nikon DSLR. He loves dangos, cold beers, video games and his own goaty. He also impersonates a tad too much with Pandas.
You can find his pictures, as well as the various projects he's currently working on, on his Flickr page. You can also check out a selection on his facebook page, or you can follow him on Twitter.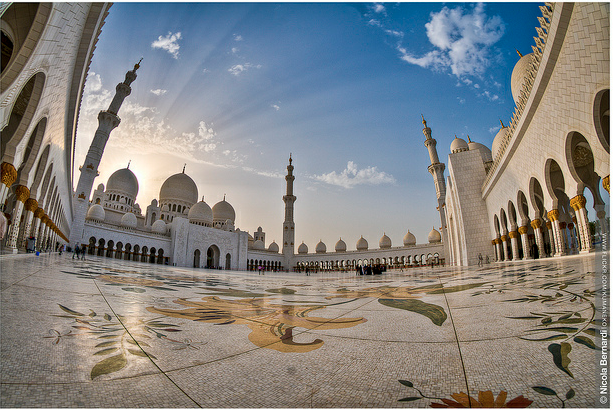 A photo from Nico
FAQ's
The book will be ready during november and should be shipped in time for christmas! Remember to update your ulule account with your address!

The files will be ready together with the hard copies, so expect to receive the email with your book in november-december!

The standard is 15x23 cm, the deluxe edition is 20x25. The standard's printed on regular paper, and the deluxe is printed on 148 g/m² paper, with Premium Matte coating. It's the version with the best fidelity for Nico's Photos!

Ok, calm down, breathe. Then click on the button underneath the FAQ to ask us more! :)
This fundraising is finished
For $7 or more
Our ethernal gratitude and a DRM-Free PDF version of the complete book.
Your name in the book credits.
For $14 or more
Previous reward
+
The MOBI version of the book with an exclusive part in it (not included in the printed book!).
For $28 or more
Previous rewards
+
One signed copy of the printed book.
For $42 or more
Previous rewards
+
With the book you'll get a 20x30 signed print of a photo of your choice from Nico's Flickr Photostream.
For $42 or more
Previous rewards
+
A signed Comic that Sio will draw exclusively for you (included, the original Hi-Def comic file, for your free use).
For $55 or more
The PDF, the MOBI, the signed hard copy and BOTH previous 30€ rewards (printed photo and personalized comic)! PLUS: We'll tweet how awesome you are with a 1-panel comic!
For $83 or more
NEW REWARD! Deluxe Edition!
The PDF, the MOBI, the signed DELUXE Version of unCOMMON:Stories, bigger and on better paper, and BOTH previous 30€ rewards (printed photo and personalized comic)! PLUS: We'll tweet how awesome you are with a 1-panel comic!
For $137 or more
PDF, MOBI, choose between 2 copies of the standard version or 1 Deluxe version of unCOMMON:Stories. Signed!
But instead of just one 20x30 signed print of a photo of your choice from Nico's Flickr Photostream, you'll get 3 photos of your choice! And a signed VERY LONG Comic that Sio will draw exclusively for you.
We'll then put the comic on a Tshirt and send it to you. With more gratitude than ever!
For $274 or more
The ultimate bundle!
Double ethernal gratitude, four signed copies of the standard version of the book, or 2 deluxe, or 1 deluxe edition and 2 standard (nice idea for presents), the DRM-Free PDF version of the book, the MOBI version of the book with an exclusive part in it (not included in the printed book!).
Your name in the credits, two times, with exclamation marks! You can choose 6 photos from Nico's Flickr photo stream and get their signed 20x30 prints delivered with the book, and two Comics that Sio will draw personally and exclusive for you. And two t-shirts with comics on them. We'll give your name to our dog. Two times. (maybe not the dog thing)
Early Birds