About
"Flowers of Silence": A project of International cooperation and cultural development.
Who are we?
We are a street-theatre company from Bordeaux founded in 2009. We (Théâtre Thump!), that is Carole Deborde (France) & Oliver Borowski (South Africa)) started in 2011 an artistic collaboration with the Mutariko Arts and Culture Project in Nelspruit concerning the piece "Flowers of Silence", a tragedy for the street with expressive masks.
With the image of the greek tragedies, the antique mysteries and pagan ceremonies, the music of Mutariko group (7 musiciens/singers/dancers) created the original score for "Flowers of Silence" and accompanied the performance in the form of a greek choir. In that,  Marimbas, Kudu horns and Mutumba drums all carry an atmosphere justly strange to the piece.
.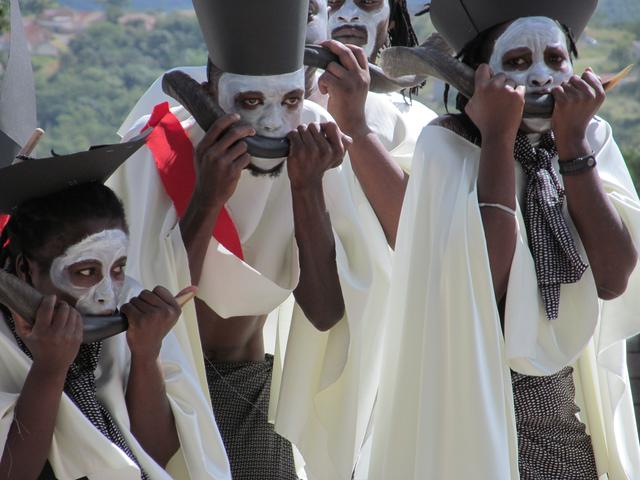 In the program "saisons croisées/ cultural seasons" between France and South Africa, we have recieved a support grant from Institut Francais, the department of Arts and Culture South Africa and the city of Bordeaux for a final creation residency in August 2012. Our premiere will be the 31st of August 2012. 
After this is where we are in need of you...
Even with the wonderful aid from the institutions above, we are still in need of funding to assist in supporting the financing of a  rural schools tour in the province of Mpumulanga in South Africa.
A transcending territorial, cultural and artistic project
Streetheatre is still an undiscovered dramatic territory in South Africa. In essence a popular form of theatre in Europe, it therefore seems interesting to develop this in South Africa whereby to perform outdoors permits us to access a larger public, a public which habitually does not go to the 'theatre'.
Théâtre Thump! will continue to do workshops in schools in the province of Mpumulanga and in the the townships near Nelspruit. The Mutariko artists will accompany Théâtre Thump ! after which in the longterm they can continue the workshops themselves in schools and elsewhere.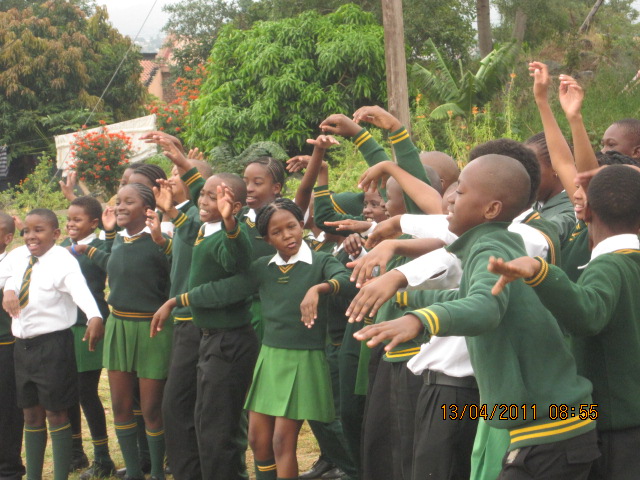 A popular theatre
The South Africa and Europe contexts provide wonderful oportunities for the project "Flowers of Silence"to perform in. The show brings diverse audiences together as it is performed on the street, in the townships as well as in schools.
It is a form of popular theatre, told simply for all to understand. The message in the piece is not a question of moral, but rather one of observation and reflection, without answers, upon the human condition: who is culpable? Where is there place for destiny in our lives?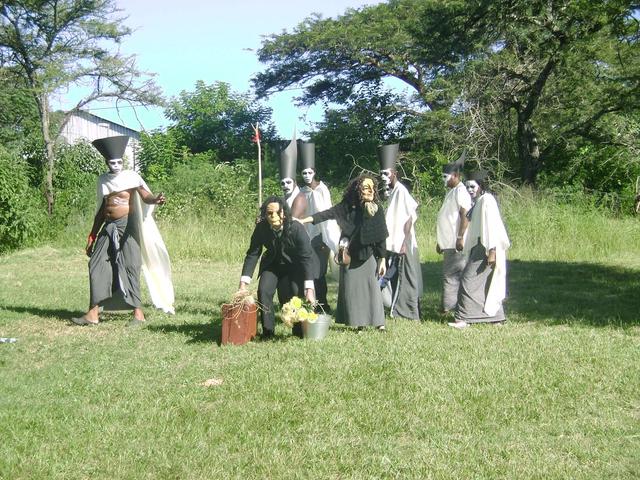 What are the funds for?
The funds will be mostly used for transport costs in South Africa for 9 artistsand their instruments...across the African bush...
For now...thank you to you...

About the project owner
It all started in 2011. Théâtre Thump a young streetheatre company did an experimental workshop together with Mutariko in Nelspruit. Alot of this first collaborative energy has made this project what it is today! 
We are:
CAROLE DEBORDE - Actrice Théâtre Thump! (Bordeaux- France)
OLIVER BOROWSKI - Actor Théâtre Thump! (Bordeaux, France /Germany / South Africa)
TOM      ROOS     –  Artistic Director    (Ghent,    Belgium)
ELS MAGHERMAN - Costume designer, ( Ghent, Belguim)
JUDITH MÄHLER - scenography, mask and puppet maker (Berlin, Germany)
AURORE BUNEL: project development/ distribution
GODFREY NYIKA DUPWA – Director Mutariko Arts and Culture Project (Nelspruit, South Africa)
GEORGE   BONGINKOSI MHLONGO Musician, actor,  (Nelspruit, South Africa)
THAMSANQA SIFISO HLATSHWAYO - actor, poet et educator, (Nelspruit, South Africa)
NOKHUTULA PERTUNIA MAPHANGA - musician, dancer, singer and actrice, (Nelspruit, South Africa)
MAGARET NTOKOZO PHIRI - Poet and singer, (Nelspruit, South Africa)
STHEMBILE ALBERT MALOPE- Musician, dancer, singer and vocal coach, (Nelspruit, South Africa)
RYNOLD T MBATSANE–Musician (Nelspruit, South Africa)
We are experiencing an incredibly rich exchange with these South African artists. It's UBUNTU: the spirit of togetherness. It is therefore very important to finish this project with the tour where theatre usually does not go.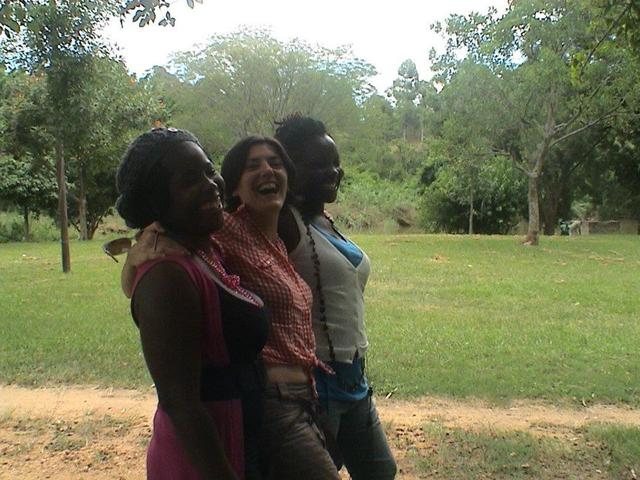 This fundraising is finished
For $7 or more
A big thank you! Your name's as donors on our website.
For $14 or more
A big thank you!
+ previous reward
+ the original score of the piece on mp.3
For $28 or more
A big thank you!
+ previous reward
+ encounter with the artists and a participation in a marimba or dance or physical theatre workshop for 1 person. (2 hours)
For $55 or more
A big thank you!
+ previous rewards
+ encounter with the artists and a participation in a marimba or dance or physical theatre workshop for 2 persons. (2 hours)
For $137 or more
A big thank you!
+ Previous rewards
+ The documented book of the project
For $768 or more
A big thank you!
+ previous rewards
+ a mini-concert by the Mutariko ensemble at your house or place of choice!!! (Transport at your cost)
Early Birds