About
Sign is a social business looking for funding in order to promote citizens' empowerment and the involvement of citizens in European affairs and decision-making in order to shift to a new type of governance. 
Sign is an ambitious European project that aims at creating a social platform and a service toolbox in support of the European Citizens' Initiatives (ECI). Sign is helping the ECIs to be heard, to collect their 1 million required signatures and to raise the necessary funding to lead a successful campaign throughout Europe. 
What are the European Citizens' Initiatives? 

The ECI is a new tool of the European Union that came into force in April 2012. It allows any European citizen to present a legislative proposal to the European Commission, that can become a EU law applicable throughout all Europe, if it complies with specific conditions. Today, there are 16 ECIs in the first generation of proposals, however only one, Right2Water, has reached the 1 million signatures. Indeed, there are a certain numbers of obstacles for citizens to create an ECI, which Sign aims at removing.
How Sign's social platform will facilitate and increase the success of the ECIs
First of all, in order to submit a proposal, the citizen who had the initial idea must find 6 other European citizens of different nationalities to form a citizens committee. Through Sign's platform, citizens will be able to create a network, exchange their ideas and get together into a citizens committee of 7 different nationalities. 
 
Secondly, in order to become considered by the EU, the proposal must collect 1 million signatures from minimum 7 different EU member states in a limited time of 1 year. The ECI organisers can increase their visibility through Sign's platform, and thus increase their signatures. 
 
Last but not least, to reach the 1 million signatures, a comprehensive communication campaign must be led throughout Europe, and this requires considerable financial capacities. Sign is here to help the ECIs raise their budget through two main instruments: 
​- Fundraising towards organisations, businesses etc. in the name of Corporate Social Resonsibility;


- Using the crowdfunding mechanism advocating the citizen-to-citizen support
​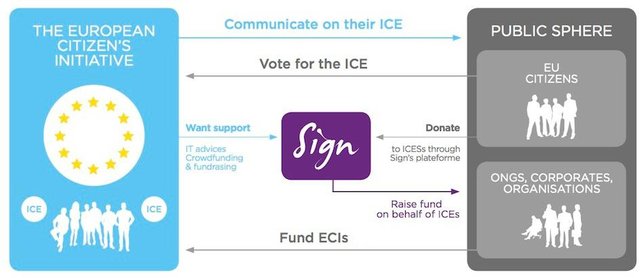 Sign is the result of a conviction in the strength of citizens working together, taking collective action and our capacity to change Europe to make it a better place tomorrow for us, the young generation. The European Citizens' Initiative is an incredible power given to citizens to get involved. Unfortunately, too few are today aware of its existence... 
Behind Sign is also the belief in the imagination, creativity and intelligence of our generation, which gives us hope that a new form of participatory e-democracy, through the European Citizens' Initiatives notably, will be able to change the current system of governance and rules. 
What are the funds for?
The 5000 EUR raised through this crowdfunding campaign will first of all contribute to develop the website. In fact, solid financial capacity is needed in order to develop our website with a robust back-office system, an inter-active user platform including funding services and with a capacity to welcome visitors reaching the population of the European Union of 500 million citizens. 
Secondly, the money will equally contribute to communicate on the project all around Europe. Such a comprehensive communication campaign will need funding in order to develop promotional videos, organise events with speakers and other. 
If we succeed in surpassing ourselves and reach above this amount, the additionnal funds will go to further communication means and by reaching 8000 EUR, it will allow us to take onboard an intern. 

 
About the project owner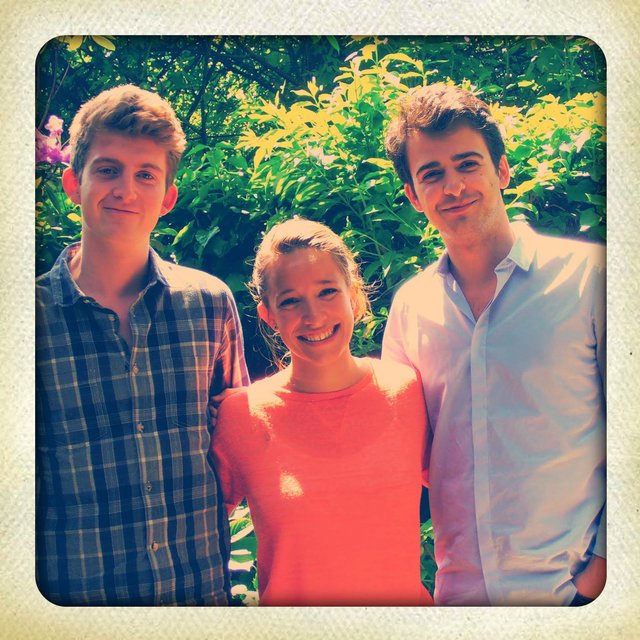 We are three young Europeans: François, a French-Italian guy; Gabriel, a Frenchman and Charlotte, a Dane who grew up in Belgium. 
Three common elements brought us together into a team: First and primordially, trust in eachother. Secondly, a shared musical interest in jazz reunited us and is a clue to our creativity and finally, our common belief in a new European democracy governed by the citizens eventually pushed us into this entrepreneuring adventure. 
With our different educational backgrounds and current studiees including all together, philosophy, polical science, Eastern and Central European studies, business and European affairs, we will be able to exploit these different areas of knowledge into the project of Sign. Moreover, some of us have had professional experiences in  think tanks, while others in companies or in European instititions. These experiences help us have an insight in the European decision-making process in addition to reinforcing our supporting network. 
However, we need to widen our network and spread the word about the European Citizens' Initiatives to the big majority of European citizens and it is through powerful tools like crowdfunding that we can do so. We count on citizens own capacity to spread the word and take ownership of the European Citizens' Initiatives through Sign. 


To read more about the idea behind Sign, you can read an interview done by Nouvelle Europe think tank, October 27th, 2012
and an article written by Sign on Le Taurillon, July 11th, 2013
Sign was equally welcomed by Vice-President of the Commission Maros Šefčovič in a speech, February 25th, 2013
We are also active on the social networks of Facebook and on Twitter: 
Facebook
Twitter: @Sign_EU
#SignCampaign 

Mail: contact@clicknsign.eu
FAQ's
A European Citizens Initiative is an innovation of the Lisbon Treaty giving the right to initiative to a group of at least one million European citizens. The ECI has a format of a simplified draft legal text. The European citizens support it by signing it. If the ECI succeed to reach one million signatures within a year, this latter will be examined by the European Commission in order to become a formal legislative proposal to be voted by the Council of the European Union and the European Parliament.

In order to launch your own ECI, you need to find 6 other European citizens of different nationality. Only a committee of 7 European citizens can start an ECI. The text of your project must then be registered by the European Commission after having been judged in conformity with the areas of competence of the Union (the Commission has 2 month to do so). 


Sign's mission is twofold: facilitate European citizens' access to direct democracy and provide the means to the citizen committees to pursue their campaign successfully.

Through our experience with the different players of the European Citizens' Initiative, we want to gain enough competences and references in order to help citizens with fewer social and economic resources to take up innovative democratic tools like the ECI.
Sign equally assists the citizen committees to pursue a successful campaign in the framework of their Citizens' Initiative. A constant mobilization during 12 months so to reach 1 million signatures for an Initiative is costly in time, money and human capital. This campaign led by citizens cannot be financed by States nor by EU institutions, guarantors of general interest and cannot presume to take position for one Initiative over another. Sign acts as an intermediate in the public sphere to make the link between the citizens' committees, in need of financing, and the stakeholders in possession of such financial capacities.

No, Sign is absolutely independent of all organizations, whether they are private or public. Sign is entirely autonomous in order to be at the service of the European citizens and the European Citizens' Initiatives. Hence Sign does not receive any form of financing from firms or lobbies that could influence the impartial behaviour of Sign acting for the European public sphere. Nevertheless, the business plan enacting the financing of the European public sphere and the ECIs relies on a participation of private stakeholders (citizens, organizations, firms, institutions) that will finance the ECIs directly. We think that firms and other private organizations have a role to play, in the name of their Social Corporate Responsibility, and fund ECIs in order to provide for their needs.

No, Sign does not have any political commitment and is an impartial player serving the European citizens. Therefore, Sign collaborates with all European Citizens' Initiatives whatever may be its political aim and even if two Initiatives will be contradicting or competing ideologically. Nevertheless, Sign only support proposals respecting the fundamental principles of democracy (tolerance, respect) and plurality of ideas within an open society.

Sign aims at facilitating access to direct democracy for all European citizens. We seek financing and networks benefitting the ECIs fully free of charge. Sign pays its functioning expenses, staff and development on a low share of the raised funding from stakeholders of the civil society. Thus, our business model has no cost for the organizing citizens of an ECI, which is the foundation of our principles and which is actually our goal.

The funds allocated to an ECI are directly given to the organizers of the ECI who distribute them accordingly to their expenses as described in their provisional budgets. This budget describes the needs linked to the campaign, although the provisional aspect of the budget does that it can be changed if the ECI obtains subsequently more or less than expected.

All the stakeholders of civil society have a vocation to finance an ECI, whether you are an individual stakeholder, an association, an organization or a firm. The mobilization of civil society is necessary so that a ECI succeeds its 12 months campaign to obtain 1 million signatures in order to become a European law.
This fundraising is finished
For $7 or more
Many thanks ! Your name in the credits on the website.
 
For $28 or more
1 invitation to Sign's launching party in Paris + above reward
For $42 or more
Book: "For Europe!" by Daniel Cohn-Bendit and Guy Verhofstadt or another book on Europe and citizenship + above reward 
For $70 or more
 3 invitations to Sign's launching party in Paris + above rewards
For $139 or more
Consulting session on how to lead a successful ECI campaign with Sign and previous ECI organisers + Above reward
For $556 or more
Becoming a partner (reserved for organizations and businesses) + above rewards (10 invitations to launching party).
For $1,389 or more
Entering into Sign's capital (buy shares) + above rewards (10 invitations to launching party) 
Early Birds