About
We just reached the 3000 euros but we still need you ! Our total budget is much larger (about 35,000 euros), we are still missing 7000 euros and all that we can have in addition can help us !

THANKS FOR YOUR SUPPORT !!!
DEAR READERS OR MAYBE FUTUR DONATORS! 
If I tell you : environmental protection, biodiversity conservation, protection of endangered species, solidarity or even awareness of local people... Do these themes ring a bell ? If it does, then you will inevitably be interested in our project :)

   WELCOMETO RIMBAPROJECT !!!  

What is the RIMBA project ?
It is a project that resulted from the encounter of 2 minds on Indonesian land. Nature lovers and concerned with the environment protection, we became aware how fragile nature is, when facing the numerous threats surrounding it. Facing this reality, our minds met to give birth to an idea : why don't we get together to create a non-profit organization for the environment's protection financially supported by an ecotourism project ? From this WONDERFUL idea emerged : the RIMBA PROJECT !!!
This project will be implemented through 2 stages :
             ¤ Stage 1 - RIMBA ECO-BUNGALOWS : Creation of an ecological accommodation in «bungalows» type oriented towards the reception of tourists, and also supporter of diverse actions linked to the environmental protection.
             ¤ Stage 2 – RIMBA ASSOCIATION : Creation of a non-profit organization in order to rehabilitate Indonesian wildlife into their natural environment and to protect its habitat. The association will be involved with species for which there are not yet associative structures to receive them.
What does « RIMBA » mean? 
RIMBA means "jungle" in Indonesian... To say that we remain connected to our key theme!  :)
Firstly because all three of us are in love with this country…
Also because Indonesia constitutes one of the largest supplies of the world's biodiversity which is seriously endangered. Indeed, intensive deforestation notably in Borneo and Sumatra for the benefit of timber industries or the extension of oil palm cultivation is a major environmental problem.
These threats endanger many endemic species from this region like the orangutan but also gibbon, Sumatran tiger (400 individuals in the wild) or the Rafflesia arnoldii, the largest flower in the world !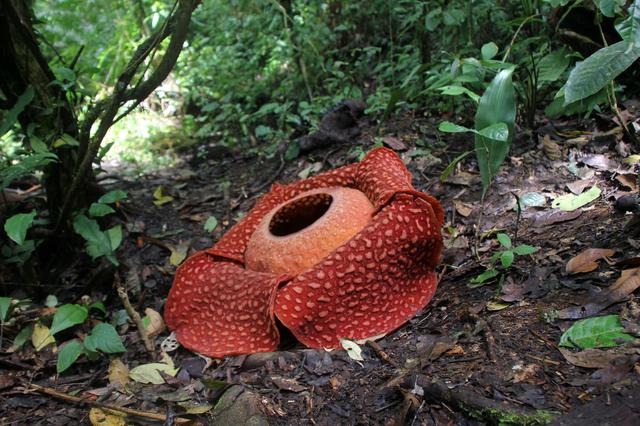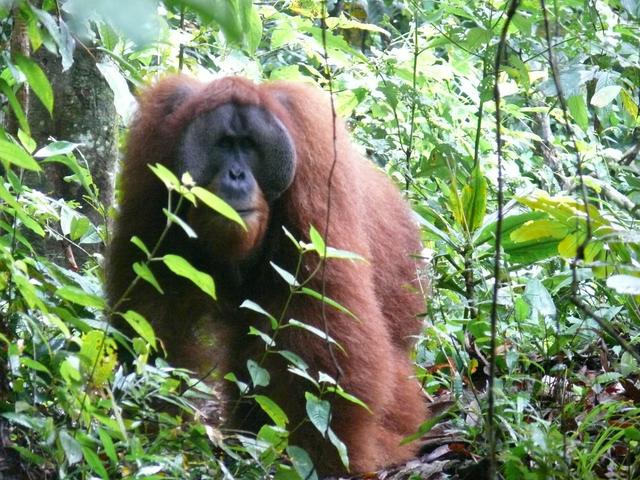 Where exactly in Indonesia ?
We have decided to establish our project in the province of West Sumatra.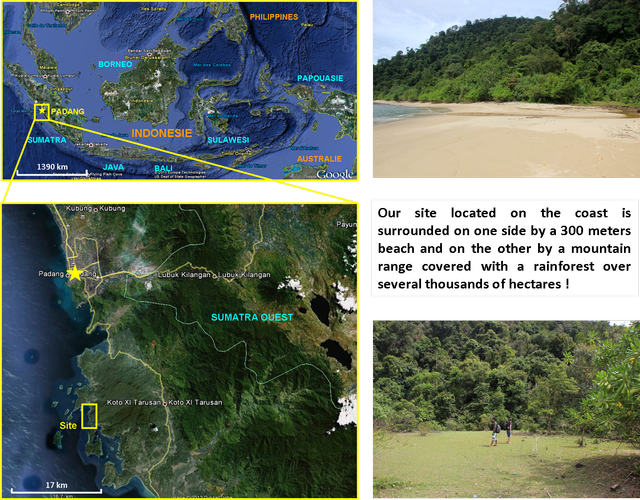 STAGE 1 - RIMBA ECO-BUNGALOWS
             ¤ Objectives
Our tourism project holds as its first aim to integrate ecological norms. In order to do that, the choice regarding the use of material to build infrastructures and the supply in energy will be done in conformity with ecological concerns. Moreover, partnerships will be created in order to support the local populations, and actions related to environmental protection will be implemented.
Our second objective aims at obtaining a financial support to start the creation of the RIMBA ASSOCIATION (stage 2), based on the profits generated by the ecotourism project. Indeed, since we cannot afford to base our financial strategy on a bank loan due to the non-profit aspect of our organization, as well as the impossibility to start a fund research due to the lack of establishment site, it was necessary for us to come up with another solution to initiate the creation of our association.
Finally, we must emphasize the fact that fulfilling the roles of president and vice-president of the association not allow us from being salaried of our association and therefore to receive income from it. Therefore, a second part from the generated profits will enable us to receive a wage (a detail… but which should not be neglected all the same !). 
            ¤ Missions and actions
- Integrating our project according to the environmental concern and respect for the local populationsby choosing :healthy materials for construction which does not originate from activities of deforestation (bamboo, ruyung, palm leaves…), a traditional architecture, solar panels to satisfy the need in electricity... Here is an example of the expected result :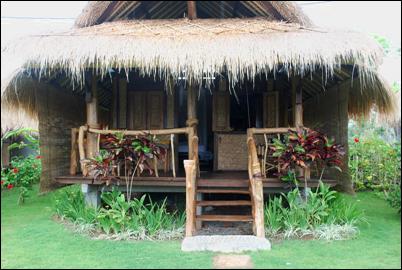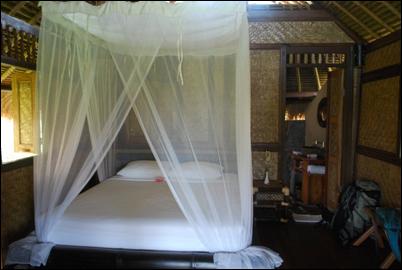 - Developing the local financial activity by creating jobs, partnerships (foodstuffs, cultural), and the value enhancement of artisanal products...
- Rehabilitate the coral reef in order to help fishermen reestablish their fishing zones and promote them to the coming tourists.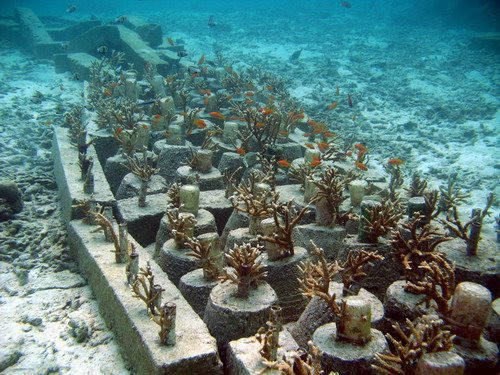 This action is easy to undertake, in parallel with small cost, and the implementation of a simple method in order to help the coral regenerate. The method has already been used successfully in numerous projects such as the one led by Reef Scapers organization in the Maldives.
A cement structure enabling stability to the swell is placed under the water. The coral directly attached to the structure, is going to grow again and enable a whole new ecosystem to develop. This method is efficient as the rate of coral regeneration is estimated to be around 80%.
- Protecting sites of sea turtles during laying seasons : proceeding to an inventory of egg-laying sites in order to organize surveillance rounds and protect the areas from predatory and the illegal collect of eggs.            
We consider the possibility of making the tourists participate in these activities so that they can be more sensitized to the numerous actions undertaken, whilst adding some attractiveness to our ecotourism project.
           ¤ Touristic potential
West Sumatra is an ideal destination for ecotourism. Preserved from mass tourism, this region is endowed with a generous nature : large mountains, canyons, volcanoes covered with old-growth forest, rice terraces, majestic lakes, waterfalls, islands and white sandy beaches. This region is perfect for trekking in primary and secondary forest, for the observation of wildlife, or even for relaxation and swimming activities.
This land is also the birthplace of communities who still follow a traditional lifestyle, such as the presence of the Minangkabau which contributes to the cultural wealth of the region. These latter dwell inside long houses with roof shaped like buffalo horns, and walls made of carved out wood.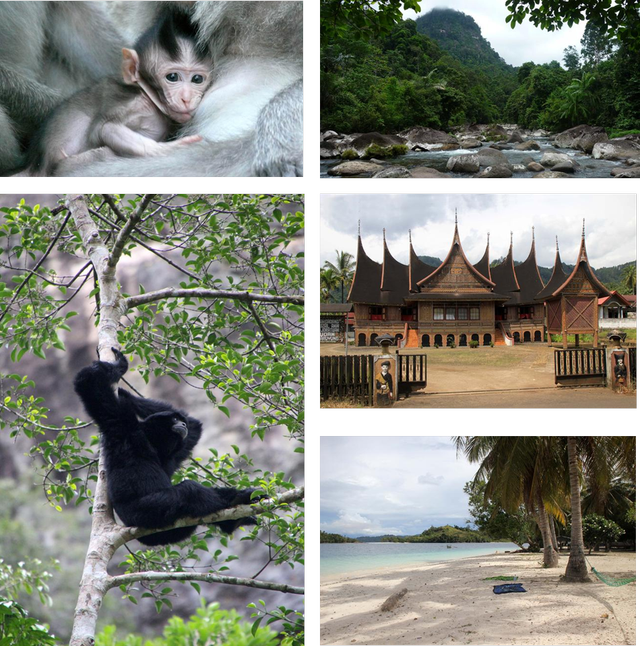 ¤ Estimation of the cost of the project
- Infrastructures and labour = 17 000 euros
- Solar Panels = 10 000 euros
- Small equipments (furniture, mosquito nets, sanitaries...) = 3 000 euros
- Significant equipments (boat, water supply...) = 5 000 euros                                                                                                                
TOTAL = 35 000 euros
STAGE 2 – RIMBA ASSOCIATION
             ¤ Objectives
The RIMBA association aims to help captive animals of Indonesia. The main objective of the organization is to reintegrate those animals into their natural environment, after a rehabilitation period. This will be done through a global approach, which includes the protection of their environment (creation and management of natural reserves, struggle against deforestation) and the involvement and participation of local population in every stage of the project. The association will be involved with species for which there are not yet associative structures in Indonesia to receive them.
            ¤ Missions and actions
Several stages are necessary for the success of a rehabilitation process. To do that the association plans to implement:
- An awareness program for local populations, and particularly towards the young generation, thanks to a teaching about ecology, which will be given in the regional schools by one of the member of the association.
- The recovery of animals used as pets or excluded from their natural habitat due to deforestation.
- The animal rehabilitation through a long and complex learning process in order to enable the emergence of natural behaviors necessary to survive in wild conditions (feeding, movements, couple or group life, singing for apes…).
 -  Finally, if the rehabilitation process is a success, the animal will be reintegrated in its natural environment, with a prior localization work in order to define the most suited site to release the animal.
 -  As well, the creation of a sanctuary for non-rehabilitated animals : those affected with sickness, thus carrying a potential sanitary risk to the wild population, or those affected by a physical disability, not enabling them to be autonomous and thus unable to survive in a natural environment.
 -  To finish with, the protection of the natural habitat of these species through the creation of natural reserves and the implementation of physical means in order to contribute to the sustainable preservation of these sites (forest guards, marking…). These natural reserves will be used as sites for the reintroduction of animals.

           ¤ Funding
The RIMBA ASSOCIATION will be effective according to the financial impulsion of the ecotourism project mentioned above : RIMBA ECO-BUNGALOWS. A fund raising campaign addressed to diverse organizations and private donators or foundations will be developed to complete the necessary budget. We also plan to develop the concept of eco-volunteering within the organization.
What are the funds for?
The request funding will be used to :
Buy materials for the construction of infrastructures (bungalows, restaurant…)
Pay the local labor for the construction of the project.
Is 3 000 euros enough to create an ecotourism project ? Unfortunately NO !!! The total budget necessary to the realization of the project reaches 35 000 euros, and we are still short of 10 000 euros… That is why we need you. So, don't hesitate to go past the 3 000 euros asked and explode the rates !!!  :)
If you wish to get more information about the project or if you have any questions, please feel free to contact us.

  THANK YOU ALL FOR YOUR SUPPORT AND GENEROSITY !!! 


About the project owner

  Hi, I'm Nadège, I'm 30 and I come from Montpellier !
Position : After graduated from a professional BA in Plant Biotechnology Engineering  I entered the International Center of Agricultural Research for Development (CIRAD) the same year (2003) as an assistant engineer in Plant Molecular Biology.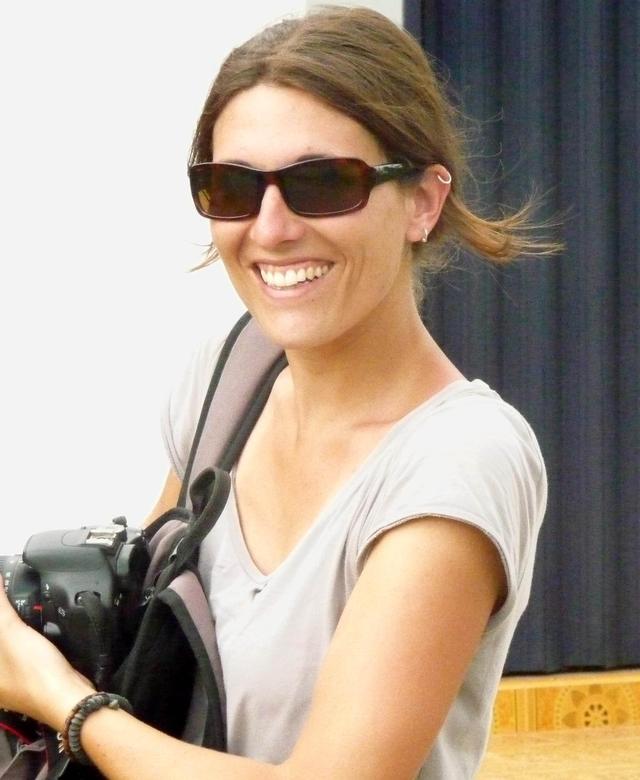 Experiences : It has been 5 years that I am volunteer for a French NGO named Kalaweit, located in Indonesia, and also a member of the administrative council since 2 years. This organization is specialized in the rehabilitation process of gibbons and siamangs and in the protection of their habitat in Borneo and Sumatra. Fulfilling this role enabled me to acquire several skills especially in the creation of communication support, set up promotional events, fund raising..., but also it deepened my understanding about the organization and management of an NGO. I have also performed several internships on the ground for a total duration of 6 months which helped me familiarize myself with rehabilitation methods of wild animals, first veterinary cares, construction of structures suited to receive the animal according to the species it belongs to…
In parallel with this experience, I stayed a year in Indonesia (2010-2011) as a student in Bahasa Indonesia (Indonesian language) at Malang University in order to deepen my knowledge of the area, social and environmental issues of Indonesia, as well as the practice of the national language.

  Hi, I'm Reno, I'm 26 and I'm Indonesian, originally from Padang in Sumatra !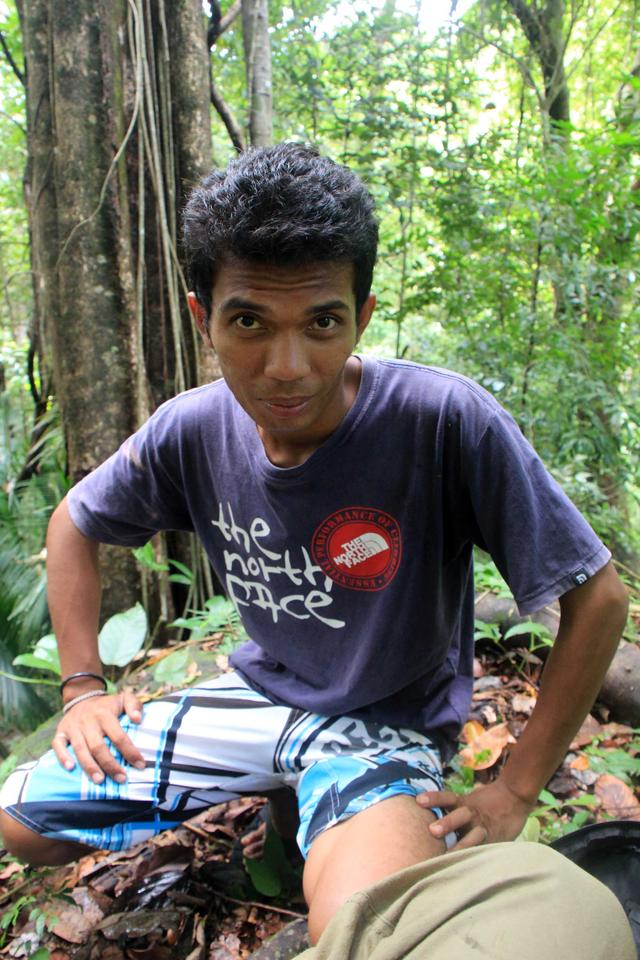 Position : I am a self-entrepreneur and I am owning my own grocery since a year in the village of Nagari Sungai Pinang in West Sumatra. This position enabled me to improve my skills in relations and communication as well as deepening my knowledge in logistic and treasury.
Experiences : I have run a position for 4 years (2007-2011) in the French NGO Kalaweit in Sumatra as an animal keeper. This position allowed me to master the first veterinary cares, the use of hypodermic gun, the management of wild animals in captivity and the way to handling them. I also possess valuable skills in wildlife rehabilitation process, especially for animals like apes, bears, birds… and strong knowledge regarding marine life. Also, I contributed to the logistical dimension of the project and the management of eco-volunteers.  Finally, this position, gave me the opportunity to acquire solid knowledge in the creation and the management of an NGO.
Being originally from Indonesia is an undeniable advantage in order to foster more easily relations with the population as well as with local authorities, not to mention a deep knowledge of the area.
News
This fundraising is finished
For $7 or more
A big THANK YOU from us for your support and the assurance to have contributed to the creation of a sustainable project !
+
Your name in the acknowledgments page of our future website
For $35 or more
You are very generous and this is well worth, in addition to the previous rewards :

THOUSAND THANKS
+
Your name in the acknowledgments page of our future website
+
Pictures by email at the different stages of the project progress
For $69 or more
Wow ! You just move to the first class! Our grateful thanks and our eternal gratitude for this generous donation.
Previous rewards
+
A free one-day trip (for 2 people) if you come to see us at our project
For $206 or more
Now, you have reach the business class ! A MILLION THANKS are required, not forgetting our sympathy and our eternal gratitude!
Previous rewards
+
3 nights free (meals included) in one of our future bungalows !
For $411 or more
Ready for the take-off ? You are arrived in VIP class !!! There are no strong enough words to describe how we appreciate the huge support you have given to us ! We hope that 1 BILLION thanks, our respect and our boundless gratitude in addition of our heartfelt sympathy will live up to your act of kindness...
Your name in the acknowledgments page of our future website
+
Pictures by email at the different stages of the project progress
+
A free one-day trip if you come to see us at our project
+
7 nights free (meals included) in one of our future bungalows !
Early Birds
Official Users ♥ it !