About
THE PROJECT:
Recreation is an audiovisual series created by the band Blind Digital Citizen and produced by Le Groupuscule.

What are the funds for?
Thanks to you, we hope to raise some of the funds necessary to launch the production of Recreation. We will add to this contribution with our own funding as well as the support of the company Le Groupuscule.
As this project does not fit into a pre-established format, it  unfortunately does not qualify for traditional funding (CNC, Regions…). So we must find innovative solutions to raise the funds needed to make it.
Your contribution will enable us to hire equipment (camera, lighting, stage set), to move the team and the equipment around and to cover filming  costs  for one week. It will also be used for the post-production of the pilot (mixing, editing, vfx, calibration..) and to get the other episodes on track.
We need you, however big your contribution might be! We will only use the money if we obtain the amount we need. So if you want to take part in this ambitious and novel project, or if this project simply inspires you, then now's the time!
We are also calling all those who would like to take part in the project with us (camera operator, graphic designer, animator, FX/make up, stage manager, cook, beast tamer…). Don't hesitate to contact us and we can discuss it further.
This is a first for us and we're very excited by these new means of participatory production that offer projects like ours a noble and social way of succeeding.
We wish to thank you in advance for your contributions and your energy!
About the project owner
o ☐ Δ ////  Blind Digital Citizen //// Citoyen Digital Aveugle //// 243 //// Ciudadeno Ciego Digital //// O[]V
Blind Digital Citizen is a musical and visual project inhabited by strange anonymous creatures, luscious territories, galaxies in perpetual expansion…
1986. Explosion of the 4th reactor in the Chernobyl nuclear plant .
Jean Turner, Louis Delorme, Florent Cornier, Charles Templier et Franz Vulder struggled to make sense of the world that surrounds them.
2009. Linked by a more or less concrete friendship, they met up for sessions of visual and sonorous experimentation, organized in an occasional fashion.
They took a liking to it and started to structure collective travels in remote and familiar places where the central ideas of the project began to become clear. Working on evocative themes and improvisations or textures to generate hybrid pieces, Blind Digital Citizen is the fruit of an uninhibited exploration of genres, formulas and situations.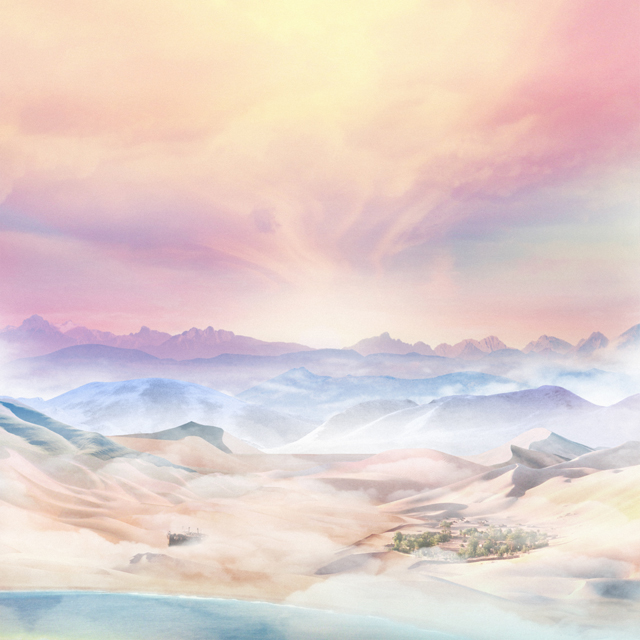 In May 2012, after La Femme, Holstenwall and Mungo Park, Blind Digital Citizen released Le Podium #5, at Third Side Records. An EP mixed by Adrien Pallot and Bot'ox.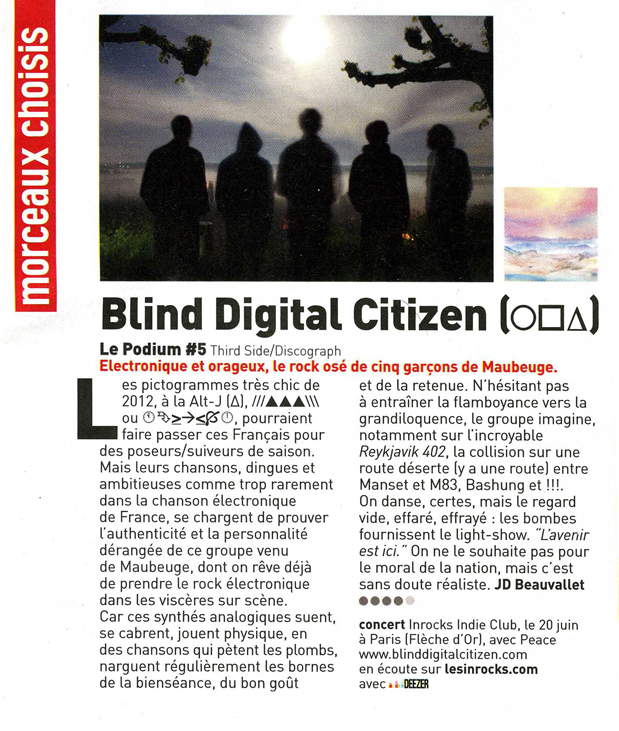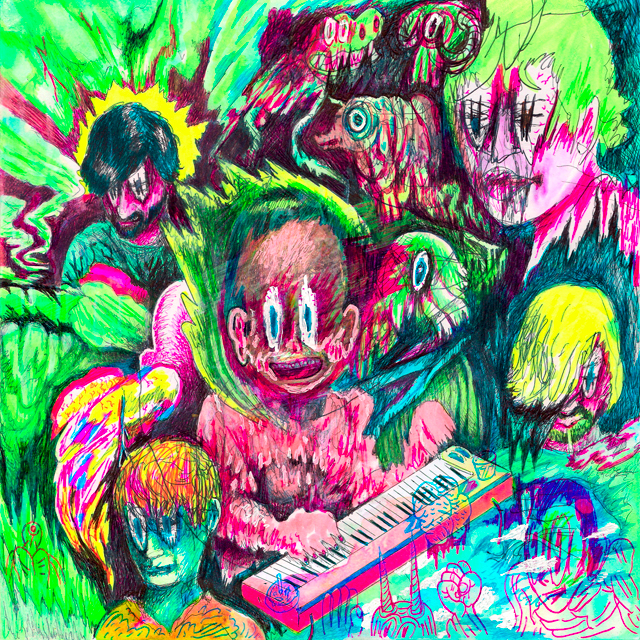 Blind Digital Citizen - Mixtape Hors d'Hoeuvres
This mixtape contains some jams from long hours of recreational sessions recorded since summer 2011.
LE GROUPUSCULE :
Florent Cornier et Franz Vulder are also partners in  the production company Le Groupuscule which will provide artistic, technical and logistic support to the project.
This fundraising is finished
For $14 or more
* Recreation Poster (B1, 70cmx100cm)
For $35 or more
* One ticket for O[]V gig
+ Previous rewards
For $48 or more
* Le Podium #5 Vynil out on Third Side Records (300 ex. limited edition) - signed by O[]V
+ Previous rewards
For $69 or more
* Silkscreened T-Shirt Recreation or O[]V (man & woman model)
+ Previous rewards
For $137 or more
* Two invitations for the Recreation Party
+ Previous rewards
For $343 or more
* Silkscreened Recreation Poster (120 x 160 cm - 50 ex. special edition)
+ Previous rewards
For $685 or more
* A3 drawing signed by O[]V on Recreation (20 unique pieces)
or
Unidentified Object (take a risk!)
+ Previous rewards
Early Birds



Official Users ♥ it !