About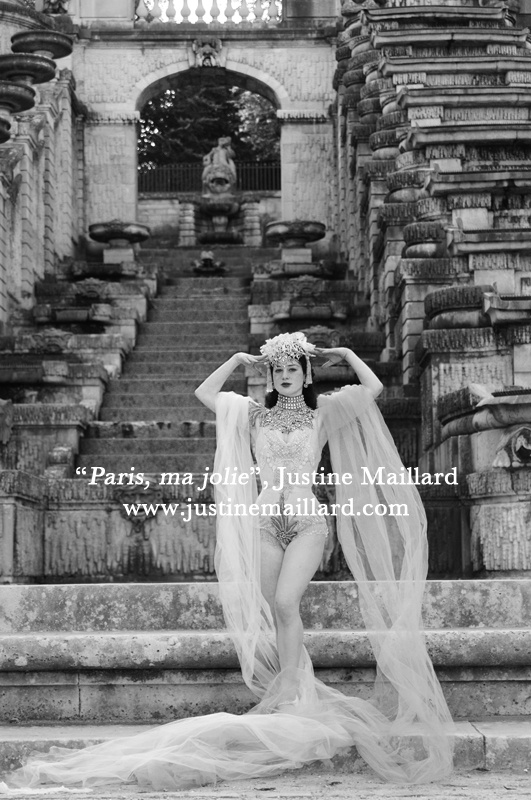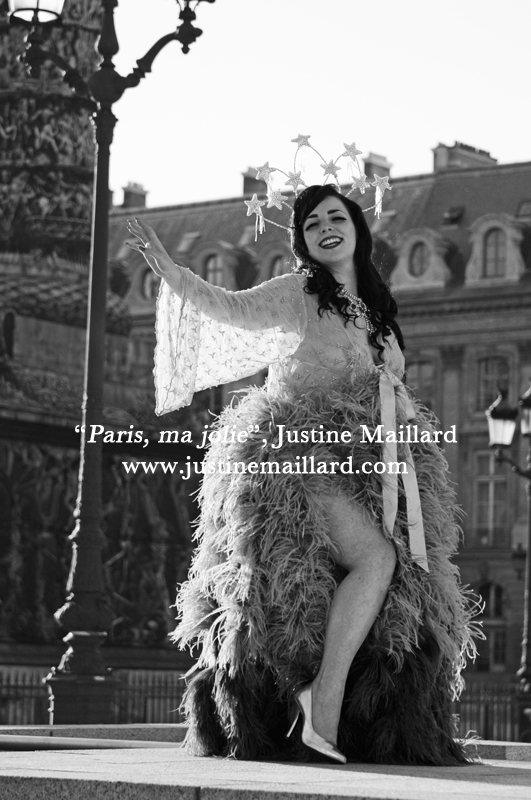 Paris, ma Jolie" is born of one strange meeting, one of which where an imperceptible je-ne-sais-quoi in the air draws one towards a very peculiar moment, a point in time where everything seems natural... although you have no idea what to expect.
The Burlesque and New Burlesque universe from which this project originated was but a small one at the time, and the craze was just about to start with Mathieu Amalric's film "Tournée".
"Paris, ma Jolie", initially started a simple search for personal identity, quickly became a flagship project for my main theme as well as the beginning of a real research on the identity of Women and femininity.
What is women's condition, what is the image they carry and show ? To what extent can women think about themselves and change their image in a so-called consumer society lulled by diktats emanating from the cosmetics industry ?
There is much to think about around the project which, through its collection, provides a wide patchwork of artists from the international Burlesque scene, depicting the Woman in all her forms, in all her glory.
All these goddesses and muses from a timeless world invite us to read in them their philosophy and poetry and offer us the mirrored image of a society undergoing questioning.
The pictures show a "mirage of Woman", a female icon, a perfect muse from a lost time bursting into our present century. The poetry emanating from this portrait make these captivating images and their slick and refined aesthetics all the more disturbing.
The goddesses and their ivory skin lined with diamonds, once set on paper, are snippets of the life of all these incredible women from Burlesque : their actions, their commitment and intimate struggles...
This project, in which I have been involved in 3 years has really taken upon my thoughts.
The involvement of these women and the dedication of the whole team allowed me to make this project through, and to draw my poems.
Burlesque lovers and connoisseurs will be delighted to admire the beautiful Kitten on the Keys (UK), Janet Fishietto (I), Miss Anne Thropy (F), Vicky Butterfly (UK), Billie Rae (UK), Darkteaser (UK), Vivi Valentine (AUS), Lalla Morte (F) and many other pretty little muses from the French scene !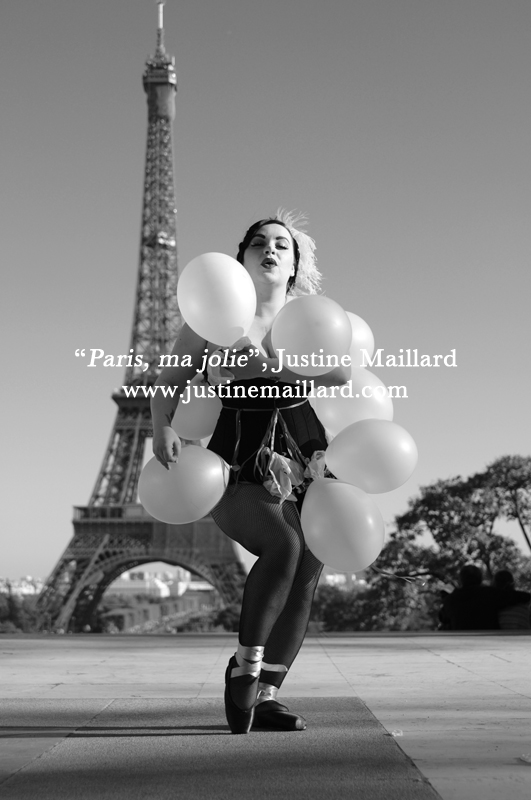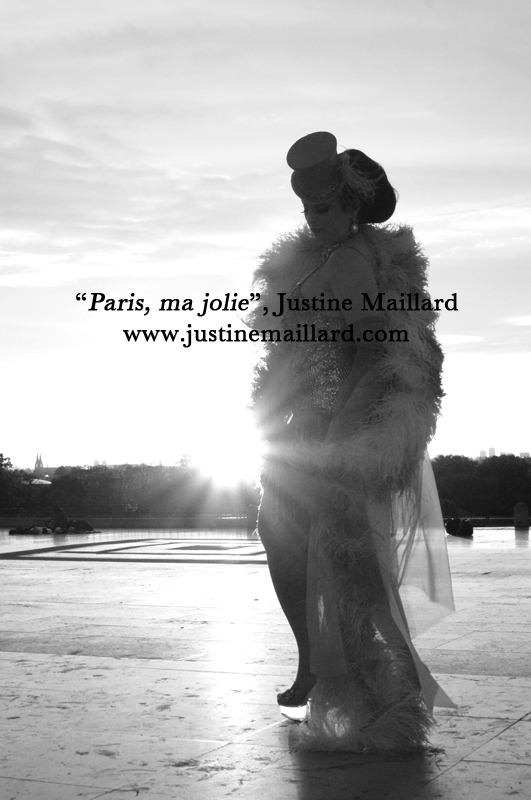 What are the funds for?
The adventure continues !!

And this time,
700€ will be necessary to print 10 more pictures in high quality
(A0, PVC)
200€ to edit all the communication materials around the project
(invitations, flyers, press kits, posters...)
 hence : a total of 900€ to raise in 25 days !
This founding will help things happen around "Paris, ma Jolie". I have a lots of projects coming around the world; but a big first event will happen in Reims (FR) next april !
About the project owner
Born in the town of Arthur Rimbaud, Justine has always had a passion for literature and poetry.
She fell in love with photography while exploring life with her father, an amateur photographer who never left home without his Nikon FM. She soon achieved her first shots.
For long, the magic of these young pictures was broken by her finger showing up in the frame, but as she did not intend to make it a trademark, she went on taking pictures, finally making it an absolute passion.
Her first shots show her friends' dresses and veils in a park, behind the family home.
Her explorations, little by little, became more personal.
Her first project "Journées d'Hiver", poetic urban exploration, gave birth to her motto : "I can no longer live without photography."
Exploring the world and herself soon became indispensable. That incredible medium slowly became her own mirror, a playground where reality would combine with the world of dreams in a mystical way...
Therapy, research, experiments and openings : Justine delivers a psychological and graphical world where everyone can give a try to introspection.
Justine, more than ever involved in her passion, has never hesitated to invest everything in her projects, and most specifically in the making of the collection "Paris, ma Jolie" which took her three years during which she had to mix studies and photography.
You can find Justine Maillard's works online at www.justinemaillard.com
News
This fundraising is finished
For $14 or more
Your name quoted in the book of the exhibition
+ an invitation to the Reims exhibition
For $36 or more
The same as 10€ step
+ a copy of one of the picture from the "Paris, ma jolie" project (180 gr. paper, A4 size, not an art print !)
For $48 or more
The same as 25 step
+ a numbered poster of the exhibition
For $206 or more
The same as 70
+ this time, you have 2 pictures printed ! (not fine art print !)
For $343 or more
Your name in the exhibition book
+ an invitation for the exibition in Reims
+ a special photoshoot only for you ! (you can offer it for a gift, as I'm only available in Paris)
For $480 or more
I offer you a special photoshoot with a coaching and stylism around the project "Paris, ma jolie".
A magical time, a special way to traval around the centuries !
A make up artist will take care of you and we'll put the project together !
Early Birds
Someone from

SAINT DIZIER, FR
Official Users ♥ it !