About
▶ 8 pixels high transmedia web serie! ◀
Paphù is a 8 pixels high caracter. He lives in a world of revered Idols that anything can disturb.
Among the Men, is a disturbing one. Not even in purpose, he breaks the rules.
More than a movie, we would like to develop the first animated pixel serial in France, to create a website and to build a community around Paphù!
More than a spectator, the participant can decide wether or not Paphù will keep going destroying Idols. 
Today we need your support to create the web site, a platform where the community will be connected to see the videos, play videogames, chat and participate.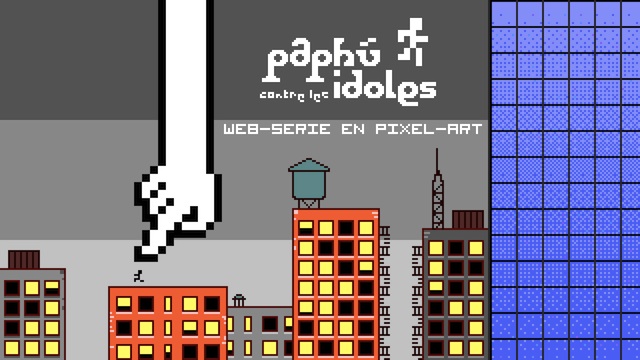 You're not only a spectator, now you're a real actor of the project! 
The platform funding is the first step. Here is the schedule :
- 6/6/12 : launch the crowd funding for paphu.com

- 7/7/12 : making the website paphu.com

-  9/9/12 : official start of the website paphu.com which you will be the first members. One episode a week will be broadcasted

- 11/11/12 : YOU decide if we create the next episode
By now you can play the trailer "Paphù contre les Idôles" :
 Paphù have already been noticed!
- CNC script grant (new media projects) 
- Drôme Department edition grant Aide à l'édition du Département de la Drôme
- Ganuta award winner
- Game Connection 2009 exhibition in Lyon
- Lux – Valence exhibition during the Festival (é)mergences « videogames and creation»
- ICAN (creation and digital animation institute) conference about "Writing a transmedia project"
- Lux – Valence conference on " New videogame form and new media" 
People already talk about Paphù
on France Info (in French):
on Graphism.fr : « Animated pixel art genius is Paphù ! » by Geoffrey Dorne

on "la Cuisine du Graphiste" : «…very cool shorts films! »

on GraphicBlog.fr : « pixel art animation very funny and unusual »
What are the funds for?
In spite of the enthusiasm of the sollicitated partners to broadcast Paphù, nodbody started to fund it.
We had two choices : stop it and go ahead
OR
Keep going and trying something to make this 8 pixels high caracter live and see the world!
Well, we choose the second choice.
But are we right?
Only the public can decide.
▶ You decide of the future of Paphù! ◀
You decide of the issue of the project on the idea "Play or Stop"
If you like him, you buy him and the project keep going...
Are we too crazy? If it doesn't work, we only will broadcast the finished episodes, and, well, we would have tried!
▶ what do we need? ◀
Citron Bien self developped, with Jean-Pierre, Paphù's creator, several contents (video, games, comics, goodies...) what we would like to broadcast with a dedicated platform.
We already have the episodes and games but we still need to make this platform.
This is where you come in!
Your help will fund a part of the platform making; the web site where all the Paphù universe will be stock and broadcast:
-domain name + host of the website
-platform design
-platform developer (secure access, interface, database...)
-integrate and moderate the movies and games
-grow up the community (communication, press, community manager...)
As you see, big work that will cost more than 2000 euros. Most important for us is to start the community and launch Paphù.
Your help is strategic and will encourage us!
And if the fund is over our hope, it will help us to make a better platform (and specially communicate on it) and fund new content (movie, game, pictures...)
Your help is not only money!
▶ We need you to talk about  Paphù... ◀
Around you, send this page, our videos, the link http://www.paphu.com
by mail, or social network : like it, post it, picture it, follow it, tweet it, click on the links below!
http://www.twitter.com/paphuvsidols
About the project owner
▶ Pierre Dron speaks about Paphù! ◀
In 2004, I meet Jean-Pierre Poirel, "Paphù vs Idols"'s  author at La Poudrière where he is studying. Both of his school films are pre-bought by Canal+ and Arte and allow me to discover rich graphic films, and a real universe.
In 2006, when he is out of school, Jean-Pierre is part of my project KaAM: a animation director collective based in Valence. I wanted to develop a multi screen project, and he told me about this pixel man project : Paphù was born!
After several films (EMI videoclips, MTV, Publicis Commercial, shorts and web content...) broadcast on TV and multi Festival selected, I decided to found CITRON BIEN society. Since last year, this allowed me to give more dynamic to the projects I follow.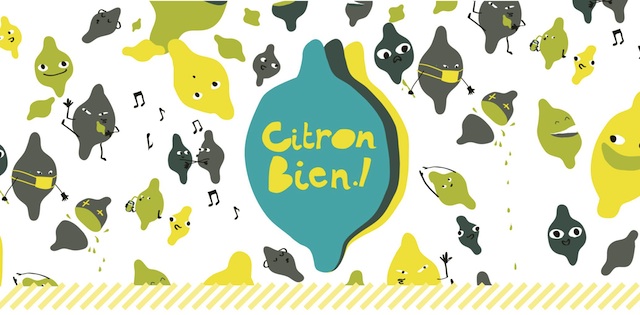 Enthusiastic producer of multimedia content, I proposed Jean Pierre to work together  on the production of the "Paphù vs Idols" project.
Citron Bien's ambition is to offer new writing forms and imagining stories for the new support broadcast. Paphù is exactly this kind of project!
This project is universal. Every screening of the films is a success on child, adolescent and adults. The humor works!
I invite you to discover Citron Bien, watching our current projects.
Thank you for your attention and support @ Citron Bien
This fundraising is finished
For $7 or more
*** 8 bits pack ***
Full access to the paphu.com website's contents
For $28 or more
*** 16 bits pack ***
A paphu's post card
+
6 stickers
+
Previous reward
For $48 or more
*** Melomane pack ***
Paphu's music compilation to download
+
All previous reward
For $69 or more
*** 32 bits pack ***
All videos on a DVD
+
All previous rewards
For $103 or more
*** "Papivore" pack ***
Poster of the project
+
A4 print
+
All previous rewards
For $137 or more
*** 64 bits pack ***
Creation Kit (adhesive pixels to design your own character for real)
+
All previous rewards
For $343 or more
*** IRL pack ***
Meet the project's team
+
All previous reward
For $685 or more
*** Animator pack ***
1 day to practice the animated pixel
+
All previous reward
For $1,370 or more
*** final boss pack ***
We produce a new episode
+
All previous reward
For $2,740 or more
*** New game + ***
We produce a flash videogame
+
All previous reward
Early Birds
Official Users ♥ it !