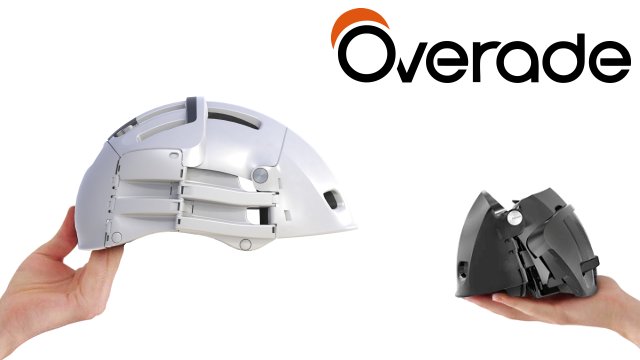 About

Our folding bicycle helmet is a unique innovation in its market : in the folded position,the helmet's volume is divided by 3. As well as this practical aspect; we want to create a truly chic and elegant object that offers a range of accessories. Our users will also have the possibility of personalising their helmet as they please.
The accessories are currently in the process of development. First of all we imagine a removable visor and protective cover to shield you from rain or cold.
Our folding helmets have triggered significant interest, so we thought, why not give it a go with you? We have therefore chosen to propose (globally!!!) exclusive pre-sales on Ulule in order to anticipate the development of the accessories on the market more or less at the same time as our foldable helmet is released, in spring 2013.
It's a great challenege for us and one which gives us you opportunity to become the first ever owners of the Overade helmet.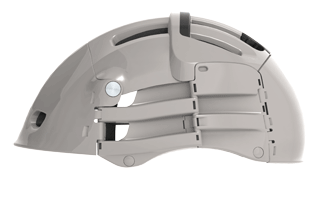 Our offer comes in three different options:
For €75, you will receive a folding helmet with the protective cover.

For €90, a helmet and cover as well as an accessory your choice.

For €100, your very own helmet and cover as well as the two accessories.

If you would like to know more about the history of our amazing product, it's just below. In order to find more technical information on the accessories and the helmet, take a look at the bottom of this section of the project.

"A foldable bicyle helmet…but how did you come up with the idea?"
This is the number one question we have been asked ever since we proposed our project. Here's the answer.
It's been a long time…in 2007 the public bike rental service started in Paris. It very quickly became truly popular in the capital. It was during this time that Phillipe noticed very few users wore a helmet. His natural curiosity and his taste for innovation meant that he didn't just stop there, but instead wanted to know….why.
Cyclists that were asked responded in common: "a helmet is cumbersome once the bike journey is over". Nobody can deny that a helmet goes against the whole point of using a town bike, which is more or less a synonym for practicality, freedom and the ability to get from A to Z quickly.
The second reason: "a cycling helmet is ugly". People's tastes and preferred colours were not discussed, but what was clear is that existing helmets did not satisfy the aesthetic expectations of urban cyclists.
Armed with answers, Phillipe then had the idea of conceiving a foldable bicycle helmet that is at the same time both practical and elegant. Easy! Well, almost….

Having the idea was well and good but making it happen was a whole other story! It took a lot of work to create a product compact enough to store easily in a small backpack or handbag. An important step was taken in July 2009 with filing of the patent for the folding system.
The Overade company came to life in December of the same year. Over the next two years that followed, many prototypes were created alongside industrial and laboratory testing to develop the product. The first goal of the helmet is to protect and it was necessary to ensure, as with any helmet, compliance with safety standards. It was also necessary that the folding system be easy and quick to handle.

With these constraints solved, it was time to think about the design. Conscious that the appearance of the product would play a key role in its success, Phillipe put his prototype in the hands of 360 design agency and with subtlety, the product was transformed into an elegant and chic object which could blend perfectly into an urban environment.

Winning a Star at the Observer of Design in November 2011 has served to reassure Overade in terms of their aesthetic choices. The company was proud to have developed a product that won under the award category "designed in Paris".

Phillipe was looking for someone that he could work with in order to market the product once it was manufactured. It was then that he met Clement who really believed in the project and fell in love with the product. Both partners then began in order of the battle: Phillipe managed the development of the product whilst Clément made contact with potential distributors in France, as well as internationally.
This same year, the reputable American design site Designboom published an article on the Overade innovation. More than 30,000 people have already read it, meaning the concept became known around the world, which is encouraging for what will come next…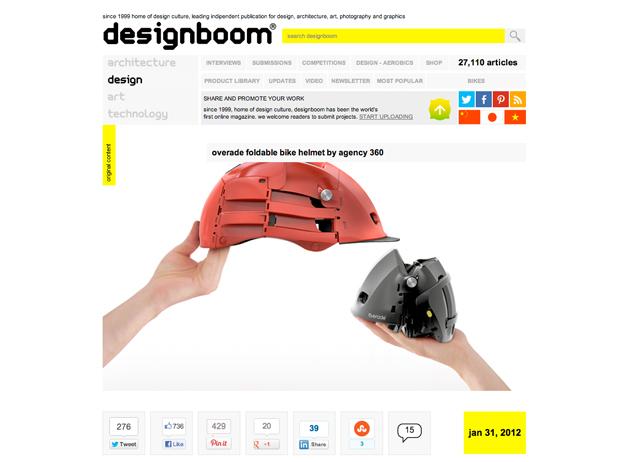 At the end of 2012, production is about to be launched, and many people, both in France and abroad are looking forward to using it.

All cyclists will wear an Overade helmet!
Adapted to the following uses: cycling practice in all its forms (town bike, electric bike, folding bikes, without brakes….), skateboarding practice, roller skating, or even scooters.
Volume of the helmet : divided by about 3 when folded
Available in 2 colours : white and black
Available in two sizes :

S-M, for a head circumfrence of 54 to 58 cm
L-XL, for a head circumference of 58 to 61 cm

Adjustable straps: grey on the black helmet and black on the white helmet.
Sold with a protective cover that is both chic and elegant
Comes with a set of additional, thicker foam pads for increased comfort.
The helmet weight is between 350 and 400 grammes depending on size.
Materials used: like the majority of helmets, the external shell is made of ABS and dark grey polystyrene for the inside of the helmet
NOTE: At the moment of presale on Ulule, the Overade helmet is not yet approved. The product was developed with the intention of obtaining the European standard EN1078 especially for cycling helmets, but the final certification cannot be attained until the end of the production series.

All those buying one or two accessories will be contacted by email at the end of pre-sales to indicate which colour they want and which product (viser or protective cover).
The viser

Removable so that you can own more than one and change colour depending on your mood.
Colours and materials still to be set. If you wish, you will be asked to take part in the choice.  


The protective cover

Removable for the same reasons as the viser
It will remain on the helmet when you fold it
Colours and materials still to be set. If you wish, you will be asked to take part in the choice. 
Your helmet and accessories will be sent in a single delivery to save on Co2 emissions.
What are the funds for?

 The pre-sales will allow us to
Develop the first two accessories: the viser and the protective case.
To realise the prototypes
To launch the production
To finance the first production of these elements
About the project owner

Overade was orginally initiated by Philippe Arrouar. An engineer by training, he had his first professional experiences in the automobile world, after which he had this great idea of a helmet which folds. Outside of imagining how to fold things, Phillipe enjoys trips on his bike (equipped with an Overade helmet of course!) on which he imagines other applications. Other times, he reflects on a folding helmet for children, in order to facilitate bike riding as a family.
Overade is now also made up of Clément Cailleau. With a diploma from a school of commerce, he travelled a lot during his first professional job. He would like to carry on doing this, but with plenty of folding helmets in order to spread the great idea, and because they take up less space, he can carry more!
News
FAQ
Elles ne sont pas encore validées. Si vous le souhaitez, vous serez sollicités pour participer aux choix des couleurs.

Vous aurez le choix entre un casque blanc ou un casque noir. Les sangles réglables seront respectivement noires et grises.


Comme sur la plupart des casques classiques, la coque externe est en ABS tandis que l'intérieur est constitué de polystyrène expansé destiné à amortir les chocs.


Vous recevrez votre casque avec un jeu de coussinets en mousse directement placé à l'intérieur de celui-ci. Si vous souhaitez améliorer votre confort, vous trouverez dans l'emballage de votre casque un jeu de mousses supplémentaire plus épais. Il vous suffira de remplacer les mousses d'origine par ces mousses plus épaisses en suivant les indications contenues dans la notice.

L'idéal est de mesurer votre tour de tête si vous ne le connaissez pas. Placez un mètre de couturière à l'arrière de votre crâne et faites le passer environ 1 cm au-dessus et de part et d'autre de vos oreilles, bien à l'horizontal, jusqu'à votre front où vous pourrez lire votre tour de tête. Nous vous proposons 2 tailles de casques : S-M pour les têtes comprises entre 54 cm et 58 cm et L-XL pour les têtes comprises entre 58 cm et 61 cm. 



Oui. Il répondra aux mêmes normes de sécurité qu'un casque de vélo classique.


Au moment de la prévente sur Ulule, le casque Overade n'est pas encore homologué. Le produit a été mis au point dans l'objectif d'obtenir la norme européenne EN1078 dédiée aux casques de vélo, mais la cerfication finale ne pourra être obtenue qu'à l'issue de la fabrication en série.

L'emballage de votre casque contient une notice explicative qui vous indiquera les 3 étapes successives très simples et très rapides à réaliser pour y parvenir. Le pliage ne nécessitera que quelques secondes. 


L'emballage de votre casque contient une notice explicative qui vous indiquera les 3 étapes successives très simples et très rapides à réaliser pour y parvenir. Le dépliage est intuitif et ne nécessitera que quelques secondes.

N'oubliez pas de bien verrouiller votre casque en position dépliée. Pour en être certain, il faudra entendre le « click » qui termine la dernière étape. 


En position pliée, le volume de votre casque se trouve environ divisé par 3, permettant ainsi de le ranger facilement dans un sac à main ou un petit sac à dos.
This fundraising is finished
For $97
Your folding bicycle helmet
You will receive your helmet in the colour of your choice and for pre-sales before Christmas, we will send you a beautiful present to print and put under the tree.

For $116
Your folding bicycle helmet + 1 accessory
You will receive your helmet in the colour of your choice plus an accessory of your choice from a viser or a protective case and for pre-sales before Christmas, we will send you a beautiful present to print and put under the tree.
For $129
Your folding bicycle helmet + 2 accessories
You will receive your helmet in the colour of your choice plus two accessories of your choice from the visers and protective cases. For pre-sales before Christmas, we will send you a beautiful present to print and put under the tree.
Early Birds