Sunny Day: we start up today.
Posted by
naufp
on Feb. 25, 2012, 12:49 a.m.
Dear Oympian-not-italian-reader, let me thank you for being with us all this trip long. I must apologize for those such bad english translations you had to go through, but i guess you can imagine how hard it was being alone to manage a double-language newspage.
So please, forgive me!
Hereunder you'll find the final costsheet with all the expenses. To be clear on top of the Ulule total amount signed up right there we must add 355 euros in cash that I couldnt add to the Ulule page being the administrator. So the final amount we raised is 5845 euros.
From today on is not possible to fund through Ulule anymore, but if anyone wants to keep on funding us...well very very welcome!
You'll also find the title we shall put in the end of the movie. We decided not to show last names, but in case you would like to have please tell me, just before the end of april should be ok. Last but not least, we activated 2 more digital channels, so from now on you can follow us on:
1) Ulule.com/olympia (this page will remain active forever and will be still updated)
2) Twitter: @olympiailfilm
 
3) Youtube: http://www.youtube.com/user/Olympiailfilm?ob=0&feature=results_main 
The end titles
 Alessia U, Michela H, Francesco, Anna M, Linda & GenovaFa, Luca F, Anna U, Raffaele B, Elisa A, Elena G, Massimiliano D, Bharat B, Carla S, Roberto B, Antonella A, Rossana V, Fabrizio N, Stefano S, Luca D, Giuliana D, Marina P, Settimo C, Benoit T, Monica R, Jennifer D, Donatella P, Lucio B, Serena M, Alessandra V, Elsa A, Pietro C, Giovanna S, Paola P, Mario M, Marco F, DF&A, Laura M, Patrizia D, Piero F, Max G, Paolo S, Andrea C, Alfredo C, Laura A, John E, Veronique M, Tiziana G, Enrica B, Bruno C, Paola R, Claudio C, Matteo M, Enrica I, Michele P, Simone S., Maurizio B, Giancarlo P, Ezio S, Roberto Z, Mauro G, Claudio F, Carla S.
The cost sheet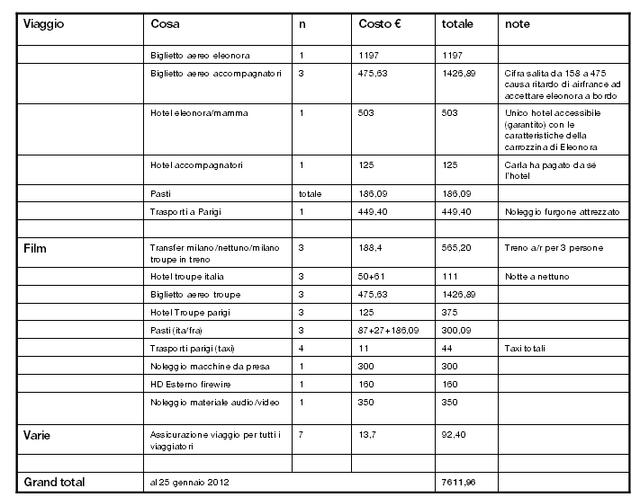 This fundraising is finished
For $14 or more
The Pooh signed picture at the L'Olympia
For $55 or more
A guided tour of Nettuno lasting 1 hour
For $69 or more
Act! project video backstage (file .flv or .mpg format)
For $137 or more
Get a free dvd copy of the movie "20" signed by the director Marco Pozzi.
Creator
naufp
nicola palmarini
Milan, Italy
Early Birds