About
News and updates

3AM Games is about to unleash the beginning of the end! Magrunner: Dark Pulse is a first-person action puzzle game set in a cyberpunk reimagining of H.P. Lovecraft's Cthulhu Mythos!
In the near future, high-tech and ancient horrors collide as the world teeters on the brink of oblivion. Only our hero Yoshi, with his mutant mentor Gamaji and his robotic dog Newton, stand in the way of eldritch annihilation.
Yoshi and Newton enter the Gruckezber Magtech Challenge, a corporate-sponsored technology competition drawing contestants from around the world for the 1 million credit grand prize. They soon discover, however, that this friendly game has a much darker purpose behind it…

WHY MAGRUNNER?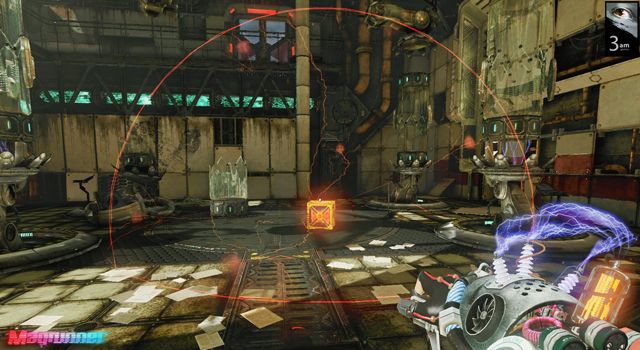 At 3AM Games we want to prove that the first-person genre can be used for more than just shooters! Magrunner's unique game mechanics focus on magnetic polarity and its manipulation to solve environmental puzzles. The potential for experimentation with polarities in the game is immense with a variety of environmental triggers, effects, machines, and objects at your disposal. The gameplay is simple yet dynamic, testing not only your reaction speed, but also your ability to think quickly to save your life! 

10 Things You Should Know about Magrunner: Dark Pulse
It's not your Daddy's FPS. Magrunner is a first-person game and you can shoot things, but you won't be gunning down nameless hordes of enemy soldiers or zombies. Instead, you'll be focusing on using the high-tech tools available to you to navigate a fiendish gauntlet of both man-made and supernatural death traps!
 
Magrunner is the Future! Well, it's set in the future, at least. You'll explore a cutting-edge corporate facility and all of its gleaming technology, and then witness its terrifying transformation into someplace beyond our reality!
 

It's built on Unreal Engine 3

. So you know it's been developed around a solid, tested and trusted piece of gaming technology that has set the standard for first-person video games.
 
Magrunner combines the old and new. Original technological and social futurism collide with the Cthulhu Mythos described by the 20th century author H.P. Lovecraft. The result has been described by various authors and fans as Cthulhupunk, the genre where cyberpunk and the Mythos intersect.
 
The game wants you to experiment. You'll have to use your brain to save your butt. The options for solving the environmental puzzles within the facility will require you to test reactions between different forces and elements to see what happens.
 
The game wants to eat you. Yes…it wants to eat you.
 
Magrunner is being made by gamers! 3AM Games is composed of fanboys and girls of different genres, all of us tired of the repetitive kinds of games released by major publishers quarter-after-quarter. We want something new, and we hope you do, too.
 
It's a new take on the Cthulhu Mythos! The futuristic aspect of the game influenced new designs of Mythos creatures—some old favorites, some never seen before. The setting and technology also provide for a glimpse of the Mythos in the future.
 
Magrunner ain't mad at ya. So, let's say you're not interested in anything we've pointed out so far, and you're not sure about spending your hard-earned money on it. That's okay. We understand. But consider this…
 
The base game is already funded! That's right, Magrunner: Dark Pulse is already funded as a stand-alone game. We want you to help us finish it, though. Tell us what options you want to see to make the game perfect, and be a part of bringing it to completion!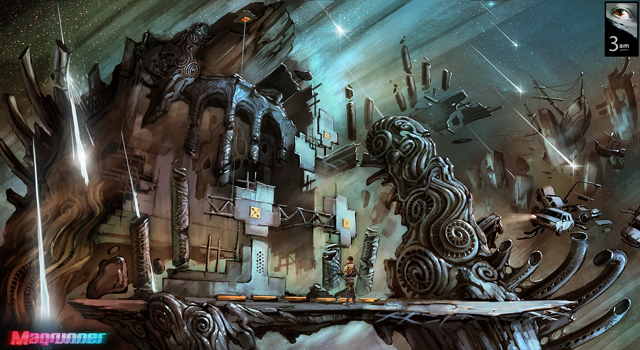 We're not in Kansas, anymore…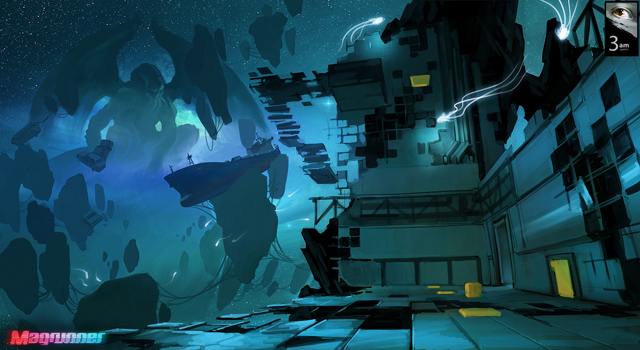 The technology of the future is no protection from the Mythos!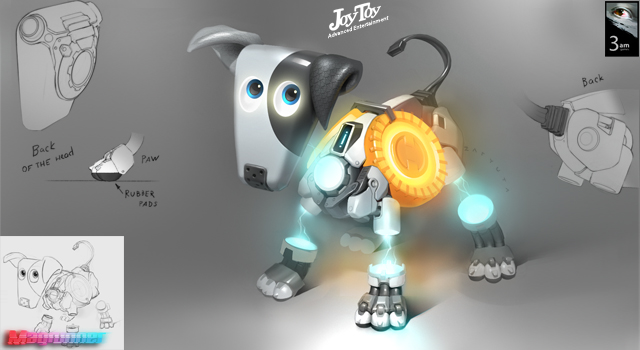 Newton will be along for the ride to help Yoshi out.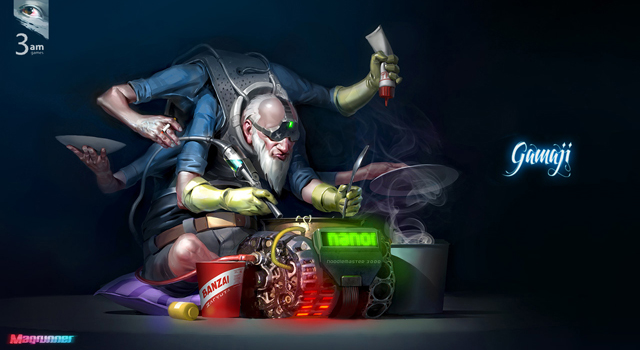 Yoshi's mentor, Gamaji, belongs to a new evolution of humanity, as mutations become more prevalent in society.
WHY CROWDFUNDING?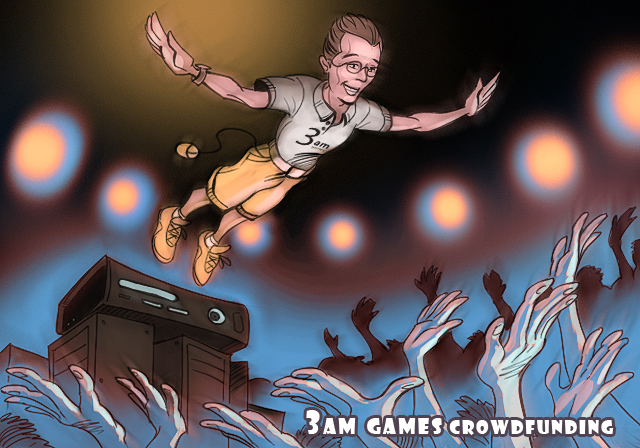 Three reasons:
Autonomy — We want to remain independent. Through crowdfunding, we answer to only one boss: YOU. That means that we want to make you happy, hear your thoughts and ideas, and get your feedback to make the kinds of games you want to play, not what big corporations decide you should play.
 
Customization — The final format of the game is up to you! Each level of funding provides for more customization. You want co-op? It's an option. You want more levels? It can be done! Check out the "How will the funds be used?" section below.
 
Collaboration — A partnership with Gamesplanet and Ulule allows us to focus on making the game as good as it can be without having to worry about organization, logistics, payment systems, etc. It's covered because Gamesplanet and Ulule know what they're doing! But we also want to create collaboration with the players. We want you to play the demos and the alphas and scream what you think at us! You are the key to the success of the game.
What are the funds for?
Want to know a secret? 3AM Games has already invested 800,000€ in developing Magrunner. The story is completely written. Twenty-five levels, developed with Unreal engine, have already been completed. Design specifications for all 41 levels are ready and the levels are currently being developed. We need your help to make the game even better though. Check below to see those options we are talking about, and the funding levels we need to reach to implement them: 
If we reach 100,000 €; we will add a Player vs Player mode to the game and 5 additional maps for the PVP gameplay.
With 200,000 €; the game will be available for Mac, game soundtrack will be composed by a famous composer, and the solo mode of the game extended with 10 additional levels (51 solo levels and 5 PVP maps).
If we reach 300,000 €, we will be able to add high quality voicing not only for the English version of the game but to French, German, Italian, Spanish and Russian. We'll also create 2 additional levels for English-speaking audience or those who speak none of these languages!
With 400,000 €; the game will be available for iPad and be Apple TV compatible for a specific gaming experience. We'll also create 5 additional levels (for those who don't own iPads!).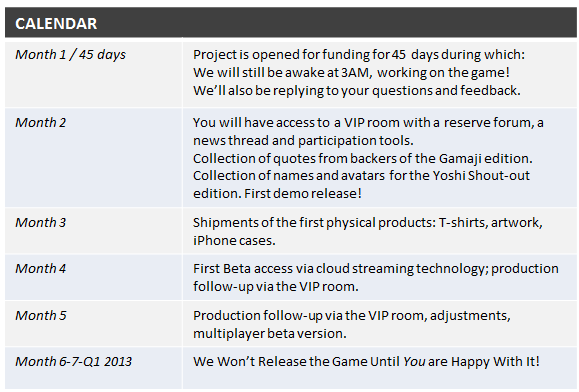 Crowdfunding is a great way for a studio to finance a game, but how do you know you'll like what you're paying for? We're not releasing Magrunner until we hear from you!
How Will That Work?
As of right now, we plan to release a playable demo version of Magrunner around the 6th or 7th month of the project. This demo will include all of the final elements of the game and contain 45 minutes to 1 full hour of gameplay. At the end of the demo, you'll be asked to fill out a survey where you rank the important categories of the game on a scale of 1 through 5.
Those categories will include aspects of the game like: Fun, Storyline, Difficulty, Control/Navigation, Art & Graphics, Audio, and Tutorials & Instructions. You rate them at 1 to 5. You know the routine. A 1 means that you think it sucks, a 5 means you think it's great. We'll also include places for you to write what you think about those categories and what you think should be done to improve them.
Now, we need at least 500 responses. Once we get the first round, we'll tally up the ratings in each category. We won't release Magrunner until it is rated at 4 or higher! Also if we get any category below 3.5 (for example: you don't like the sounds or character voices), we'll rework the category that's hurting and release a new demo for you to rate again a few weeks later.
How do We Know You Won't Just Make Up the Survey Results?
Because an independent third party, Gamesplanet Lab, is going to handle the survey, compile the results, and deliver them to 3AM Games. Also, as a spinoff studio of Frogwares, 3AM Games knows the importance of making players happy. We want to listen to you, your ideas, and if we succeed with Magrunner, we want to work with you again!
Be the game changer! 
About the project owner
3 AM Games is a group of independent developers founded by members of Frogwares Game Development Studio. Composed of programmers and graphic designers who previously collaborated on Frogwares' acclaimed "Adventures of Sherlock Holmes" series, 3 AM Games is set to unleash a new action-driven puzzle game that will test your wits as well as your reflexes.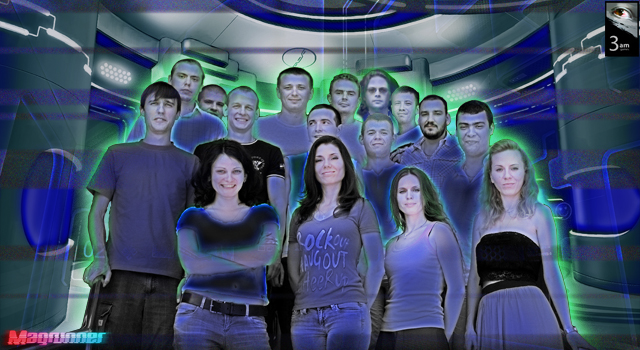 As an indie studio, we've decided to strike out into new territory. After years of honing games that feature a delicate balance of story and puzzle action in the realm of Sherlock Holmes, we're bringing those skills to a new setting and genre. Magrunner: Dark Pulse combines the cosmic horror of H.P. Lovecraft's Cthulhu Mythos with a near-future cyberpunk world on the edge of destruction. Even though this is our first project as an independent studio, Frogwares has been there to support us with the technology and enthusiasm to create an amazing game with top-notch graphics, music and gameplay.
After a year of development, we are very proud of what we've accomplished, but we still have a long journey ahead of us to complete the game. We want to share that journey with you, and we're glad to have you along for the ride. 
FAQ's
H.P. Lovecraft was a prolific horror writer of the 20th century. He's best known for his creation of the Cthulhu Mythos, in which humanity frequently learns just how small and insignificant it is compared to the reality of cosmic horror. You could start with any collection of his short stories, but most purists point toward "The Call of Cthulhu" as essential reading. Just google it!

While Magrunner is a first-person puzzle game, similar to the Portal series, you're in for a different kind of ride! Now, if you enjoy Portal's style of gameplay and puzzle solving, you'll probably find something to enjoy in Magrunner, as well. If you're new to the genre, we're betting Magrunner will still capture your interest!

Compared to single-player mode, we plan to add some unique abilities to the magnetic glove in PvP. This will lead to a dynamic face-off between two teams while using diverse magnetic objects. In this case, polarity will help in both defending yourself and killing your opponents. This may cause some unpredictable results…

The basic game is almost done and funded. What we're aiming at is a new model in game customization. Your choice of what to fund has a direct effect on the final product. And with Gamesplanet Lab on our side, we'll be able to see this project through to the end…and hopefully beyond!

At VIP room, as a part of Gamesplanet Lab, you will have direct access to a download section to collect your digital rewards directly. Physical rewards will be mailed to your geographic address. Please note that the delivery costs for physical rewards are part of the rewards prices. You know what? If you're an international backer, you do not have to account for shipping, it is all included and we think it is normal. Amazing? No, just anticipated in our estimated budget.

VIP room is a restricted area on Gamesplanet Lab where all backers who have pre-ordered the game will have access to: - Forums to discuss between backers and development team. - Information about the production posted in the blog in real time. - Polls managed with the developers to get feedback from users. - Beta versions of the game using cloud gaming technology. - Dedicated download to access digital rewards.

Yes, definitively for T-shirts! We confirm they are washable! But don't try to wash the framed posters though :-) We partner with a passionate Amka Shop who is working hard to get digital art recognized as a true art form.

We firmly believe that anyone who supports our project should have the absolute best gaming experience. For this reason, everyone who helped fund Magrunner will receive a 100% DRM-free copy of the game. But also for future distribution, a great experience for our customers is our number one priority, from the installation to the actual playing of the game. This fits in perfectly with the Gamesplanet LAB Charter; the user experience comes first and will not be negatively impacted by a DRM solution should we decide to use one.

Rewards and targets are displayed in your currency ($, £ etc.) but the project is set in Euro (€) and payments will be done in Euro. Will you have to pay a change commission? It depends on the payment system you use. For example Paypal applies a spot rate at date of the payment, plus a 2.5% commission. If you pay by credit card, commission and exchange fees charged depends on your financial institution. Some apply fixed commissions on foreign currency payments, other % based commissions, some do both. In case of doubt we recommend that you contact your bank for information on pricing. Excepted this change commission, no Tax will be applied for customers outside of the Euro zone, so the exact payment amount you will be charged may not differ significantly from the indicative converted price mentioned for information.
This fundraising is finished
For $21 or more
Gruckezber Magtech Edition
Digital game DRM Free & digital manual
Access to crowd-creating tools & polls (VIP Room)
Access to beta version via cloud-based gaming platform
Name in "Thank You" section of the Game credits
For $42 or more
Hastur Edition
Digital Solution Guide
Digital soundtrack
Digital official HD poster of the game
…plus all previous rewards...
For $70 or more
Gamaji Edition
Invite one of your friends to the VIP Room
Message on the wall at one of the game locations: player can say or draw anything to other players, we will put it inside the game
…plus previous rewards...
For $105 or more
Newton Edition
Boxed game DVD & manual
HD promotional episodes & the making of
Magrunner exclusive T-Shirt
Digital Magrunner story book with game art
…plus all previous rewards…
For $139 or more
Yoshi Shout-out Special Edition
The boxed game comes with a special artwork printed and signed by artist
Hall of Fame reward: Backers of the Cthugha Edition will have their own names and avatar photos in a dedicated Hall of Fame and Yoshi will say their name
…plus all previous rewards…
For $417 or more
Missed Call of Cthulhu Edition
Artwork solid PVC 50x50 format glossy, signed by the team;
Exclusve iPhone 4 or 3G case with Nyarlathotep design
…plus all previous rewards…
For $1,389 or more
3AM Special
A 90x130 solid PVC artwork print signed by the development team, plus 3 original sketches/drawings signed by the fiendish artist behind Magrunner's warped monsters and machines!
…plus previous rewards...
For $6,945 or more
Azatoth Mindblast Edition
Vodka-pepper tour to 3AM Games studio in Kiev where you'll spend two days with the development team and see how it's done! By night, party with these twisted minds as they hit the best clubs in town to celebrate!
…plus all previous rewards…
Early Birds
Official Users ♥ it !