About
« Magical Realism » is a documentary directed by Anna Deniaud, which follows the adventure of a young French Director immersing himself in an Amazonian community of Peru in order to write and make a fiction short film, and shoot it entirely there with members of this community. The meeting of the cinema with a native people.
Project synopsis
After a fourteen-hour flight, one hour of motorbike taxi, three hours of track and one hour of pirogue, Mathieu Lalande discovers the native community of Chipaota, located in North Peru. Landlocked between a river and the Amazon Rainforest, Chipaota village counts around fifty bamboo huts, but also a school, a kindergarten, an infirmary, a Town Hall equiped with a jail, a soccer field... On the other hand, there is neither gîte nor hotel. The young film director will have to set up his camp in the neighbouring village, Chazuta, and take a two-hour pirogue trip each day.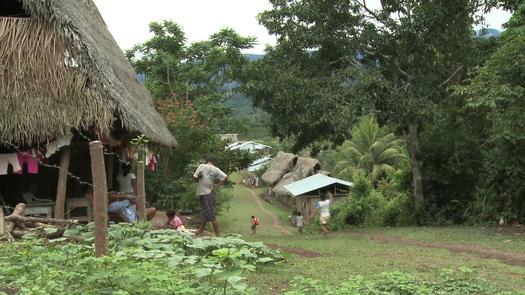 Escorted and supported by the members of the association « Ojo Amazonie », including Rafael Mendoza, an anthropologist who has been working with the Chipaota community for over two years, Mathieu Lalande introduces himself to the members of the community and presents his artistical project. 'I want to make a short movie here, with you...'. He explains that he will write a scenario there, taking his primary inspiration in local stories and legends.
With the passing of days, the inhabitants and the film director get to know each other, the inhabitants share their daily tasks with him : laundry washing at the river, cocoa harvesting in the chakras... The children, on their part, seek him to play soccer, to bathe in the river...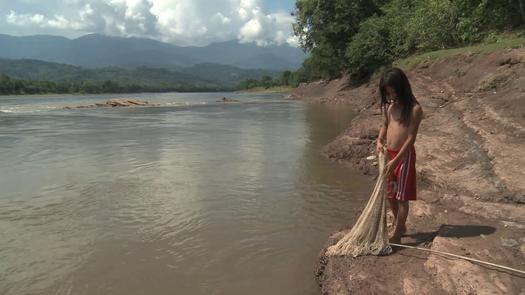 Little by little, tongues loosen, adults and children tell him the country's legends. For Mathieu, the immersion is a total success. He discovers a little more of this native culture with each day.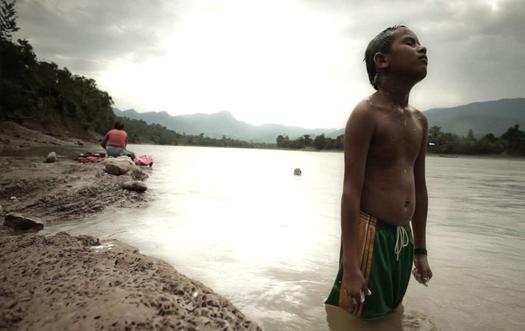 In Chipaota, there is no electricity, no television. The notion of « short film » is completely foreign to the inhabitants, and the only known cinema comes from Hollywood. « Film production » here goes together with « big sum of money » and it is enough to stir up a controversy among the community. Hasn't this young Westerner, like many, come to make money at their expense ? Fears crystallize and mistrust begins.
Whereas his scenario starts to take a shape, inspired by an evil character of the « El Chulla Chaki » forest, Mathieu has to interrupt his work to convince the town council that has gathered, and on whose decision the continuation of the project will depend.
In the meantime, in his headquaters in Chazuta, the film director meets an unusual teenager, Miguel. At sixteen year of age, Miguel shares his time between his studies for highschool, soccer games, the leadership of a local radio, and painting, which he practices using natural pigments.
The young Miguel turns out to be a real source of inspiration for Mathieu. He decides then that the movie's action will take place in Chipaota, but also in Chazuta. The film's theme elaborates upon the opposition between the traditional lifestyle among the native community and the rather more westernized lifestyle of a quickly mutating village.
After a few days of debate in Chipaota, the Apo, village chief, finally gives Mathieu his goahead to continue his work. After a long meeting, the inhabitants democratically accepted to take part in his film project, hoping it will bring the village fame.
From that moment on, the young film director must as quickly as possible, finish the scenario, find locations, choose actors... His film will tell the adventures of a painting enthusiastic child, a fantastic story that seduces the members of the association « Ojo Amazonie ». For Rafael, the anthropologist, the story written by the young Parisian film director falls within the movement of « Magical Realism » or « Fantastic Realism » linked to the Latin-American authors.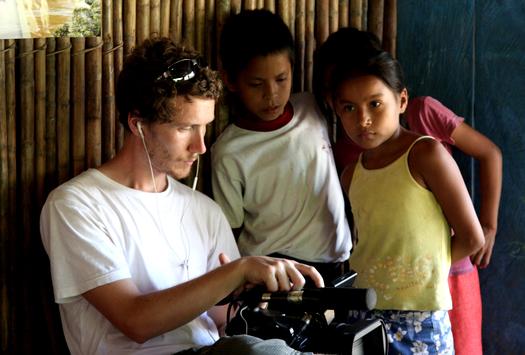 Mathieu carries out an outdoor drama work-group before the casting. A big first for the community children ! Mime, role play... It is not an easy exercise for these children who never watch television, who never go to the theater. Nevertheless, some of them quickly get into it and seem to show a natural talent for the game.
Mathieu set his heart on Keila to play the mother. For the role of the nurse and of the teacher, he chooses inhabitants of the village who really occupy these social functions. They all accept with enthusiasm to fall in with this cinema adventure. They are also very proud to take part in the movie that will represent the local culture and might bring a bit of fame to their community.
Three weeks has passed. The shooting is imminent. A director of photography and sound mixer have come from France to complete the team. The shooting can start. It will last six days.
Today, eight months later, in Paris, Mathieu has finished the editing of his film, named El Brujo De La Noche (The Night Wizard). It is time for him to introduce his short film to the public, and the first persons to whom he wishes to show it are of course the members of the native community of Chipoata.
We are ready to go back to Peru to shoot the last part of the documentary, to organize the film's public projection, and gather the community's account on this adventure.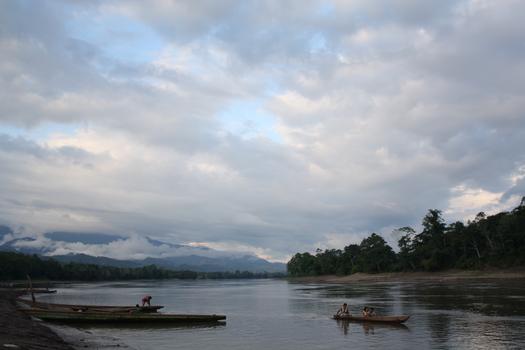 Three questions to Mathieu Lalande
Why did you get into this adventure?
I was contacted in April 2010 by the association "Ojo Amazonie", to direct a film which would display the inter-cultural exchange there. I am not fond of this kind of forced exchange, so I tried to imagine a way to adopt a different angle on this encounter. I then remembered one of my first shooting experiences, a road movie across the USA. I had, with the team, met American people in an unexpected manner, but all in all rather natural. We came to them for help, a part of film set, actors, backup... The goal of our exchange was not the exchange in itself, but the making of a movie. Our approach was concrete and playful. I thought 'Why not reproduce this experience in Amazonia?' From that moment on, I was not coming to "meet natives", I was coming to "make a movie with them". This idea appealed to me and I went for it.
I was moreover excited by the challenge that this cinema adventure represented. Writing and directing a story, while immersing in a totally different culture... And only after the final projection to the inhabitants will I know whether I have successfully taken up this challenge.
How did you receive this flow of material, foreign to your culture, to turn it into a scenario?
Our cultures are very different, but there is something that I take for universal: story telling. The natives still possess this oral culture, whereas our culture is rather written or visual. Apart from that, our characters are not so different. It would be easy to link "El Chulla Chaqui", this evil Amazonian Rainforest spirit, to the lutins of the Brocéliande Forest. Looking back at it, it was harder to talk about food, economy or politics with the inhabitants than to understand and take possession of the stories and legends they told me.
How far have you got in the project?
I am currently finishing the editing and music. We are hoping to go back there this summer to organize the projection for the inhabitants in the best conditions. There is a lot of expectation on the part of the community and I hope not to deceive them. This projection will constitute the end of Anna's documentary. It will be the opportunity to see how the community has evolved, one year later...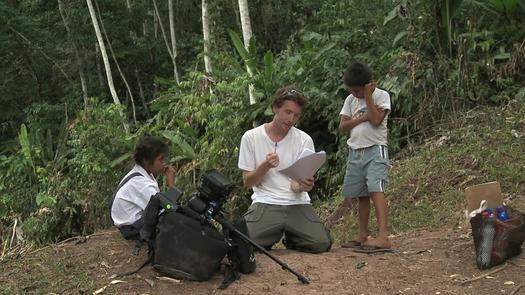 How do you apprehend the projection?
Like every time you present a movie, you fear the public's reaction. I hope they are going to like this short film, that they will see a likeliness between themselves and the movie, and that they will be proud of it. I wrote the scenario thinking both of the community and the western public who will also see it. I wish for this film to equally transport these audiences.
To be honest, I apprehend above all the way the projection in Chipaota will take place. We will have to build a makeshift movie theater using a generating set and getting by as best we can. It will be a great event. I am expecting a lot of uproar during the projection, but I will have to keep calm. It will be a intense moment.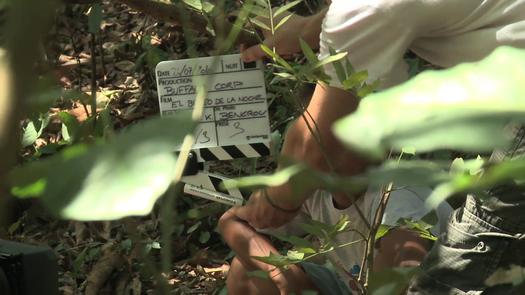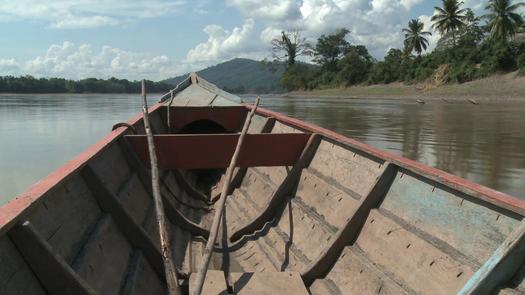 What are the funds for?
The help we are hoping to receive would enable us to go back to Peru to shoot the end of the documentary, which will take place around the projection of the short movie for the inhabitants. We have estimated the costs of this trip around 2 500€.
Beyond this minimal sum, the money raised will finance the work of edition and post-production, which amounts for months if you take into account the dozens of hours spent viewing, choosing and editing rushes.
Detail of the shooting budget
Paris/Lima: round-trip: 1300€
Lima/Tarapoto: 300€
Tarapoto/Chipaota: 60€
Food and housing: 300€
Camera rental, sound equipment rental, consumables: 870€
Insurance:170€
Total: 3000€
For any question or suggestion, please do not hesitate to e-mail us.
See you very soon.
About the project owner
Anna Deniaud, director:
With her double education in journalism and technical skills, Anna Deniaud has a number of travel and documentary-making experiences, setting out to meet foreign cultures. She has founded the assocation Safar' Expédition Jeunesse, and led expeditions in the four corners of the globe with the constant concern to look, through her camera's objective, at the world with a fresh eye and originality.
Buffalo Corp:
Originally built around a directors' collective, Buffalo Corp is today a young production company who has shown its abilities in short film-making as well as advertising.
You can visit Buffalo Corp's website to gain an idea of their activities at this adress: www.buffalocorp.fr
This fundraising is finished
For $7 or more
Your name will feature in the credits among the acknowledgements
For $14 or more
Génial, merci pour votre soutien !
- Contreparties précédentes.
- Vous recevrez un DVD du documentaire.
For $35 or more
Super, un grand merci !
- Contreparties précédentes.
- Vous recevrez un DVD du court métrage.
For $83 or more
On vous embrasse chaleureusement !
- Contreparties précédentes.
- Vous recevrez un tirage photo dédicacé du film.

For $137 or more
On vous embrasse chaleureusement !
- Contreparties précédentes.
- Vous recevrez un tirage photo dédicacé du film.

For $274 or more
Mille fois merci ! Vous êtes exceptionnel !
- Contre partiesprécédentes.
- Rencontrez la réalisatrice du documentaire et le réalisateur de la fiction, dans leur locaux, pendant le montage du film documentaire.
For $685 or more
Extraordinaire, sans vous ce film ne serait pas le même.
- Contre parties précédentes.
- vous apparaîtrez dans les bonus du DVD pour une interview dans laquelle vous donnerez votre sentiment sur les deux films et votre rencontre avec leurs auteurs respectifs.
Early Birds
Someone from

Chateaudun, FR

Someone from

La Rochelle, FR

Someone from

Lanvénégen, FR
Official Users ♥ it !