About
The project in a few words
Laptop is a co-working space open to all creators of pictures, texts, sounds and interactive objects who need to work in a punctual or permanent way in a calm, atypical and stimulating environment, away from home or in telecommunications. It is a place created to enable you to develop your creativity, to cultivate your network and to build on your activity.
The place

We are located at Jordain in Paris, and will be able to hold around 15 people, of which 12 would be permanent and 18 flexible freelance workers. The opening is anticipated for January 2012, and is integrated in a courtyard of newly renovated industrial buildings. The neighbours are writers, architects, photographers, trapeze artists...So you feel like you're in New York, London, Chicago rather than Paris...

I plan to gradually open more places like this in Paris, in France and abroad, between which you can navigate according to your needs.

SERVICES
The concept

3 formulas for independent workers who want to sign up for a semester or more, for those who won't be ready to decide on the length of time they want to subscribe to, and for those who need to come from time to time.
Finally, you can organise meetings by reserving certain spaces for 15€/h without having to reserve the office.
Subscriptions open to all
Subscriptions enable you to use the servicesat a lower cost.

What are the funds for?
The funding will provide for everything that will enable members to come and work in a quality environment, in the most flexible way possible: - library of books and design / international art (open to all) - website and mobile application (notably reservation module online and display of the availability in real-time) - the purchase of laptops, desks, screens available on the premises, A3 photo scanner etc.
About the project owner
The idea
The need to work away from home, with other independent creators, to become part of a community to develop contacts and to keep up to date, exchange experiences in terms of methodology or maintain a constant progression in your abilities through the interaction with other freelance workers in the same field.
Having recently lived or worked in San Francisco, Berlin, London, New York, it is clear that the notions of community, working together, or even the culture of design are very present and in constant evolution.
 To work is not only to make, but to learn to think; and it's easier with more minds!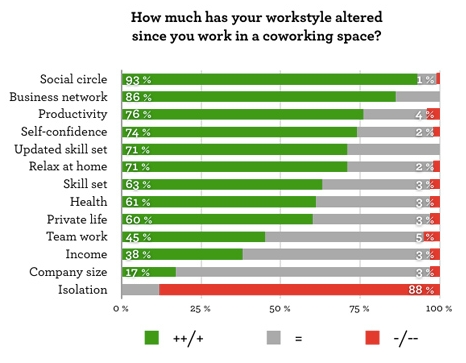 The creator
Pauline Thomas is a freelance UX designer, IT architect and visual designer. She first studied photography, and was then led towards the creation of interactive services. She principally works for Adobe and other campanies (Orange, Mazarine, Attoma, Dédale, Sensio, 5e gauche, Uzik, INA…) and gives design lessons in Paris and its outskirts. Aside from this, she is pursuing a number of photography projects and exhibitions abroad.
This fundraising is finished
For $5 or more
Be informed of the Laptop news and receive invitations to events (courses, conferences, exhibitions, drinks, lunches)
For $21 or more
Receive a branded cotton bag
For $35 or more
Benefit from a free day!
For $83 or more
3 free days!
For $206 or more
10 free days!
For $411 or more
A whole month for free!
Early Birds
Official Users ♥ it !