About
Hello everybody and welcome to the Jukebox Motel!
We are proud to present you our short film project. This movie will be shot frommarch 9th to march 12th in Quebec city.
Making a movie demands a lot of people, energy and funds.Here, you can become a real Jukeboxer by supporting our project. If the idea to be part of this project attracts you, don't hesitate! Join us!
Thank you and we hope to hear from you soon.
THE STORY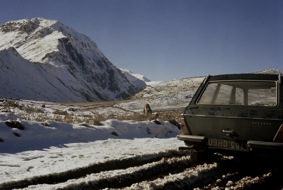 JUKEBOX MOTEL is a movie concept based on the meeting between cinema and music.
October 4th, 1976, Tustin, California
The legendary Jukebox Motel burns down. Rumours are not long coming. The craziest one: it has reborn somewhere in Quebec.
March 9th, 2011, Quebec, Capitale-Nationale
Separated from Arthur, Lou is meeting him to prove him wrong: in the newspaper, an anonymous witness asserts that he has found the Jukebox Motel in his town.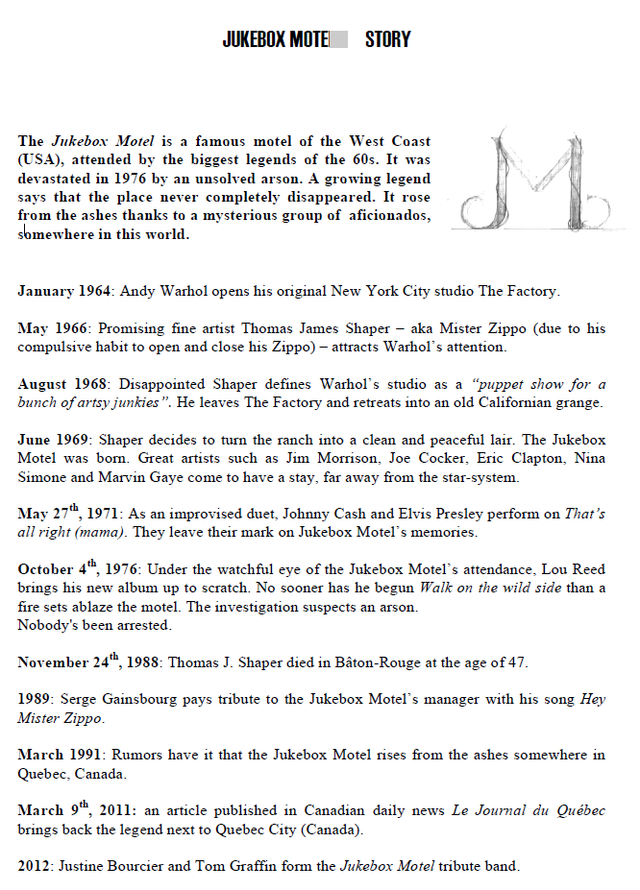 THE CREW'S WORD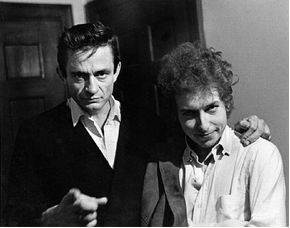 "Legend has it that this place is a music paradise, isolated, along a road.
The best of soul, funk and jazz music have spent some time there, even if only forone night.
Jukebox Motel starts like one of these stupid songs and turns into a bumpy ride through Canadian nature, a groovy battle against nostalgia, breakdown and gloominess. Like a Ray Charles' song, it will shake you like and old Irish Scotch."
SCRIPT
SEQ 3 : OUT/DAY – Countryside of Quebec city – road and farm
At the end of the afternoon, Lou and Arthur are driving in their old beat-up car on a hilly road covered in snow in the countryside. Lou has her feet put on the dashboard.
LOU 
In a chopper crash.
ARTHUR
Owww !
LOU
No, a plane crash! I mixed it up. It's Stevie Ray Vaughan who died in achopper crash. And Balavoine.
ARTHUR
What about Elvis? In his vomit, I think?
LOU
What?! You think that Elvis died in his vomit?! It's Hendrix who died in hisvomit ! For Elvis it was a heart attack (she imitates his famous swaying hips).BAM! Clear-cut. His wife found him in his W.C or bathroom, I don't remember.His aunt gave him mouth-to-mouth resuscitation, but he was gone. Sad story.
WHAT ABOUT MUSIC?
Musical creation: Foremost, this project needs a "traditional" soundtrack. The kind of music that wewant for this project sounds like pop music but always rich in bass guitar.
Song-writing: Lyrics will be like a movie script. Not too narrative (it's not a musical comedy), but astory will be implicit in the lyrics. Each song will evoke a scene, an emotion, or aconflict. Songs will be independent, but included in the story.
"One Road Two Roads"
What are the funds for?
Today, you can join us in bringing your support to this project.
There are several steps to make a movie: pre-production, the shooting and the post-production. Your contribution will help us for the editing, the sound mixing, for recording the soundtrack and for the creation of a website.
It is not easy to realize how much theses steps cost, so here comes some details about our future expenses:
Editing: 800 euros
Sound mixing: 700 euros
Soundtrack recording: 2300 euros
Creation of a website: 200 euros
About the project owner
The director: Julien PAOLINI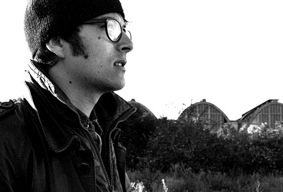 Julien Paolini is a French script-writer and director. Jukebox Motel is his fourth movie. In 2010, he has been awarded as the Best Director in the Sedicicorto film festival in Italia and in the last Off-court film festival in Trouville (France) for his shortfilm, Tuer l'ennui. He is preparing his first full-length film Conduite Nocturne, with thefamous singer Ayo and the French actor François-Xavier Demaison.
Link (trailers): http://julienpaolini.com
The script-writers:
Justine BOURCIER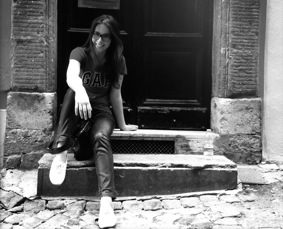 After studying cinema in University, Justine Bourcier worked with Nicolas Duval onthe short film Peter, adapted from the bestseller comic book Peter Pan by Régis Loisel. At the end of 2010, she had the idea of Jukebox Motel and suggested it to Maxime Delauney. She met Tom Graffin in February 2011 with whom she wrote the script.
Link: http://peter-the-movie.com/
Tom GRAFFIN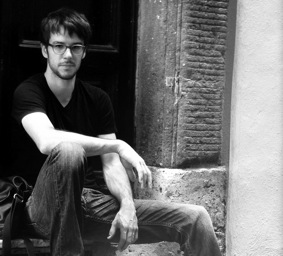 He is a French songwriter and scriptwriter. In 2011, he adapted Bonnie and Clyde for Scarlett Johanssen and Lulu Gainsbourg on his tribute album From Lulu toGainsbourg. Beside Benjamin Biolay and Charles Aznavour, he wrote two songs onthe Petula Clark's album (La lumière a dit, Hereafter)
Link: :http://itunes.apple.com/fr/album/bonnie-clyde/id475734386?i=475734990 
The producers: Off-courts and NoLiTa
Born twelve years ago in Trouville, the Film Festival Off-courts. Since 2005, Off-courts has been organizing a short-film-meeting between Quebec and France in his program Import/export. For several years, thefestival has become a work-in-progress with numerical creations laboratories aroundcinema, music, photo and video.
Link to the film festival of Trouville
NoLiTa is a production company based in Paris and created by Maxime Delauney and Romain Rousseau. They have worked together on several full-length movies like"RTT" (more than 1 million entries), "Bus Palladium" (two Cesar nominations) or "Le fils à Jo" (more than 1,3 million entries).
This fundraising is finished
For $14 or more
JUKEBOXER ESSENTIAL
Thank you and welcome to the Jukebox Motel!
+
The Jukebox Motel vintage bottle opener
For $28 or more
JUKEBOXER OLD SCHOOL
Previous quid
+
The MP3 of the song White Soft Skin
For $42 or more
JUKEBOXER ORIGINALS
Previous quids
+
A private access to a photos gallery
+
A Dvd (the movie)
+
Your name in the closing credits (Thanks)
For $69 or more
JUKEBOXER VINTAGE
Previous quids
+
The collector vinyl Jukebox Motel (limited editions)
+
2 invitations for the preview in Paris
For $110 or more
JUKEBOXER CUSTOM
Previous quids
+
5 photos of the shooting
For $137 or more
JUKEBOXER DYNAMITE
Previous quids
+
A collector Dvd (with making of)
For $206 or more
JUKEBOXER LEGEND
Previous quids
+
The Jukebox Motel T-shirt
+
The script dedicated by the crew
For $274 or more
JUKEBOXER ULTIMATE
Previous quids
+
The Thomas James Shaper's Zippo (with "Jukebox Motel" engraved on it)
Early Birds

Official Users ♥ it !