About
Welcome to the Ink Square Film project page
Ink Square Films is a project about creating a european film production company, whose goal is to provide to young directors the means to make their movies.
Thus, we need your help to turn this project into a reality. Indeed we can't produce any movie with 2500€, but this money could help us create the company itself, we could then start buying some equipment, lights, post-production tools. These are the basic elements to start in  the best conditions our activity of supporting authors, that's why we're making this project.
Nevertheless, we're not presenting here a blank project, without any previous work from us. It's actually been two years we're working on it, thus Ink Square Films already disposes of a capital of 5000€ for its creation, coming from our savings. The 2500€ we're here asking for would complete the working capital of the company, and then help us to start finance the first production steps of the film projects to come.
How did the project begin ?
When you're working on a film set, it isn't rare to meet people with talent, a cinomatographer whoinnovates, some films decorators always inventing things, a composer who perfectly knows how to associat music and pictures, or again props persons knowing how to get over any problem.
Then, the idea came to bring all together these talents, in order to make them work on concrete film projects, that's why we thought of creating a fim production company.
Why create a company instead of an association ?
There are many answers to this question, the most important of them is that we can't receive funds from organisations specialized infilm financing when you're a simple association and not a company.
In the same way, the CNC (national film organization in France) provideseasier its support to real film production companies.
Finally, to get the exploitation visa of a film, it is necessary to prove that every technician and actor was paid according to the law during the film production. This is quite complicated to do for an association while it is way easier to apply for a company.
What kind of films are we going to produce ?
Ink Square Films will aim to produce short films in a first time, and then start producing more ambitious movies, both on the extent and the project duration, by producing the first feature film in 2013.
Concretely, are there already projects underway ?
Yes, we've already shot many short films, but the first "true" project of Ink Square Films would be a 30 minutes movie entitled "A train in the snow".
This film, which has an estimated budget of 30.000€, should be filmed during October 2012, in Paris area, France. We havealready contactedsomeTV channelsto intercedein the financingof this film, nevertheless being a film production company helps to succeed in this kind of settlement.
Movie : A Train In The Snow

This movie tells the story of a young boy whose mother is subtly turning crazy. The idea of the film is to show that instead of adults, children don't judge on what happens in life, the adapt to every kind of change, even if it is a rough change. Thus, this little character will meet new faces, such as a failed director named Broc, a 50 years old man living in the street and using a wheelchair to move.
This film must not be sanctimonious, under no circumstances we want to intellectualize anything. On the contrarythis movie has to be a poetic story, telling how a little boy sees the world, with its part of magic and innocence.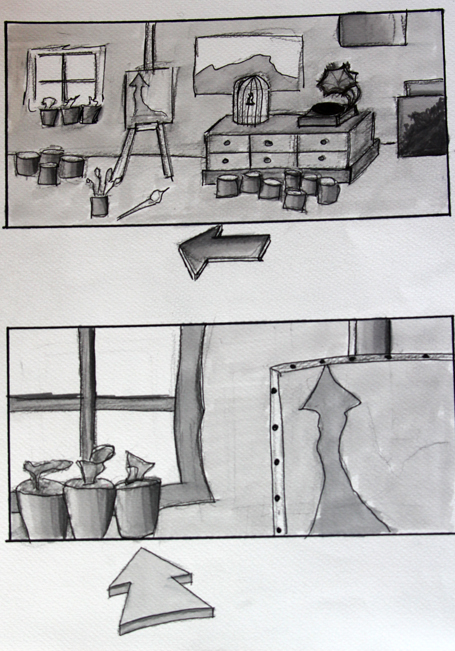 Extract from the story-board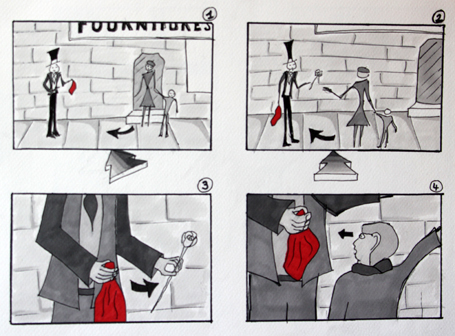 Extract from the story-board
The film will be shot in digital on a 10 days shooting period, we're planning to use a Red One video camera, it offers a very high quality picture, which is most recommended for theater projections.
The picture shall have warm colors, inspired from films with bright images. You will find here some examples the wanted esthetic.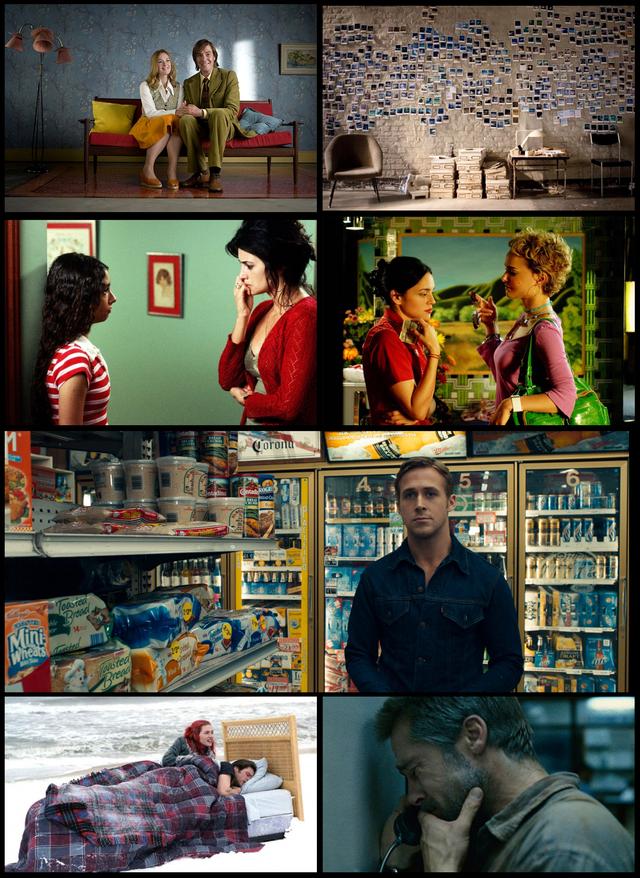 Some inspiration

The pre-production has started in mid-april, it will continue until mid-septembre. We're now working on the places where we'll actually shoot the film, we're working on the costumes and on the global organization, but we're also working on the financial part of the movie, which consists mainly to estimate the budget.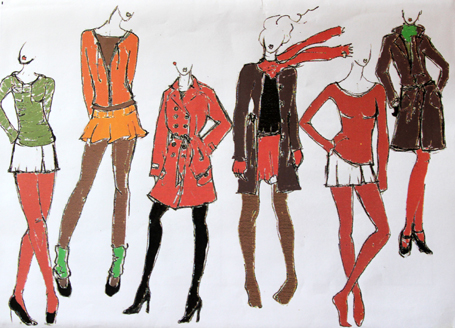 Costumes research

This project is serious and it can be made.

Nevertheless, it will depend of your help to make it concrete.
About the project owner
My name is Vincent, I'll turn 25 years old and my careeris multifaceted.Istudied filmfor two yearsin high school andfor a few monthsat university.
I quicklydecidedtoreally work in movies,the reality ofshootings,with its rulesand its constraints.So I startedbyanswering to some announcement, learning more and more on every shooting.
Inmore than six years,I learnt tounderstand the reality ofthefilm production,I read and learnt a lot  aboutshooting,I cameto teachfilmproductionto studentsin highschool,allowing meto have a clearer visionof thequalitiesandthe work requiredto completeafilm production.
Basically,whatinterests me iswriting stories. Cinemaisfor mea logical extension ofwriting,combiningimages, sound andnarration.That's whythe idea of creatinga film production companyhasgradually beenon my mind.
I'm not afraid of working, I'm awareof what constitutessuch an undertaking,and it isonlyafter careful consideration that I decidedto presentthis projectto others,toyou who read me.
Itrulybelievethat there isno competitioninfilmmaking, Ithink that everystory can be toldifyou workenough on it,you canturn thesestoriesinto movies.Today it ismy ambition, I hopewith your help, itwillcome to life.
Video sketch - 2008
Moreover, there are several persons working on this project, we are five to work at the Ink Square Films project. Some of us were before working in theaters, some others have always been working on movie shootings. Unfortunately we can't show here our previous work, because any film put on internet can't be presented to festivals.
Nevertheless, you'll find here two videos showing the spirit of our future films, they are only video "sketches", which quality is not as good as it will be with the video cameras we'll have on shootings.
Video sketch - 2008

News
This fundraising is finished
For $7 or more
You will receive our eternal gratitude and will be informed of Ink Square Films projects.
For $21 or more
1 Poster of the first film produced by Ink Square Films
+
The screenplay in digital format from the first film produced
+
Previous rewards.
For $42 or more
1 DVD of the first film produced
+
The screenplay in paper format of the first film produced
+
Previous rewards.
For $69 or more
A mug "I Ululed Ink Square Films"
+
Invitation to attend to a day of shooting
+
A DVD of the first 2 films produced by Ink Square Films
+
A selection of photos of the first 2 films
+
Previous rewards.
For $103 or more
1 T-Shirt "I Ululed Ink Square Films"
+
Invitation to attend to two days of shooting
+
A DVD of the first 3 films
+
Previous rewards.
For $137 or more
Attending to two days of post-production in the Ink Square Films studios
+
Previous rewards.
For $206 or more
1 backpack "Ink Square Films"
+
1 invitation for two persons to the 3 first premieres of the 3 first films produced
+
Previous rewards.
For $274 or more
1 Briefcase "Ink Square Films"
+
1 DVD & 1 Soundtracks CD of the 5 first films produced
+
Previous rewards.
For $685 or more
1 DVD & 1 Soundtracks CD of every film produced by Ink Square Films
+
1 invitation for two persons to the premiere of every film produced by Ink Square Films
+
Previous rewards.
Early Birds