About
HAPPINESS is a biannual comic anthology aimed at spreading new talent across the U.S. and overseas. It is meant to serve as a palette of new styles and ideas, with unique narratives that go beyond the surface of current illustrative trends.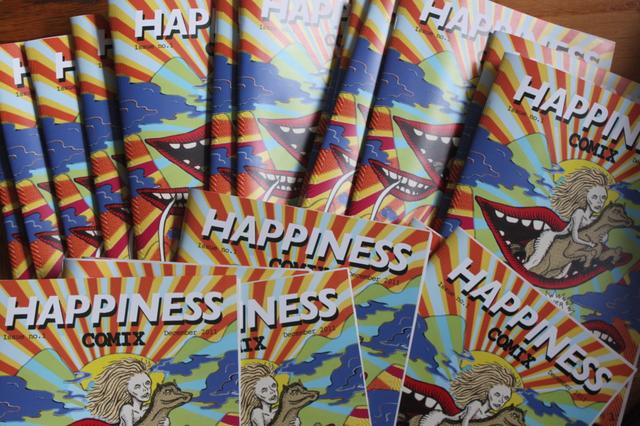 The first issue (shown above) was successfully funded on Kickstarter in November, but now the second issue needs some help getting its feet off the ground!
Issue number two features 25 different artists from a multitude of cities, and will be 88 pages total.
Front cover of Issue #2 by Andrew Bell. Expected release date: May 2012
Featured artists :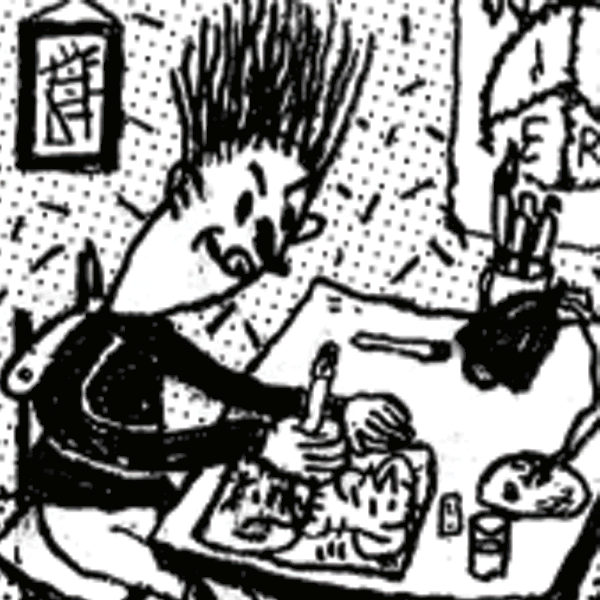 Lala Albert,Tim Beckhardt, Andrew Bell, Heather Benjamin, Lincoln Bostian, Krysta Brayer, Abraham Diaz, Alison Dubois, Toren Falck, Henrik Franklin, Sophia Foster-Dimino, Jack Hayden, Thomas Hunter, Dane Martin, Anthony Meloro, Clare O'Sullivan, Andrew T Pratt, Bethany Price, Zejian Shen, Aaron Shunga, Thomas Toye, Lydia Tyburski, Hiromi Ueyoshi, Leah Wishnia, and Dena Zilber.
Below: readers enjoying their copies of HAPPINESS #1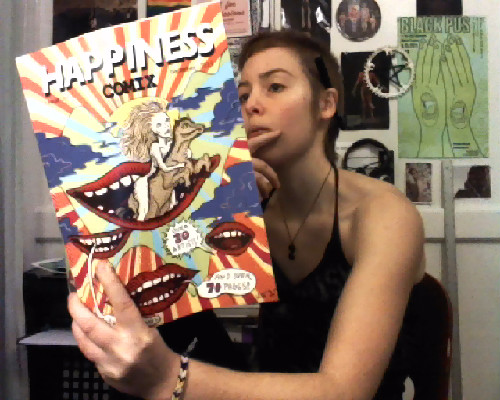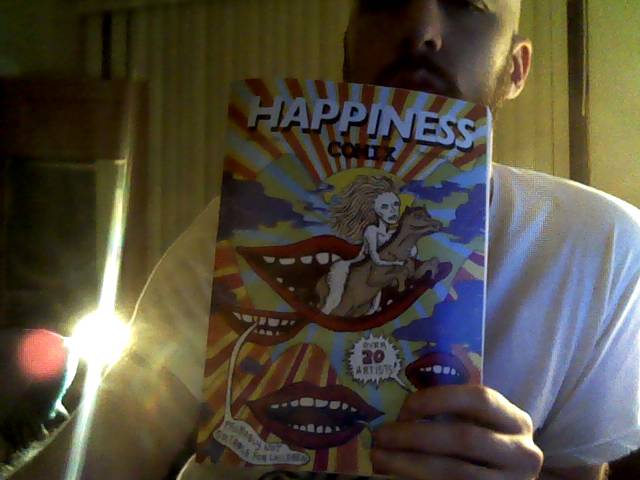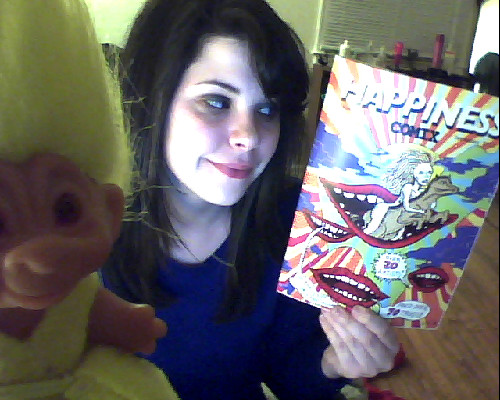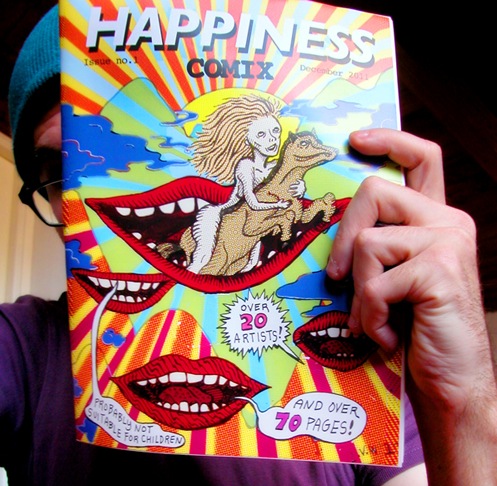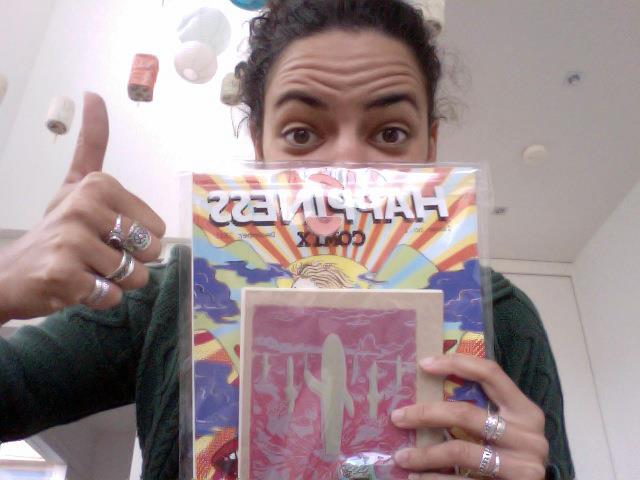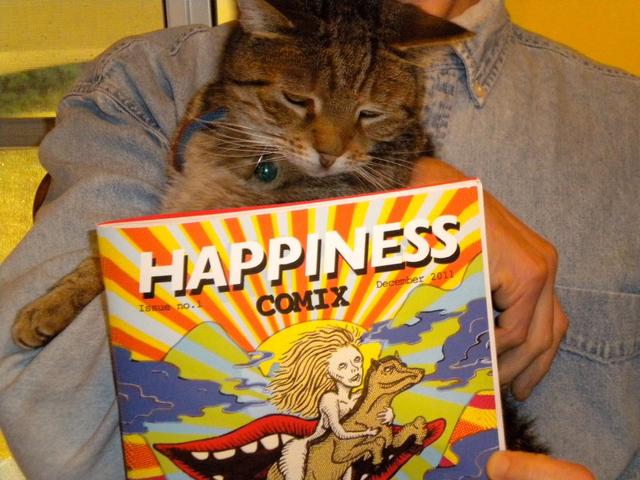 please visit: happinesscomix.info for news, contact info, artist bios, and more! & http://happinesscomix.tumblr.com for previews and reader feedback
or: like us on facebook ;)
What are the funds for?
All funds will go towards the printing cost of HAPPINESS #2, which is printed by an offset-litho printer in Long Island City, with runs of up to 1,000 copies. Any additional funds will cover the cost of shipping rewards.
About the project owner
Leah Wishnia created her first comic when she was six, and put together her first anthology zine when she was thirteen. She graduated from the Rhode Island School of Design in 2010, and currently works part time as an artist assistant while making comics and paintings. She is now the creator, ecitor and publisher of HAPPINESS COMIX.
visit her blog at http://thespithouse.tumblr.com ^_^
This fundraising is finished
For $6 or more
A personalized thank you note and a STICKER PACK (with bonus pogs!)
For $8 or more
One copy of HAPPINESS #2 (U.S. orders only)
+
6$ rewards
* all orders from Canada & Mexico, see $10 award, all other worldwide orders, see $12 award
For $10 or more
One copy of HAPPINESS #2 (*for all orders from CANADA and MEXICO)
+
6$ rewards
* for all other worldwide orders, see $12 award
For $12 or more
One copy of HAPPINESS #2 (*for all other worldwide orders)
+
6$ rewards
OR, if you live in the U.S. or Canada/Mexico,
One copy of HAPPINESS #2 (worldwide shipping included)
+
A HAPPINESS MIXTAPE !
+
6$ rewards
(*all other worldwide orders see $14 reward for bonus mixtape)
For $14 or more
(*for orders within the U.S., Canada, and Mexcio, see the $12 reward)
One copy of HAPPINESS #2 (worldwide shipping included)
+
A HAPPINESS MIXTAPE !
+
6$ rewards
For $16 or more
One copy of HAPPINESS #2 (worldwide shipping included), a personalized thank you note, and a complimentary STICKER PACK (with bonus pogs), and a HAPPINESS MIXTAPE, plus one copy of HAPPINESS #1 (72 pages)
For $20 or more
One copy of THE CACTUS QUEEN (16-full color pages + a screenprinted cover) by Leah Wishnia
+
Previous rewards
For $25 or more
1-layer screenprinted poster ("The Garden of Earthly Delights") by Leah Wishnia
+
20$ rewards
For $30 or more
8-LAYER, 18"x12" SCREENPRINT poster ("PARADISE") by Leah Wishnia
+
20$ rewards
For $60 or more
1 9-LAYER, 15"x21" SCREENPRINT poster (full color "Garden of Earthly Delights") by Leah Wishnia
+
20$ rewards
Early Birds