About
Everything began by world of mouth
  During my year of study abroad, a Montenegrin friend came back from an international conference in Dubaï: "Education Without Borders", and told me about his experience. He showed me a video of an impressive and inspiring speech gave by Robert Swan.
  This man was the first polar explorer in history to have crossed on foot, without assistance, the North Pole and South Pole!
  After watching over and over this incredible video, I rushed to the organisation's website which Robert Swan heads: 2041,  founded with the help of international institutions in the Second World Summit on Sustainable Development. Why this particular year? In 2041, the Protocol on Environmental Protection, the Antarctic Treaty, will be modified or amended! The aim is to extend the treaty that protects Antarctica from any human or industrial activities such as oil refinery among others.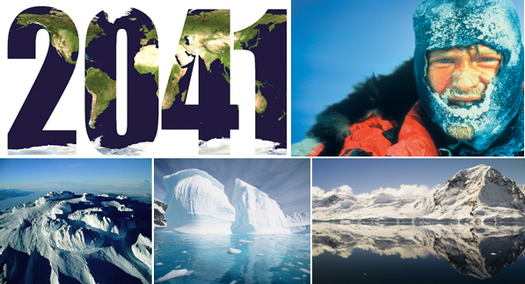 ("Property of 2041") Robert Swan is at the top right.
  Then, I discovered that this organization has been developing every year since 2003, an Expedition to Antarctica.
   This global event works towards the continuing protection of the Antarctic Treaty by informing, engaging and inspiring the next generation of leaders to take responsibility, be sustainable, and know that now is the time for action in policy development, sustainable business generation and future technologies. 
"Nothing ventured, nothing gained"
   I decided to send my application in English and see what would the answer be... Two weeks later, I found out with great pleasure that I made it in this unique expedition. I might very well be the only French man in the team.
  Therefore, I am a 20 year old student, who has the chance to participate at the International Antarctic Expedition (IAE). Only 45 people are selected from around the world to be part of the team. The first major challenge is to raise enough funds, including a guarantee or deposit of 3000 euros in order to realize this dream.
A Life's Experience
  How many people have been in Antarctica? 0,1 - 0,2% of the planet? Stepping on Antarctica may very well be the equivalent of walking on the Moon!

("Property of 2041")
  Antarctica is one of the most isolated and inhospitable continent on Earth. Dangerous and inaccessible, covered by more than 5 million square miles of solid ice, it is the highest (height), driest, coldest and windiest region of the world. The lowest recorded temperature in Antarctica is -89 Celsius (Volstok Station).
  With a program inspiring intellectual and deeply moving:
Exploration of the Antarctic Peninsula, gaining firsthand knowledge of the continent's fragile ecosystem, experiencing its unique wildlife and observing the magnificent landscape of Antarctica.
Robert Swan's personal leadership and sustainability program 'Leadership on the Edge", supported by companies such as Coca-Cola, Shell, Light and Power Chine, KPMG, etc.
Conferences, investigations, activities on ground surrounded by professionals from the renewable energy field and from around the globe.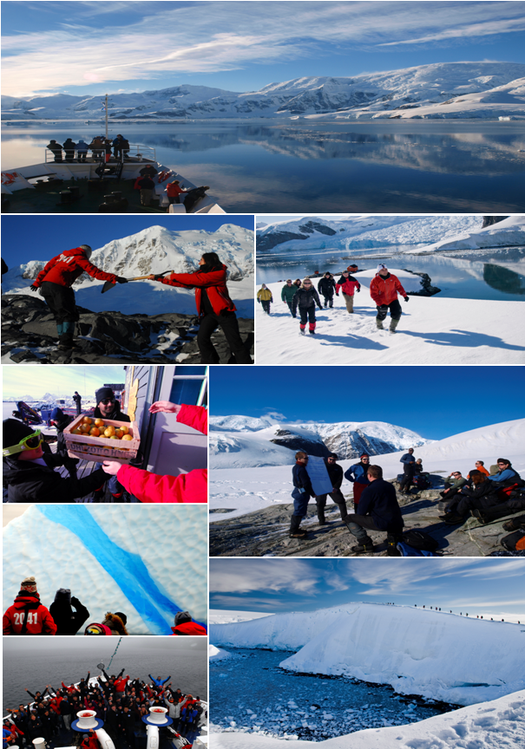 ("Property of 2041")
  Being a member onboard, will allow me to witness the climate change's effects personally and at first hand, and then and use it to change positively other people's view and behaviour.
A perfect opportunity, made just for me
  My main goal in life: To create or contribute to aninternational sustainable business proving to everyone that a smart business provides smart outcomes respecting environment and the next generation's resources.

  In every corners, this Project is mine: 
A rich self-achievement

: A personal shock: emotional, cultural and intellectual. I am thrilled to learn about a unique wildlife.

Raising funds

: A valuable set of management skills such as personal commitment, strong motivation, ambition, self-control in difficult cases, and a desire to do more and stand out.

An international project for sustainability

: A global vision by practicing a foreign language in an international team and being as open-minded as possible in order to achieve my personal goals; Use of funds accumulated for a good cause into an international organization which aims to protect the global environment and the Antarctic continent.

Concrete assets related to Sustainable Development

: This is the same adventure and atmosphere such as coverage from Nicolas Hulot; Conferences and debates, and many activities will lead us to realize and understand the global warming effects and their deep consequences and try to resolve them in an alternative way.

Leadership and Credibility

: Sharing those rare experiences to change positively other people's view and behaviour; The knowledge gained will be valuable and will allow me to acquire the capacities and the self confidence, to talk about my ideas and turn them into active projects to help a great cause.
                                                  I CANNOT MISS THIS CHANCE!
What are the funds for?
My Official Participation
  The first step of this Expedition is the payment of the guarantee or deposit. In order to formaly reserve my seat onbord I need to pay 3000 euros.
  The organization can not take any risks according to the overall investment of the event, so it is imperative to collect money for the end of July! And confirm my application for this extraordinary excursion.
                                        I KNOW THAT I CAN MAKE IT JUST GIVE ME HAND!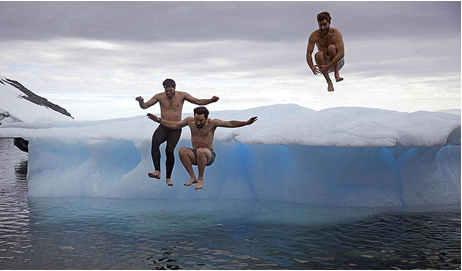 About the project owner
  I am a 20 year old student enrolled in the Toulouse Business School (ESC Toulouse). I have lived in Southern France for nearly eight years. Being French, I strive to overcome the legendary frenchy accent when i speak English, because i think it's awful! Maybe one day, people will stop thinking I am a Frenchy French proud of French Fresh baguette...but for now, my accent is way too strong :)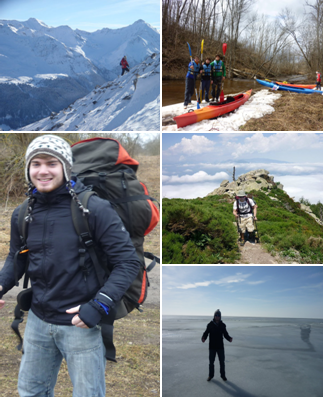 To Take my Carrier in my own hand
   How can I give a sense to my life? Being  aware  since my childhood about nature's role,  and its  fragile balance, I decided that my main goal in  life will be to create or contribute to an  international sustainable business, fairer and more  respectful about things around us, proving  that  this new  kind of trade is much more benefitial for  everyone and our planet. We have only one life,  so i would rather spend it being useful!
   I want to become an involved actor, a pilot of  change by giving myself the power to do so thanks to a great motivation and  an  incredible energy.
   How can I manage to do it? To be highly  involved  in initiatives and projects related to my dreams.
Ambition, motivation and curiosity
  I have an avid thirst for adventure. I used to compare my father to the famous Indiana Jones. It runs in the family. I hike every year in the Alps and Pyrenees whenever I can make it.
  I have contracted the travel virus. I want to see all of Nature's wonders. Every corners of the world, including Antarctica.
  My "extreme" universe: sport,challenges, thrills... To dare, to go ahead, in order to stand out from others.
  "Live as if you were to die tomorrow, Learn as if you were to live forever" – Gandhi Mahatma.
  A willingness to change mentalities: our actions are too often irresponsible, led by the immediate profit.
My Personal Experiences
To push the limits

, Tibet: trekking with an average height of 4000 meters, and some peaks over 5000 meters

A change

, Lithuania: One whole year, an open-mindness experience

Action

, SENSD: project manager in a Student European Network about sustainability

Volunteering

, les Restos du Cœur: volunteer during the winter 2009-2010
Award, International Business Proposal Project Award

Sport

, Tumbling: ninth at the French Championship (gymnastics on the floor)
Ambition, the upcoming projects: One year in Argentina, volunteering in a NGO (WWF...); International Scholarship's Concours; Specialized Master in Sustainable Development in Scandinavia.
My note
  This project is a stage of life, of my life. It gives real sense to my ambitions and my way in which I want to progress and contribute. This is a unique experience and a big contribution for a sustainable future. I am more than motivated to make this dream a reality! 
     I HOPE THAT I AM NOT A STRANGER FOR YOU ANY MORE! THANK YOU FOR HELPING ME!!
  Here are the Social Medias of my Project: 



The Facebook's Page:  http://www.facebook.com/pages/Antarctica-Expedition-Th%C3%A9o-Rohfritsch/126344994112383
The Twitter's Page: http://twitter.com/#!/AntarcticExp
The YouTube's Page: http://www.youtube.com/2041antarctica
News
This fundraising is finished
For $14 or more
That's very nice of you!
Your name will be in the thanks' "movie" generic, and you will get regular news before and after the Expedition
+
A signed picture after the adventure which will be sent by mail
For $28 or more
I like you a lot, don't you ?
All the previous rewards
+
A photo of you printed on my t-shirt with Robert Swan and penguins near me! I will tag yourself on Facebook! A way to show to everyone that you have also been there.
For $42 or more
WOW !! I'll end up asking you to get married with me soon.
All the previous rewards
+
Video clips of official and non-official conferences of Robert Swan and his guests in order to learn how, why, when, where... Every solutions and ideas source of inspiration on our future : as if you would be there!
For $69 or more
First you have to know that I truly, deeply love you!
All the previous rewards
+
My full travel book with pictures and great films, on my approach, my discoveries, my emotions, my perceptions about everything around me
+
A phone call after the Great Adventure!
For $103 or more
Oh Yesss! God or "Théos" bless you.
All the previous rewards
+
A short film made specifically for you in the coldest desert ever: it'll be a little note from me, a bit petrified, for you!
For $137 or more
BINGO! Gosh, I start to feel weird, I'm blushing... You definitively belong to the 2Gs : Generous and so Great!
All the previous rewards
+
A small interview with Robert Swan about different questions and notably yours!! Let's dare to ask a question which is close to your heart about our current World, to the Forunner of Sustainable Developement!
For $685 or more
ALLELUIA!!! Words cannot express my T-H-A-N-K-F-U-L-N-E-S-S.
All the previous rewards
+
You want to invest more in the project and participate directly in the adventure?
A private one-hour conference will be offered at the location of your choice (in a school, as part of an event or within a company) to get the most important message of this experience.
+
A flag with your name, or the logo of your company, association, school: "Flag Day", it means the promotion's day of the financial support by taking photos and videos with the whole team.
Early Birds

Someone from

LABASTIDE DENAT, FR

Someone from

Rotterdam, NL

Someone from

Rouffiac, FR
Someone from

Le Sequestre, FR

Someone from

Ennevelin, FR

Someone from

LE SEQUESTRE, FR

Someone from

Sergy-Haut, FR