About
A post-apocalyptic film, an animated short-movie. 
It's the second chapter of a 5 chapter story.
Eenola is a hunter. On the lookout in the darkness, she recalls her story.
The crossing of the nuclear wasteland brings her to literally hunt down her fears.
It guides her to NoWeb0, a refuge-city for the last humans on earth.
Eenola is played by Simone, who is well-known in France for her character/singer Simone Elle Est Bonne.
She plays here her first big part, a weird charismatic hero, a mixture of Tank Girl, Ellen Ripley, and Tigerlily.
Like the first Eenola film, there will be only music and sound. 
The original soundtrack by Charles "Kallaghan" Massabo (Overly Green, R.A.S, Sikh) will accompany the images.
I'll keep the big surprise for the release with the work of Richard Redlefsen, a great SFX make-up artist (The Killer inside Me, Pirates of Caribbean, Resident Evil: Extinction, Vampires Suck, ...).
The rest of the crew is not yet confirmed; more news will be coming soon.
The length of the film will be under 10 minutes so that we can easily send it to different festivals.
What are the funds for?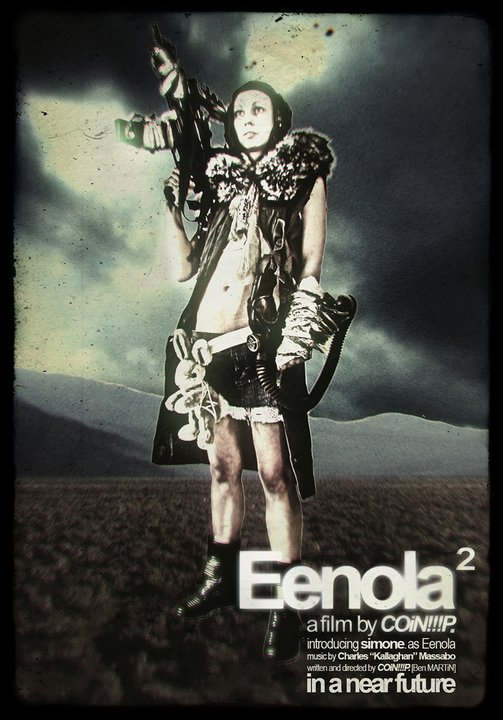 The money collected will be used to pay the crew, the cast, and to provide them with everything they need to work at their best. It will also pay for post-production costs.  
About the project owner
COiN!!!P. aka. Ben MARTiN.
French Photographer and Art Director since 2001.
I've been part of a lot of film sets, as photographer, cameraman, colorist and poster artist for the past 2 years.
Before that, in 2005, I directed the first Eenola film (4th chapter of 5).
In this 4th chapter, Eenola escapes from NoWeb0, and chooses to let the last humans die to free the planet from this eslavement.
You'll know why she does that in another film. (who knows, maybe there will be a feature film bringing together the 5 chapters of the Eenola story.)
This fundraising is finished
For $7 or more
a big thanks and your name in the credits.
For $35 or more
a big thanks, your name in the credits, and the film poster.
For $69 or more
A big big thanks, your name in the credits, a poster, and Eenola's panties (surprise suprise :-) )
For $137 or more
a huge thanks, your name in the credits, a poster, and an invitation to the premiere.
For $1,370 or more
a huuuge thanks and .. your name in the credits, the poster, the panties, an invitation to the premiere, and an invitation to meet us on the set during the shooting.
Early Birds