About
UPDATES
#15. Day One's new character, in 360°
#14. Boxes, boxes and more boxes
#13. Musical anatomy of a key moment in Ethan Grant's life
#12. Music Monday
#10. What if…?
#09. Working at Pendulo (IV): Creating SFX
#08. Working at Pendulo (III): The bugmaker
#07. The original trailer
#06. The magic and work behind the color
#05. Working at Pendulo (II): Music
#04. Thanks for spreading the word!
#03. Working at Pendulo (I) :Programming
#02. Real-life writer will become a character in Day One!
#01. First rewards coming!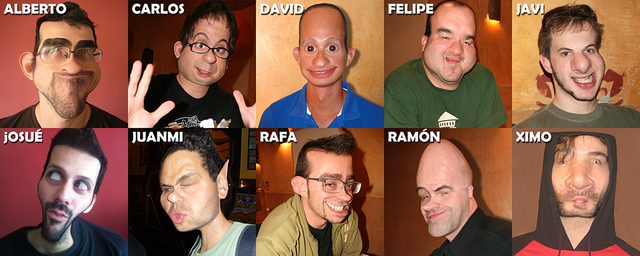 Hi there! We are not Troy McClure but the 10 extremely sexy guys that you can see just above, and you may remember us from the Runaway saga, The Next Big Thing or Yesterday.
We are Pendulo Studios and we invite you to participate in our new challenge: Day One, a dark comedy about corruption, easy money, immorality, politics, death, DRMs and other curses of our time!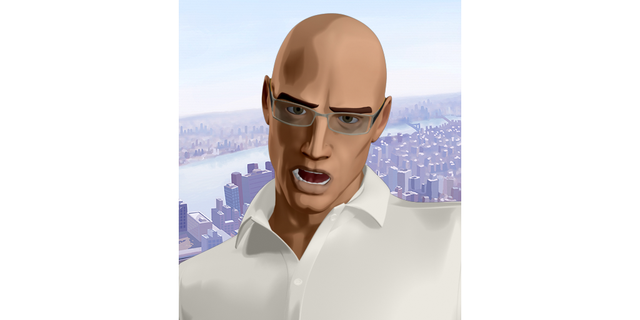 Let us introduce you to Ethan, a young and acid journalist who learns from his doctor that he's got a terminal disease: he'll be dead before the end of the day. Back home, he finds a capsule and a note: "This will keep you alive 24 extra hours. Come to Paris for more. We'll find you."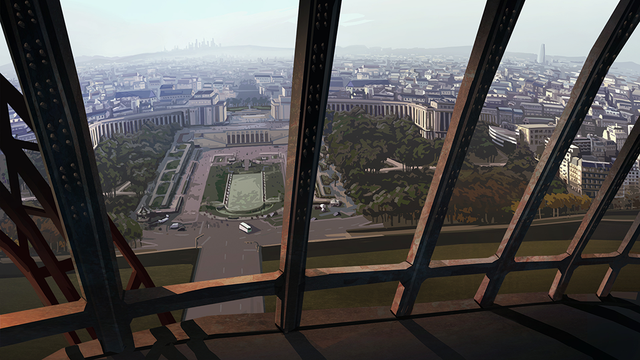 Day One will feature a thrilling plot in a comic adventure game - but not your typical lighthearted one. We want to create a sarcastic comedy, funny and adult at the same time. Ethan's cynical view of life - based on his idol Ambrose Bierce, author of The Dictionary of the Devil - will give us the chance to laugh about more serious subjects. After 18 years since our first game, we're no longer kids. Please don't misunderstand us: we still like pirate stories, however, pirates these days don't kidnap damsels in their ships, but hire ladies of negotiable affection in five star suites. Filthy old men in underwear can be so fun!
You can expect the usual high production values that have made Pendulo a reference in the genre: gorgeous 2D graphics, colorful characters, great cinematics, wonderful atmosphere and music, crafted puzzles, intricate stories, witty dialogues, tons of humor, crazy references to all kind of culture and media products... But this time, we'll make them matter.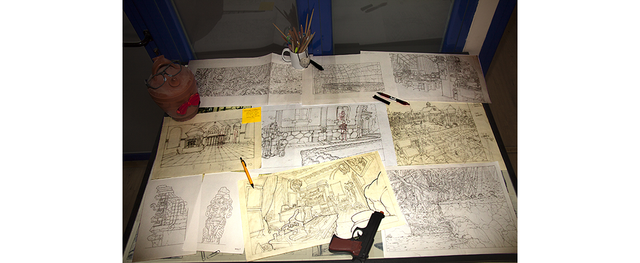 Maybe you will be happy enough helping us with your pledge and getting the game in advance as if it was, as someone said, "a glorified preorder". But if you want more, we have lots in store for you, 'cause with Day One, you'll be able to get inside the videogame industry:
VIP Room: you'll see how Day One is made from the inside thanks to a backer-only access to a its forums, polls, exclusive news and assets, a developer's diary, early access to beta versions... and even more!

Crowdcreating: you'll decide about actual aspects of the game and know about the implications of your decisions, and even submit your own creations so they get implanted into the game (depending on some rewards). 

You'll get the chance to study a course in Videogame Design thanks to Universidad Complutense de Madrid and become an intern in Pendulo Studios.
You'll be able to sit among the Best Developers of the Year during the Awards Ceremony of the Fun & Serious Festival and party with them (and us, if that matters to anyone).
If you represent a translation school, we'll help you to teach your students how games are translated (more info in our FAQ).

Day One is a crowdfunded project, so you can expect all your usual goodies and rewards… and some unusual ones.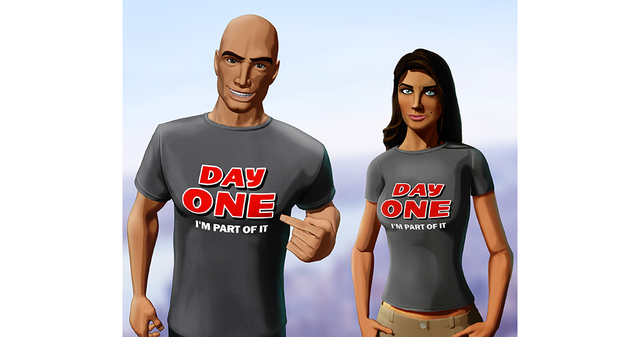 T-shirts designs are not final! The actual ones will be designed with your help! Let's crowdcreate!
Besides the PC and Mac game itself, DRM-free, we will provide you with lots of exclusive rewards available only for our supporters: limited-edition silver pins handcrafted and numbered by ourselves, the Pendulo Studios' 2013 calendar, the exclusive before The Art of Pendulo Studios book, the best of our OSTs… even unique original hand-drawn backgrounds from our games!!! Also cool high quality T-shirts, posters and gorgeous PVC prints that will speak out loud that you are part of the Pendulo Studios team now!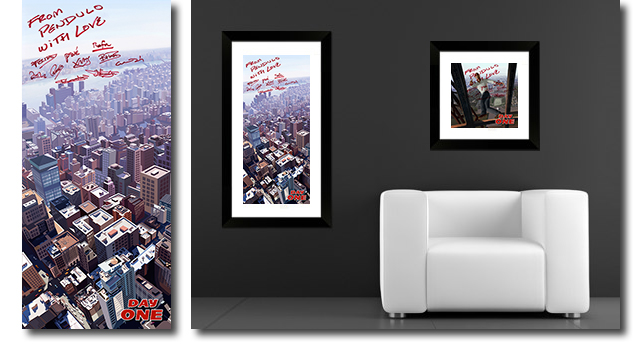 But there's even more. Our friends from the Fun & Serious Game Festival have offered the coolest reward ever: 5 seats in its awards ceremony, to be held on November 29th 2012. We were there last year and we sat among developers from The Witcher 2, Uncharted 3, Dead Island, Crysis 2 and a lot more, and then we went partying the whole night through. Believe us: it was le-gen-da-ry!
This year, you'll be able to take our place there, travel and hotel included. Regardless of the amount of money that you offer to fund Day One, for just 1 more euro you'll enter in a lottery to win one of those 5 seats. Or, if you're filthy rich, you can pledge one of our highest rewards to get the 6th seat directly, with no lotteries!
Take a look at this chart or read the rewards column for more details.



What are the funds for?

We need the funds to make Day One a wonderful game. The wonderful game that the industry doesn't want us to develop because "it will scare the kids".
With the initial 300.000 € we will make be able to make a complete but short game, just like the one that the ground-breaking studio Double Fine wanted to make… before they got 3 million dollars to develop a full-sized one! However, we don't ask for millions. If we reach the golden figure of 750.000 €, we will be able to develop a game as long as Runaway: A Twist of Fate, the last of our games that had the budget it needed. Gosh, those were the days!

 
With crowdfunding, we get what the industry doesn't want to give us, you get a lot more than what the market would give you, and we all get a game that's more than just a game.
About the project owner

Back in 1994, Pendulo was created by 4 gamers who created the first graphic adventure ever to be developed in Spain. We're the guys who made Runaway, The Next Big Thing and Yesterday. Now, we're 10 friends who are passionate at what they do. And we do it quite well. Ok, we could be humbler. Let's say that a lot of people everywhere think that we know how to make good adventure games. Thanks to all of them!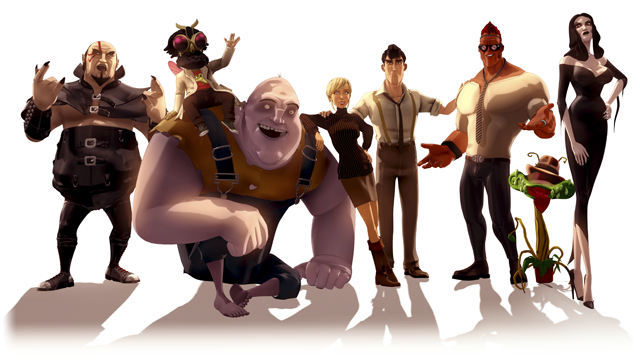 FAQ's
The "VIP room" is an exclusive area on Gamesplanet Lab where Day One's backers will have access to: • Forums to exchange between them and with the Pendulo team • A blog where information about the production and the game will be revealed in real time • Polls managed with the team to get feedback from users • Exclusive area to upload and submit your own crowdcreating material • Beta versions using cloud gaming technology • Dedicated mono store to download the game and all digital rewards

In the old business model, part of our creative freedom was given away to third parties in exchange for the funds. Now it's the players who give us the funding, so it's fair that we let them enter the creative process. However, we won't let our game be ruined by a tasteless supporter (believe it or not, we've met some!). From time to time, you'll be able to answer questions like... "Which one out of these 2 or 3... backgrounds / 3D models / color keys / music tracks / interface sounds / voiceover actors / ... … do you prefer?" But crowdcreating is way more than this. We want you to send us your creations. Among those that have the necessary quality, the rest of the supporters will choose if they go into the game or not. • Do you want to play an instrument in the original soundtrack? • Do you want to have your most ingenious sentence painted in the game as graffiti? • Or your best illustration as an integrated poster or painting in the main character's hall? • Are you an amateur voiceover actor and you'd like to play a short role in the localization?" In order to allow all this, you will have access to a "VIP" area where you will have exclusive links with Pendulo. This area will not only allow you to access some dedicated content including, once finished, the release of game, but also information about where we stand, tools to brainstorm with the team and thoughts we may submit for your feedback… Then… why not trying? This is your chance to really create part of a videogame!

Top quality, folks. Astonishing online store Amkashop.com will provide us with high quality goodies: T-shirts, posters, digital artworks… We've searched through a lot of stores and we really trust Amka's quality and compromise. For instance, for original artwork print on solid PVC, Amka will use solid PVC (approx. 1cm thick) to provide a strong base. The perfectly adapted large size and the high quality of the material is a true leader from other solid PVC available on the market. Initially Amka print on to the art paper with a plastic layer to cover (either glossy or matt) and they adhere this to the solid PVC using a hot pressing machine for protection against UV light and time effect. (Don't worry: it took us some minutes to understand it, too.) Once this stage is completed, a hanging system is directly added to the reverse of the structure. Same approach for the T-shirts: we expect to order Hanes brand with high quality cotton and ink. According to quantity, at the end, we may take different options but be sure quality will remain our main goal.

We will provide at least 4 translations (English, French, German, Italian) plus the Spanish original text and English voiceovers. Our goal is to provide more if the budget allows it. The more people that backs the project, the more languages that will be able to fit! As for the forums, they will be held in English, simply because it'd take a highly evolved version of multiple-headed Pokémon Exeggutor to answer questions in 5 languages in real time. However, every week we will be writing a "Forums Digest" summary with the best of the week, and it will be translated in all the game's languages. Simple, short and clear.

Oh no, no, we haven't. Most crowdfunded games include that tag, but we don't really like the idea. No one will have to pay more to get Day One's physical rewards, no matter where s/he lives. We've preferred dividing that extra expense among all rewards than discriminating backers because of their nationality.

We know how difficult it is to find good game translators, because translating a game is far more difficult than translating a movie or a book. You lack the context, the story is not linear… If you represent a translation school and want to use Day One as a tool for teaching your students, we'll provide you with all the necessary tools: the game, the localization kit and instruction, the text and audio resources in all the game's languages, all the middleware you need to implement you students' translations and also documents to find the most difficult spots, to evaluate translations and to correct them. Just drop us a line whenever you want.

• Creative freedom: nor Gamesplanet Lab neither Ulule will dare questioning Pendulo's creative decisions. • No DRMs: crowdfunding is a matter of reciprocal trust among gamers and creators. • Pendulo and only Pendulo will control the exclusive forums. No one is to speak in our name. • Even if Gamesplanet lab will help us managing the rewards, all final decisions will be Pendulo's. • The IP is and will remain 100% Pendulo.

When we first thought about crowdfunding, we talked to Ulule because a) they are Europeans; b) they can provide the project page in many languages; and c) we trust people who play the banjo. Then it turned out that Ulule was teaming with Gamesplanet to create Gamesplanet Lab, that would help us getting rid of all the boring part of the project to concentrate on developing Day One is a wonderful idea, and that's why we're here. We are players and we want fun :) Gamesplanet Lab is a pure independent player with compatible DNA with Pendulo, and we like the romantic idea of small players teaming up to survive in front of big companies. Yeah, we know it sounds corny. Sometimes we can't help it.

Yes. We will take care of 100% of the game's dev, with no outsourcing, besides the hiring of localization teams for the game, and the exclusive forums, polls & crowdcreating decisions, the handcrafting of some specific rewards, the final selection of all rewards and, of course, their signing. We love signing. It's the second funniest way of spoiling one's wrist.

Gamesplanet Lab, with the help of Ulule, will be providing the crowdfunding space, as all crowdfunding platforms do managing the transactions, plus a lot of extra work: the distribution of the digital and physical rewards to supporters, the technical part of the VIP room, the manufacturing of most physical rewards. That is: the boring part, while we concentrate in making a good game and talking with you.

Nope. Blaming publishers for the actual situation would not be responsible. If you've been following the news, you'll know that not only developers are having a bad time these days. Prints magazines close. Retail stores fire staff every day. Publishers show publicly their bankruptcy, including some that have supported adventure most throughout the years. And developers… ok, it's so flattering that you ask, but we don't want to seem narcissistic. The off voice in our main video is the voice of the industry. He could be a publisher, yes, but also an investor, or an agent, or even the financial boss of a development studio like ours. In fact, everything that the off voice says is quite sensible… only it's not fair at all.

That depends not only on us, but also on you and everyone who backs Day One. Depending on the amount of money that we finally raise, we'll be able to make a shorter or a longer or a longer game, and development will consequently vary. We'll start development right after the funding campaign finishes in middle September. If we hit the first 300.000€ milestone, we'll make a short game that should be ready in February 2013. But if we hit the wonderful figure of 750.000, then we'll be able to make a long make during one year, hence it'll be finished in September 2013.

Pretty soon! Some rewards will be made effective almost at once (like the writing of your name in our office walls), but some others will not be ready till Day One's development is finished. Some others are linked to very specific dates (like the (el Fun & Serious Game Festival or the Videogame Design course), while you'll be able to enjoy a lot of rewards throughout development (forums, polls, crowdcreating, character designed after you…) There are some digital rewards that don't need the game to be finished, and they'll be delivered as soon as the funding campaign is over… or ever during it (i.e. the "Best of Pendulo's OSTs", the wallpapers…) Besides that, we want to organize an event in Madrid so we can give some physical rewards to you face to face. We'd love to do the same in other cities, so we'll try to arrange something.

Prices of rewards indicated in USD are approximations indicated for information only. In most cases, it is calculated by using the average monthly exchange rate of the month preceding the launch of the projects, to which a 2.5% currency exchange commission has been applied. This approximate exchange commission is also an approximation, based on change fee applied by Paypal. If you pay with a credit card, the currency exchange commission and fees applied by your bank may differ from 2.5%. Prices in USD are provided for information only. The exchange rate at date of payment may differ significantly from the rate used to compute this indicative converted price, as well as commission applied by your financial institution.

It depends on the payment system you use. For example Paypal applies a spot rate at date of the payment, plus a 2.5% commission. If you pay by credit card, commission and exchange fees charged depends on your financial institution. Some apply fixed commissions on foreign currency payments, other % based commissions, some do both. In case of doubt we recommend that you contact your bank for information on pricing.

Let Javier, one of our programmers, answer this (in fact it's a comment that he posted on Day One's project page): "This project is meant to be developed for PC and Mac, as you may have read on this page. It is very likely to be released for iOS also, but there are some distributing issues we are just working on, and we will be updating the page with that info really soon. Probably you will be asking why those 3 platforms. The answer: our engine only works with those 3 platforms yet. Anyway, it doesn't mean we don't care about you, Android and Linux users. We would really like to content as much people as we can, but have in mind that after all, the budget we are asking you to contribute for is as tight as to allow us to only complete the original development we had in mind (believe it or not). So, the point is that we could cover other platforms if we have the resources for doing it… but that means a wider budget."

IIf you want to take part in the raffle that will attribute the tickets that we have to attend the Fun & Serious Festival award ceremony in Bilbao, you only need to pay €1 more than the regular price of the reward that you have chosen. The 5 winners will be drawn once the campaign has successfully ended. For example:  Do you want the "Digital Natives" rewards? Pledge €25. Do you want the "Digital Natives" rewards plus participation in the lottery? Then select the same reward tier, but pay €26 or more.  Just after clicking on a reward tier to select it, you can adjust the amount of money you are pledging on the top of the page, before confirming your pledge by clicking on the blue "OK, I continue" button. If you have already backed the project and would like to up your pledge to participate in the lottery, simply follow these instructions: http://www.ulule.com/about/faq/#q80 We hope to see you in Bilbao!<br>
This fundraising is finished
For $7 or more
THE WALL: your name written in our office walls so we don't forget who's making Day One possible + exclusive Day One HD wallpaper
For $17 or more
GLORIFIED PRE-ORDER: digital DRM-free download of Day One on PC and MAC + exclusive access to VIPS area + all previous rewards
For $35 or more
DIGITAL NATIVES: digital download of The Art of Pendulo Studios book + digital Pendulo's calendar for 2013 + Day One digital soundtrack + digital download of The Best of Pendulo Studios Soundtracks + monthly Day One wallpaper set + all previous rewards
For $70 or more
CROWDCREATING: your creations in the game – that is, access to submission area, where you will be able to send us your music, your paintings, your voice, tour texts… The Pendulo Studios team and the rest of the supporters will decide if your creations can make it into the game + your name in the game's credits + access to Beta version + all previous rewards
For $139 or more
THE BIG BOX THEORY: the game in a big box, just like in the good old days + exclusive Day One T-shirt + CD with Day One OST + all previous rewards.
For $209 or more
THE GOODIES: Exclusive Day One poster + Ethan Grant's Edition of The Devil's Dictionary with his own notes, thoughts and traces of events that happen in the game + DVD with developer's diary + all previous rewards.
For $417 or more
SIGNATURE O' THE TIMES: physical edition of The Art of Pendulo Studios + physical Pendulo's 2013 calendar + all your physical rewards signed by members of the team + all previous rewards
For $625 or more
SUMMER SALE: original hand-drawn background from Runaway + all previous rewards

For $834 or more
THE GHOST WRITER: a short text of your choice integrated in the backgrounds + an autographed unique print showing its apparition in the game + all previous rewards
For $1,250 or more
THE RING: web meetings with the team (at least two during development, minimum 30 minutes each + all previous rewards
For $2,084 or more
REDECORATE YOUR LIFE: a numbered silver pin handcrafted by members of the Pendulo team, the exact replica of an inventory item in Day One + original artwork print on solid PVC (50x50cm or equivalent) + all previous rewards.
For $3,473 or more
PENDULO'S ORIGINS: (limited to 15) larger original artwork of our previous games autographed by the team (gosh, we'll even cry our goodbye tears on it while packaging it for you) + all previous rewards.
For $6,945 or more
LOOK, MUM, THAT'S ME (limited to 5): A Day One character modeled after your picture or someone of your choice you who will not sue us for that (no Angelina Cruz, Uma Jolie Megan Thurman, Penelope Fox or the like allowed) + all previous rewards.
For $9,028 or more
BRUNCHSTORMING (limited to 10): We'll fly you to our Madrid office, where you'll assist to one of our regular brunchstorming meetings and, after work, we'll show you the city, its people, its bars and we'll book a hotel room for you just in case you feel like sleeping at some point + return ticket if you survive + all previous rewards except "Look, Mum, That's Me".
For $13,195 or more
SERIOUS FUN (limited to 1): exclusive access to the Fun & Serious Game Festival (including travel tickets, hotel, invitation to the awards ceremony, a seat among the Best Developers of the year nominees, party with the winners) + all previous rewards except "Look, Mum, That's Me" and "Brunchstorming"
For $13,889 or more
THE GRADUATE (limited to 1, must be graduated and with good knowledge of Spanish): a grant to study in the Master de Diseño de Videojuegos of Universidad Complutense de Madrid (valued in 6.120€) + a 2 month internship in Pendulo Studios + all previous rewards "Look, Mum, That's Me", "Brunchstorming" and "Serious Fun". The direction of the master can cancel the donation and reward if the candidate doesn't meet the course's requisites.
Early Birds
Official Users ♥ it !