Thank you !
Hi!
Our project reached the objective of 7500€, which means we will actually be able to order and distribute those lovely USB drives: many thanks to all of you!
But the project is not over. The money raised from now on will be used to fund La Quadrature du Net's activity, which means, basically, funding staffers, paying our rent, funding volunteers' fees, etc.
Supporters can still get Datalove USB keys, tshirts, stickers, etc. until the Ulule project ends on Oct. 3rd.
You can keep helping us by telling about us and the datalove USB drives around you.
Thanks again,
<3
La Quadrature du Net
This fundraising is finished
For $7 or more
Your name in the credits (in a text file on the USB key).
For $28 or more
The above + a selection of stickers from La Quadrature du Net, including limited edition, collector ones!
For $58 or more
All of the above + one magnificent Datalove key for yourself!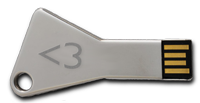 For $110 or more
All of the above + One post-card from Brussels, sent on the day the Datalove keys will be handed to the Members of the European Parliament.

For $151 or more
All of the above + a splendid t-shirt "Don't __ the Net"
For $685 or more
All of the above + Half a day of an activist tour in the European Parliament in Brussels to discover the arcane of citizen activism and EU policy-making, including secret warp-zones, a nice meal and Belgian beers :) (trip not included)

Early Birds
Official Users ♥ it !