About
Darkening Power is a project combining a Facebook application, a free online novel and a series of comics. As well as this, a few short films are currently in preparation.


The Facebook application is 90% complete and can already be seen here in Beta version: https://apps.facebook.com/darkeningpower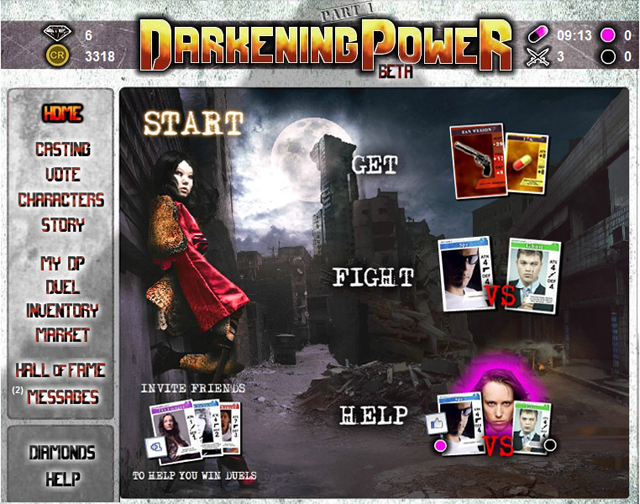 Basics of the App:
Create your character card by uploading your own photo.
Challenge anyone you want to get experience points (XP) and credits.
Once a challenge is made, you then have 24 hours before the duel. During this time, use all your abilities to seek help and increase your chances of winning.
Ask your friends to help you and get their support to win in your own duels...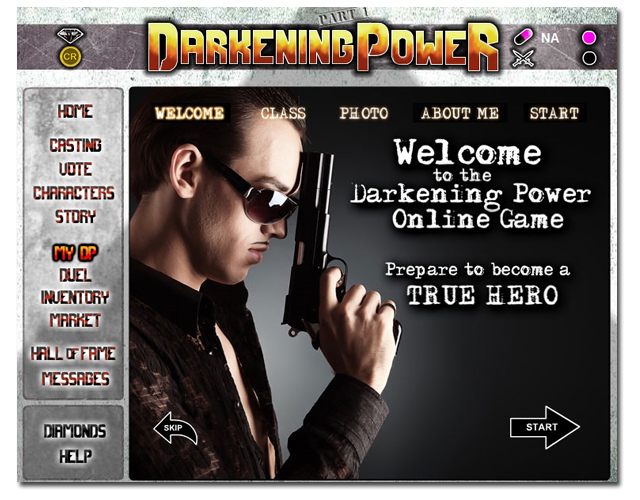 First, choose your character class:
There are two types of characters to choose from in the game: First of all, Mercenaries, who are physically stronger and specialise in certain weapons which give them greater bonuses in combat. Then there are psychics, who have natural abilities to increase or decrease the combat characteristics of other players.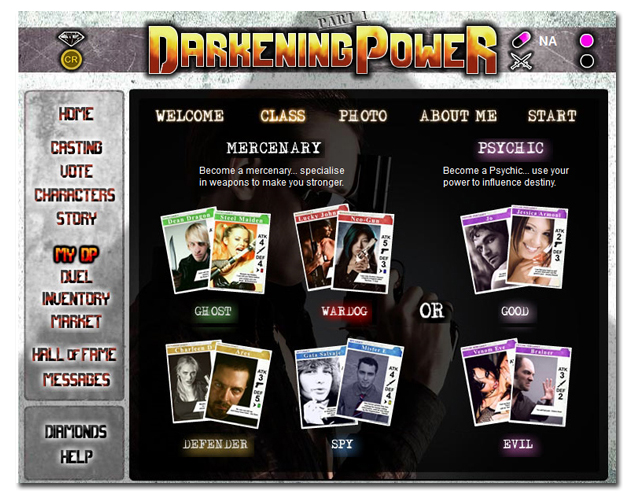 The four mercenary classes: 
Each of them has an important strategic advantage against another class of mercenary. This allows them to strike first and is known as 'Initiative'.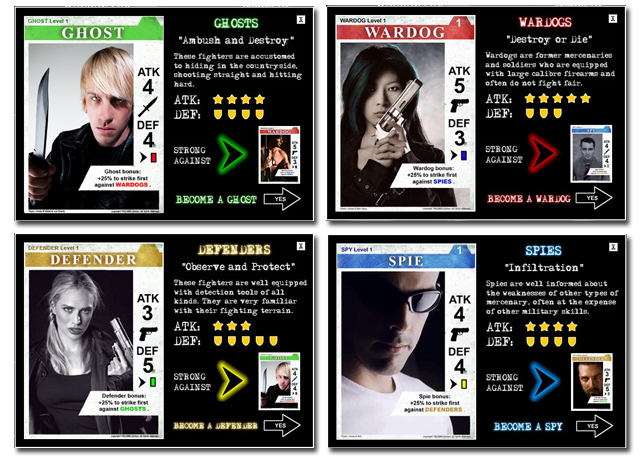 The two psychic classes: 
There are two psychic classes. The psychics, although able to fight in duels are not as skilled as mercenaries. At equal level, they have less chance of winning. It is impossible for a psychic to use his power during his own duels. Nevertheless a psychic can enhance the skills of another player using a psychic charge. These come in the form of a boost or a weaken and allow the target to become someone that their opponents must be wary of. A psychic can become a nuisance when they spend their time helping to boost your opponents while weakening your own skills.

However, do not worry, because even if you are not naturally gifted like a psychic, by paying, a mercenary can buy psychic skills too. This way, everyone has the opportunity to play hero or villian.
Once you have selected your class upload your photo.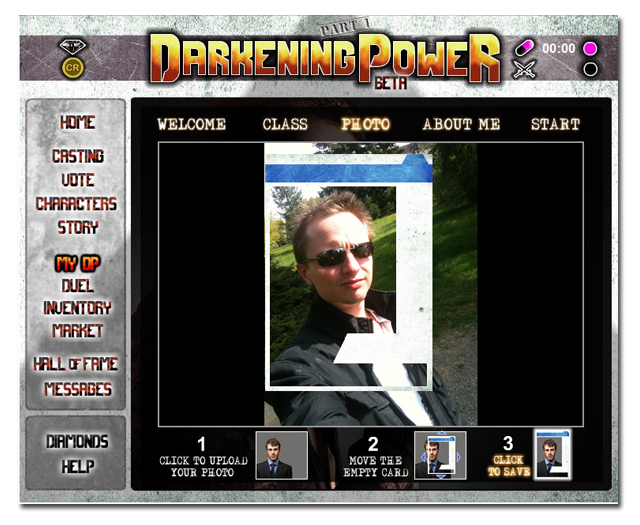 A new charater in the Darkening Power is born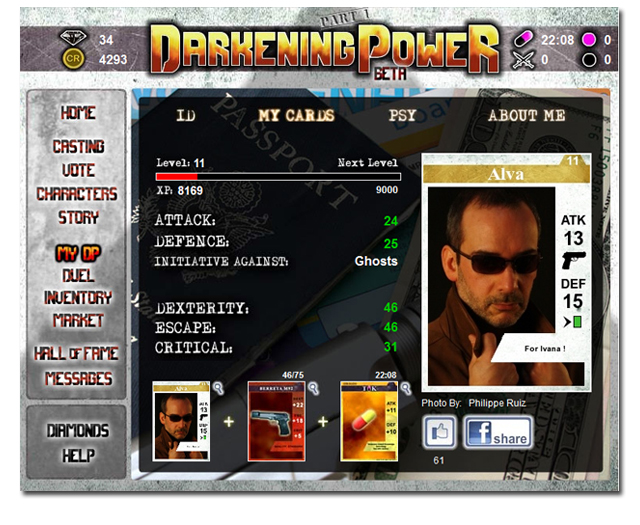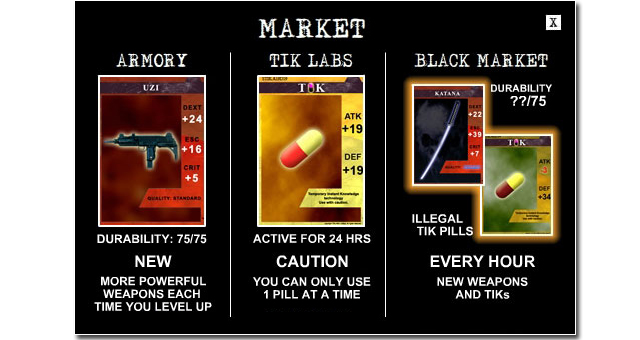 Weapons: 
They increase your combat abilities, namely, Dexterity (Dex), Escape (Esc) and Critical (Crt). However, they will deteriorate with use. Each weapon has a durability between 75 and 150 when new.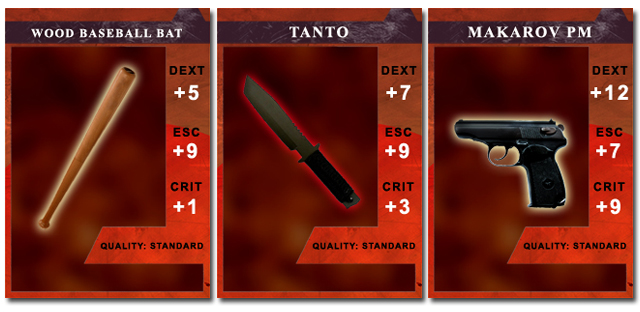 It is sometimes necessary to arm yourself with slow, less powerful weapons, then change them at the last minute and suprise your opponent.
It is a good idea to frequently visit the black market! There, you may unearth a more powerful weapon at a lower price, even if it has been used already. In addition, the black market renews its stock every hour, so who knows what you might find.
TIK Pills:
They increase the value of your Attack (ATK) and Defence (DEF). However the effect only lasts for 24 hours! So, pick the best moment to take it.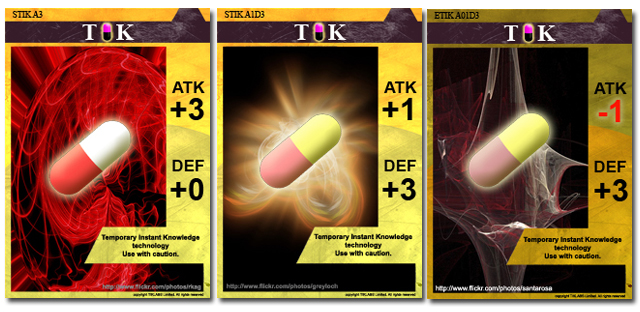 Perhaps you will ask "But what are these TIK... pills?" That is a good question! Follow the link to learn more: http://www.darkeningpower.com/story-fr/tik/

"Don't be scared to make enemies! You will advance quicker."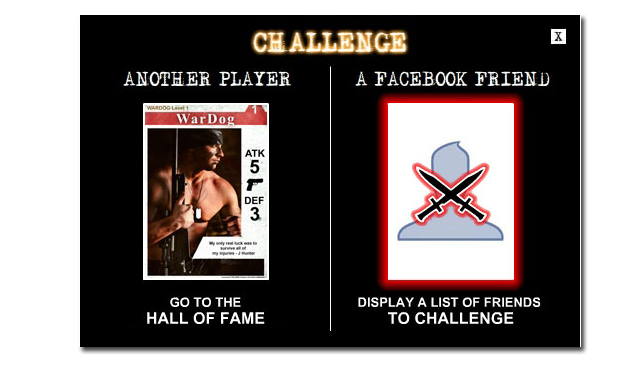 The duel will start 24 hours after a challenge is made.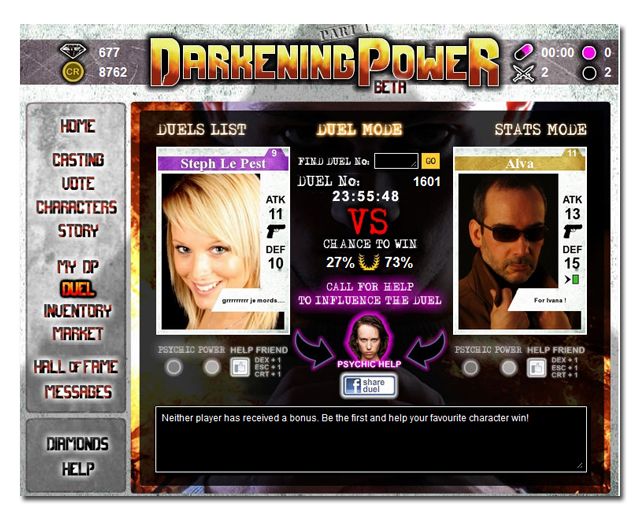 Use this delay wisely to get help and increase your chances of winning the duel.

Ask for help and help others: 
are 3 ways you can do this: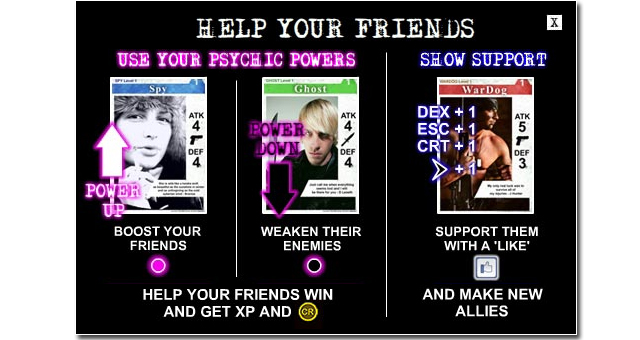 Boost:
This is the psychic capacity to increase the combat skills of your friends (Dex, Esc and Crt). The amount by which you can increase your friends skills depends on your character's level. If your friend wins a duel with your help, you will receive extra XP and credits.

Weaken: 
This is the psychic ability to weaken your enemies or the enemies of your friends. The amount by which you can decrease your enemies skills depends on your character's level. Use of this power will grant you extra XP and credits if the targetted player is defeated.

Support:
The "Like" on facebook can also assign a +1 bonus to each combat characteristic (Dex, Esc and Crt) and in addition it can help a player gain the Initiative. There are no limits to this, as both mercenaries and psychics can 'Like'. It is simply and act of generosity, which may gain you something similar in return.
If the thought of losing makes you crazy or if you realise that your firends are not helping you enough then you can hire some none player psychics to help you. Of course the cost of hiring them is high, but they are powerful psychics...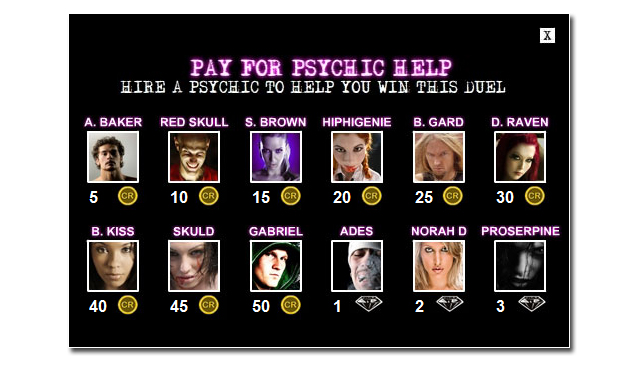 Once you have understood all this, you are ready to become a fierce enemy to your opponents and a very good friend to people who often help you.


We will give you diamonds and we will make you stronger than others players who have started to use the Darkening Power app.
The unique equipment we offer you here, have characteristics well above those available in the early game. However, they are still limited in their use.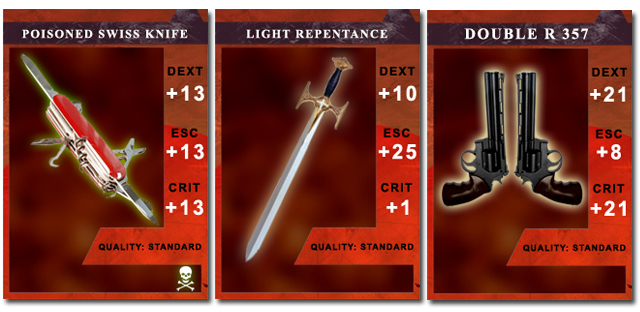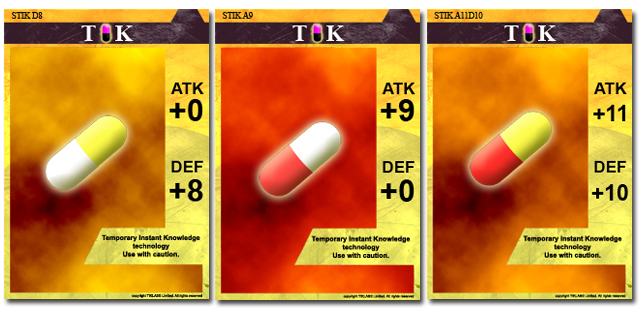 So, use them wisely!

The internet Novel (Already Live) 
(translation from french on going at : http://www.darkeningpower.com/Story/ )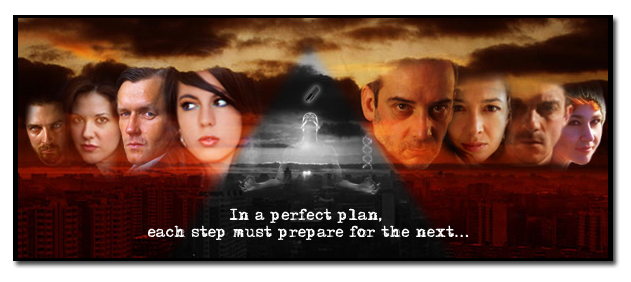 It is a story where there is no good or evil. Heros are created in the moment, under favourable circumstances!
It is written simply, in short pages, so that it appeals to a large audience. There are photos on every page, to give more life to the story and help the reader imagine the scenarios. There is also an overall summary of the story.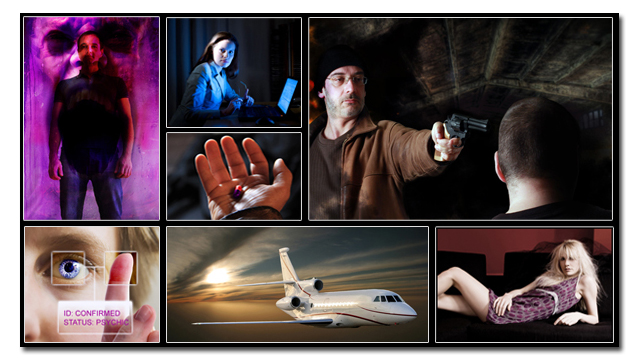 Where it all begins.
In the early 21st Century, a powerful secret society called the 'Organization' is developing a pill composed of revolutionary nanotechnology capable of storing technical knowledge. This technology is called TIK (Temporary Instant Knowledge). The Organization is also helped by people with telepathic and prophetic abilities called 'Psychics'. The Organization understands that these people are growing in numbers and power. They have therefore recruited the earliest for their own purposes.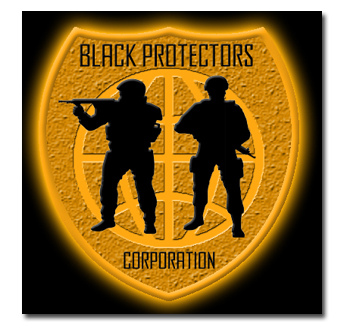 Unfortunately, this secret did not stay this way for long and now many secret services seek the talents of such individuals.
While the Organization seeks to improve the TIK technology, counterfeit, but functional versions start to appear in the world's major cities. Distributed by the criminal underworld, they are attempting to flood the world with this technology at a lower cost. As a result, a bloody war for the control of the TIK pill market seems inevitable.
During a simple escort mission, Alva, a former mercenary from Black Protectors Corp and now employee of the Organization commits a wrongful killing. He was suppose to test a new TIK created specifically to isolate an individual from the effects of psychics. However, something went wrong. Though Alva had committed many misdeeds during his days as a mercenary, he is shocked by the coldness of his actions and his thoughts. Unable to forgive himself for the massacre and not knowing how to compensate for his actions, he tries to understand who he is and give a new sense to his existence.
Alva, and many like him do not realise that they are only pawns in a global game that is not just about the ultimate survival of humanity… but about it's total control.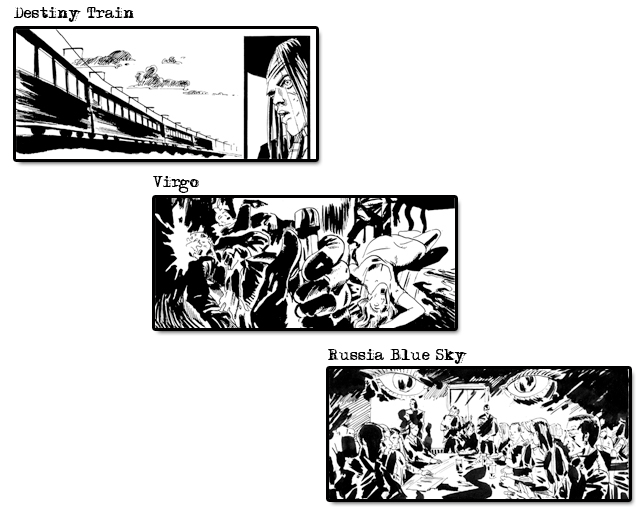 What are the funds for?
Why we need your help to complete the application.

Its normal, that after five years of hard work and by funding everything with our own money, that the result would be: No money left!

As a minimum, we need €1000 to pay server costs (€30/month), for our business address (€60/month), bank costs (€45/month) and miscellaneous fees until September 1st. This is the date when we feel the App will be able to make enough money to cover our costs.

An additional €1300 is more of a luxury, but would be used to pay the coder to finish the Beta version of the application. He can no longer work as a volunteer, as living in London is expensive.

If the amount exceeds €2300, then we will use the additional funds to travel to get new photos for the online story and to advertise the app.

But that's not all! Finances are not our only concern. We also Want you to get involved.

If you wish, you can become one of the testers of the application and help us track down any bugs that irritate players… and us.

So if this adventure appeals to you, do not hesitate! Join us!
About the project owner
About...us
Philippe Ruiz: The original creator of the Darkening Power concept and author of the novel. I have been working full time on the project for the last 5 years. Also, in the online novel, I am the face of Alva the mercenary.
Ian Crawshaw: The coder and designer of the App. He is the computer wizard who has the burden of creating the application and correcting my errors in the online story website. Before joining us, he was a company director who was so impressed by the Darkening Power project, that he decided to get involved and has been full-time for over 2 years now. In the online novel, he is the Architect.
Ricardas Montvilla and Stephanie Mariel are testers and web marketers. In the story, they are both wanted by the Eastern Europe Mafia (A dark tale of trafficking fake TIK pills), so it is impossible to reveal their true identities.
Danilo Recevic is the designer of the first few comics on the Darkening Power website. 
Axel is our official photographer. He is the most Zen of the team, because he has the burden of taking great photos of some of the... often non-professional models... like myself.
Bruno Pimont is the mystery man... No one really knows if he is real or not! However, he is still an international specialist in everything about symbolism and mysticism.
The actors, models and friends who interpret certain characters in the online novel are the remaining members of the team. Here are some of them...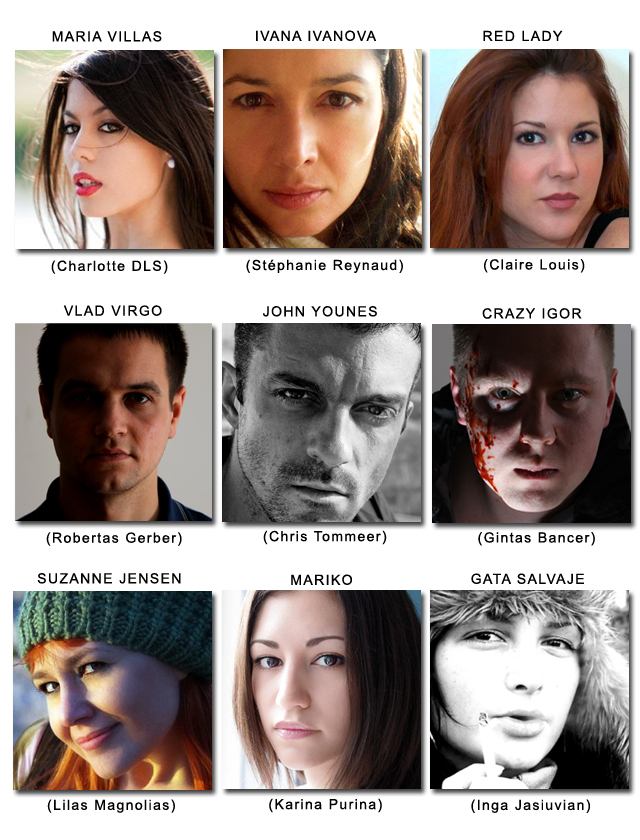 This fundraising is finished
For $14 or more
We offer to you 100 diamonds (value10 $) + 1 special weapon (Poisoned Swiss Knife) + thanks
For $28 or more
We offer to you 200 diamonds (value 20 $) + 1 special weapon (Poisoned Swiss Knife) + 1 TIK pill (STIKD8) + thanks
For $42 or more
We offer to you 300 diamonds (value 30 $) + 2 special weapons (Poisoned Swiss Knife + Repentace Sword) + 2 TIK pills (STIK D8 + STIK A9) + thanks
For $69 or more
We offer to you 500 diamonds (value 50 $) + 3 special weapons (Poisoned Swiss Knife + Repentace Sword + Double R357) + 3 TIK pill (STIKD8 + STIKA9 + STIKA11D10) + thanks
For $137 or more
We offer to you 500 diamonds (value 50 $) + 3 special weapons (Poisoned Swiss Knife + Repentace Sword + Double R357) + 3 TIK pill (STIKD8 + STIKA9 + STIKA11D10) + thanks + We will create a character for you, use yours photos and add you in the online story as a guest.
For $685 or more
We offer to you 500 diamonds (value 50 $) + 3 special weapons (Poisoned Swiss Knife + Repentace Sword + Double R357) + 3 TIK pill (STIKD8 + STIKA9 + STIKA11D10) + thanks + We will create a very important character for you, use yours photos and may make some more, I will write about you (we will decide together who you can become) add you in the online story as one of the Darkening Power heroes.
Early Birds